I hear ya, moms… I've been doing the Google searches too, "fun activities for bored siblings." Being cooped up at home can easily drain the life out of you and the children. But having a list of fun activity ideas to do at home can make all the difference in the world. So, I thought I would put one together for the both of us! Next time you hear, "there's nothing to do," "I'm bored," "mom, mom, mom, mom, mom, mom, mom….," just pull up this handy blog post or print off the pdf download of activity ideas I've included! Easy.
In putting together this list, I tried to think of ideas that are cheap, easy, and you're likely to have what you need already in your home. Obviously, I won't get everything right… you might not have a box of Fruit Loops in your home, or an empty cardboard box, but I think you get the point…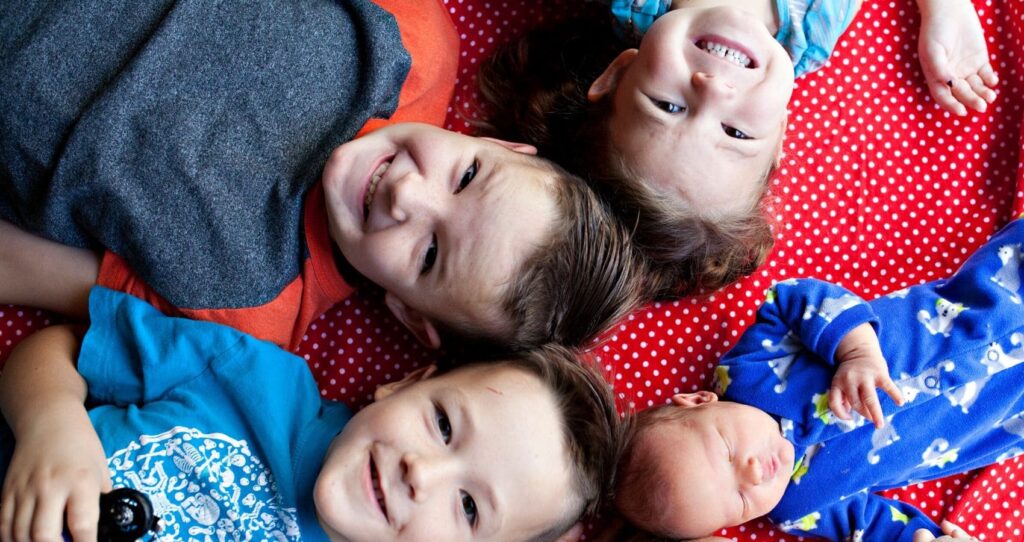 52 Fun Activities for Bored Siblings
1. Give the kids flashlights. There are lots of things you can do with flashlights. Play tag in a dark room, shine it on the wall and make finger shapes/animals, shine it on the floor while moving it and the other person has to try to stomp on it before it gets away. They could also draw letters or shapes on the wall and the other person has to guess what it is.
2. Pull out old, cheap food storage containers and let the kids create a Tupperware Town for their little cars and action figures.
3. If you have some spare shaving cream around and a balloon, you'll be able to pull off this slick color mixing experiment, making Rainbow Snakes. The kids will love it!
4. It's a great time to go outdoors and get some fresh air. This simple alphabet scavenger hunt will keep the kids occupied and engaged… maybe come up with a simple prize for everyone that finishes it!
5. Assign "secret siblings" in the family to encourage acts of love and service in the home. Kids could even create their own mailbox to leave outside their bedroom door for special notes and treats to be left in. You could even do a Secret Service theme!
6. Set them up a wishlist on Amazon. Let them scroll through the toy and game section and create a wish list. My kids love to print off theirs and stare at it while in bed. Hey, they can dream!
7. If you have older kids (usually girls love this most, but it can be for anyone), have them try out some homemade face masks. This post has several ideas, all using simple ingredients, and all of the masks are great for teenage skin!
8. Give them free reign of the fridge and pantry. Let them blindfold each other and give tastes of things or smells to each other. See if they can guess what the food is.
9. Have the kids do this fun family portrait drawing activity. Everyone will all get a good laugh out of it! Plus, there are several gift ideas available that you can use their drawings for.
10. Fill up the sink with water and let them play "Will It Sink Or Float?". Let them drop random objects in the water but beforehand they have to guess whether or not it will sink or float.
11. Maybe this is gross, but it's entertained my kids before! If you have a box of Cheerios, pour a pile out and let the kids have a Cheerio stacking contest. But, there's a trick to stacking Cheerios… you have to lick the bottom of one before pressing it onto the one below it. The lick makes it stick! Ha. I can build a pretty huge Cheerio tower.
12. Set out a stack of paper and cut snowflakes, make a paper countdown chain for something they're looking forward to, or fold origami creations.
13. Make homemade play dough. Our favorite involves using Kool-Aid packets to make the play dough!
14. Let the kids create some fake money and start a little store in their room for their siblings to come shop at.
15. Have the kids go outside and collect leaves. When they bring them in give them crayons and paper and do a crayon rub to see all the veins and shape of the leaves. It's really cool. Just lay the leaf flat, put the blank paper on top, then turn a crayon sideways and gently rub the paper over the leaf.
16. If you have popcorn in the house, you're in luck! The Popcorn Olympics idea is so cute. Who knew that there are so many fun little games you can play with popcorn!
17. Watching a movie at home is much more fun if you turn it into a theme night! For example, if you watch Lady and The Tramp, you could have spaghetti for dinner and have the kids color pictures of dogs, and learn about dogs throughout the day. If they watch Napoleon Dynamite, be sure to make quesadillas and maybe you can make boondoggle bracelets too!! Here are gobs and gobs of family movie ideas.
18. Let the kids create some homemade I Spy pictures with all the junk in their rooms! They can take the pictures then create a game for their siblings, to see how fast they can find specific items in their photo. Who can find everything the fastest??
19. Teach the kids about time capsules and let them put together their own in a jar.
20. Let them make a house out of a cardboard box. I have great memories of this when I was little. I would draw framed pictures on the wall, a vase of flowers, cut out some windows, etc. I even slept in my boxes.
21. Duck Tape is typically something we all have kicking around the house. If so, awesome! Your kids will love learning how to make their own wallet from Duck Tape. My kids used to make them by the bunches and sell them at our local fair.
22. Give them some blankets and chairs/stools and let them make a huge tent/fort. My kids love to take the laptop or iPad inside and watch a movie together. If you're interested in creating a DIY fort kit for repeated use and lots of fun, they're actually pretty simple to make!
23. Have your kids played "Would You Rather?" We have several printable 'Would You Rather?' games on the blog, including a Harry Potter, Disney, scriptures, Pixar, and Marvel theme.
24. Watch the Minions movie and make these super-duper easy Minion Lollipops with melted Jolly Ranchers!
25. Give them some old magazines and a huge piece of paper and have them make a collage by cutting out pictures and gluing them down. It could be a theme of things they like, items that describe them, or their dream future life. Frame it.
26. Play this fun version of The Telephone Game… all you need is pen and paper!
27. Have the kids take a pair of their flip flops and think of creative ways to dress them up. They can do a yarn wrap or balloon ties, as a couple suggestions.
28. Give all of the kids a jar to go outside and collect bugs. Let them observe them and try to "care" for them for a couple days.
29. Pour some Fruit Loops, Cheerios, or noodles with holes, in a bowl and let them string a necklace with them.
30. Give the kids some blank cardstock, scissors, crayons/markers, stickers, glue, yarn, and any other little trinkets kicking around. Have them make their own bookmarks!
31. How long has it been since your kids have written a letter? Have them sit down with some treats, pens, paper, markers, and stickers to write letters to cousins, friends, and grandparents.
32. With just a few ingredients, your kids can make their own homemade bouncy balls!
33. Let your kids borrow your phone to make their own movie. Give them permission to use clothing from any closet for dress ups and props from around the house. Maybe suggest a few "story starters" to give them an idea for their movie plot. Watch their movie as a family that night!
34. Pull out old photo albums and talk about memories you have had as a family, as well as memories from your childhood.
35. Send the kids outside with 3 stickers each. Have them play Sticker Tag! The first person to stick all 3 of their stickers on someone else is the winner. So easy!
36. There are so many super fun family friendly group games that we have here on the blog. Check out this link! Over 20 Family Friendly Group Games
37. Have your kids write down some questions to ask their grandparents, either in person or over the phone. They can be things like, "What were your chores as a kid?" "What are the 3 best books you've ever read?" "What was your nickname when you were little?" Have them write down or record the answers and talk about what they learned at Family Night. Discuss the importance of family history.
38. Sardines is basically reverse Hide and Seek, and sometimes way more fun! Read how to play it and 7 other ideas for simple games kids will love right here: Entertaining Kids Without Electronics
39. Gather the kids together and read them a couple chapters of a fun novel every day. Here are 30 of my favorite books to read out loud to older kids.
40. Study the stars online and have the kids draw on paper the shapes of the most seen constellations in your area. Have them take their drawings outside at night to see if they can spot the constellations.
41. Hold a sibling white elephant gift exchange. My kids love doing this! Everyone has to find something in their room that is "kinda cool," but that they don't really want it. Have them wrap it up and bring it to the White Elephant party that night. Play an exchange game where everyone takes turns opening a new gift or stealing one that has already been opened. Any gift can only be stolen twice before it's locked up and the current owner gets to keep it.
42. Rock painting is such a fun trend these days! Have the kids paint designs on rocks and leave them around the yard or somewhere inconspicuous around town (or in nature!)
43. I understand this requires a product you likely don't have, but it's available for a great price, fast shipping, and can offer hours of fun! The kids can use this sticker maker to draw and create their own stickers to use for writing letters, decorating their journals, jazzing up their water bottles, or sending as gifts to cousins and friends.
44. Look through your podcast store and find some story podcasts for kids. There's lots of fun ones! They can make a tent, gather on the couch, or lounge on the trampoline, all while listening to some fun stories! Just search "stories for kid" and you'll see several come up that you can read reviews on and see what your kids will like best.
45. Let the kids plan a family challenge night for everyone to participate in. Challenges could be seeing who can jump rope the longest without messing up, hula hooping, shooting a basketball, doing the prettiest cartwheel, blowing the biggest bubblegum bubble, fitting the most marshmallows in their mouth, and so on.
46. Do you have any unused terra-cotta flower pots in your garage or around the house? Wipe off the dust, pull out some acrylic paints, and let the kids paint them. Eventually, you can let them fill them with soil and seeds, or a plant.
47. Mini marshmallows and toothpicks are so fun for kids to build with! Using the marshmallows as the joints, kids can build all sorts of boxes, buildings, and creations.
48. Write a letter of gratitude to our troops or veterans. You can read all about how to do that on the site, Operation Gratitude.
49. Make homemade ice cream in a mason jar! Here are 3 easy flavors to make.
50. Wash the cars and have a water fight! Fill up buckets of soapy water, give everyone a sponge or soft cloth, and let the kids go to town, clean the cars, and clean themselves.
51. Have the kids walk around with a camera or camera phone and take a picture of a handful of different trees or plants in your neighborhood. After coming home, see if they can look online and identify all of the trees or plants they found, and learn something about each one.
52. Have the kids go through their book shelves, toy bins, and clothing to find items to donate to a local charity.
If you liked this post about fun activities for bored siblings, check out:
To save this post for later, pin this image:
For additional Pinterest-ready images, click the Pinterest button at the top of the post.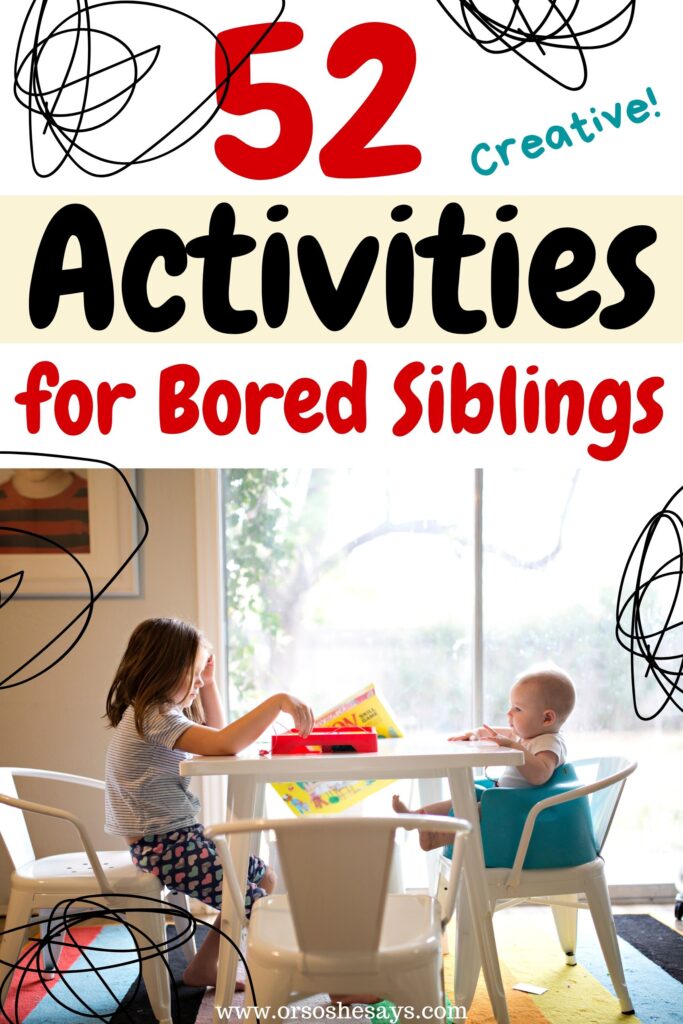 Join 180,000+ others & follow OSSS for lots of family ideas!
NEWSLETTER (free most-requested family recipes download included!)
PINTEREST (lots of awesome family related ideas!)