It's been a crazy weekend. I think I've cried probably 20 times in the past 2 days. Blah. It all started yesterday morning, when I watched The Biggest Loser, that I recorded. Darn it, that show makes me cry…happy tears, sad tears, nerdy tears. Ten minutes later I get a phone call that my grandpa, who is the greatest person ever, had a huge heart attack. It was really scary! I cried plenty more and spent lots of time at the hospital. Thankfully, he had fabulous doctors, and he's doing okay, right now. When I came home I found out that my neighbor, whom I'm fond of, got his sorry-butt arrested and will be in prison for probably…oh, YEARS. That's not the sad part, it's that he has kids that are so super sweet and they don't have a mom in the picture. I have no idea what's going to happen to them. They play with my kids all the time and I'm really worried about them. It's just sickening that people have to be such fools and seriously hurt their kid's chance at a happy and successful life. I'm sad, my eyes hurt. Ugh.
So, I needed some sweets…
Anyway, I "
pinned
" these S'mores Bars last week and have been waiting until Sunday (my "free day" from my diet) to make them. And, make them, I did. These
AND
my
favorite lemon bars
. I don't mess around on my free day. They were sinfully delicious, just like s'mores. I amped up the goodness by using Symphony bars, rather than the regular Hershey bar. Mmmmm…
So, to make them you cream your butter and sugars together until fluffy. Oh, heat your oven to 350.
Add the dry ingredients and graham cracker crumbs in a separate bowl. Slowly pour it into the mixer with the butter mixture. Mix well.
Take half of the dough out and press it into the bottom of a 9 x 13 pan. Lay your chocolate bars across the whole top of that layer.
Spread a bunch of marshmallow creme on top of the chocolate. Cover the marshmallow with the remaining dough. It can be hard to spread, so it's easiest to spread a section of dough on the counter and then set it on top of the marshmallow. Press all the sections together with your fingers. I didn't go all the way to the edge with my chocolate and such, but I think I will next time.
Bake for about 25 – 30 minutes or until the top slightly turns golden on the edges.
That's it! These made me smile. It's funny how treats can do that 🙂
S'mores Bars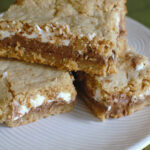 Sinful S'mores Bars
Ingredients
2

stick of butter

room temperature

1/2

cup

brown sugar

1

cup

sugar

3

king-sized milk chocolate bars

2

large egg

3

cups

marshmallow creme/fluff

2

tsp

vanilla extract

2 2/3

cups

all purpose flour

1 1/2

cup

graham cracker crumbs

15 full-sized graham cracker rectangles

2

tsp

baking powder

1/2

tsp

salt
Instructions
Preheat the oven to 350 degrees. Grease an 13x9" baking pan.

Use a mixer to cream together the butter and sugar until light and fluffy.

Beat in the egg and vanilla. Set aside.

In a large bowl,whisk together flour, graham cracker crumbs, baking powder and salt. Slowly add flour mixture to the butter mixture, until combined.

Divide dough in half and press half of dough into an even layer on the bottom of the prepared pan.

Place chocolate bars over dough.

Spread marshmallow creme over the chocolate bars.

Place remaining dough in a single layer on top of the marshmallow. If you roll sections of dough out on the counter and lay them piece by piece on top, it's easier. You can press them together with your fingers.

Bake for 30 minutes, until lightly browned.

Be sure to cool completely before cutting into bars.