A few weeks before I had my little boy, one of my good friends and I got together to have a little "freezer meal-making" party. With our husbands happily playing the Playstation in the basement, we got busy. We went to the grocery store to buy all of the ingredients we would need and then came home and started throwing stuff in freezer bags. In just a couple hours we had 8 different freezer meals each, all ready to go. It was so quick, easy, and fun! Plus, now I had 8 meals that I could make for my family that literally took no more effort than dumping the contents of a Ziploc bag in a crock pot and turning a knob! Long story short, I am a fan of freezer meals! So if you're expecting, starting a new job, getting surgery, or just wanting to save some time and effort here are 25 delicious freezer meals for you to try.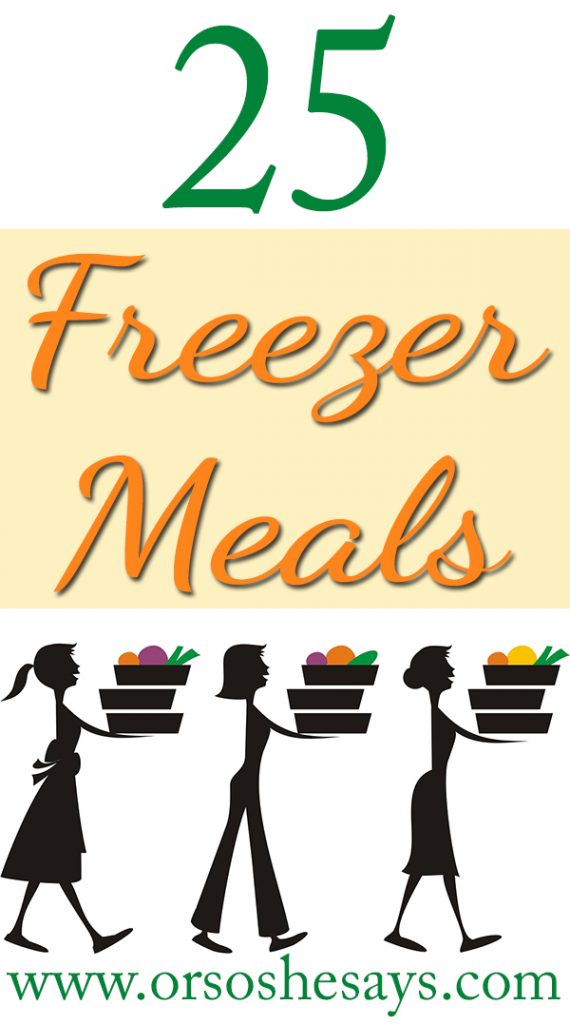 25 Delicious Freezer Meal Recipes
Stuffed Mexican Chicken Shells ~ Six Sisters' Stuff
Black Bean Soup ~ Or so she says…
Slow Cooker Chicken Noodle Soup ~ Must Have Mom!
Swiss Cheese Chicken ~ Or so she says…
Pulled Pork ~ Living Well Spending Less
Buttermilk Pancakes ~ Or so she says…
Freezer-Friendly Pot Pie ~ The Pioneer Woman
Chicken Enchiladas ~ Live Craft Eat
Pepperoni & Mushroom Calzones ~ The Kitchen is My Playground
Creamy Tomato Soup ~ Kitchen Sanctuary
Chicken Parmesan Meatloaf ~ What's Cookin' in Chicago?
Baked Chicken Pesto Alfredo ~ Happy Money Saver
Coconut Lime Chicken ~ Living Well Spending Less
Southwest Chicken Tacos ~ Big Bear's Wife
Baked Ziti ~ Six Sisters' Stuff
Ham and Scalloped Potatoes ~ Fabulessly Frugal
Persian Chicken with Pomegranate Jewels ~ Or so she says…
Homemade Lasagna ~ Happy Money Saver
Easy Oven Chicken Fajitas ~ Creative Home Keeper
Chicken & Sausage Gumbo ~ The Weary Chef
World's Best Taco Soup ~ I Heart Naptime
Tex-Mex Chicken & Rice Casserole ~ Cook Like a Champion
Slow Cooked Beef Ragu with Rigatoni ~ Kitchen Sanctuary
Sweet & Sour Meatballs ~ Bite of Delight
Freezer-Friendly Chicken Teriyaki ~ The Taylor House
Hope that gives you lots of freezer meal recipes to make!