You want to know a sure-fire way to have a gray hairs sprouting like weeds by the time you're 35?? I'll tell you. It's called 'have 6 kids.' I'm telling you… #6 was born and so were my gray hairs. Definitely a trade that I would make again, but COME ON!! Gray hairs are so annoying. I may feel a little more welcoming if I was 20 years older, but right now… they are not welcome anywhere near my head.
And so the story goes… my salon appointments became a lot more frequent and my wallet wasn't loving it. So, I started trying out some different gray coverage products to see if I could find something to extend my time between colorings. I stocked up at the beauty supply store and tried so many things… color wands, markers, more color wands, powders… they all stunk.
And. Then. I. Found. Something.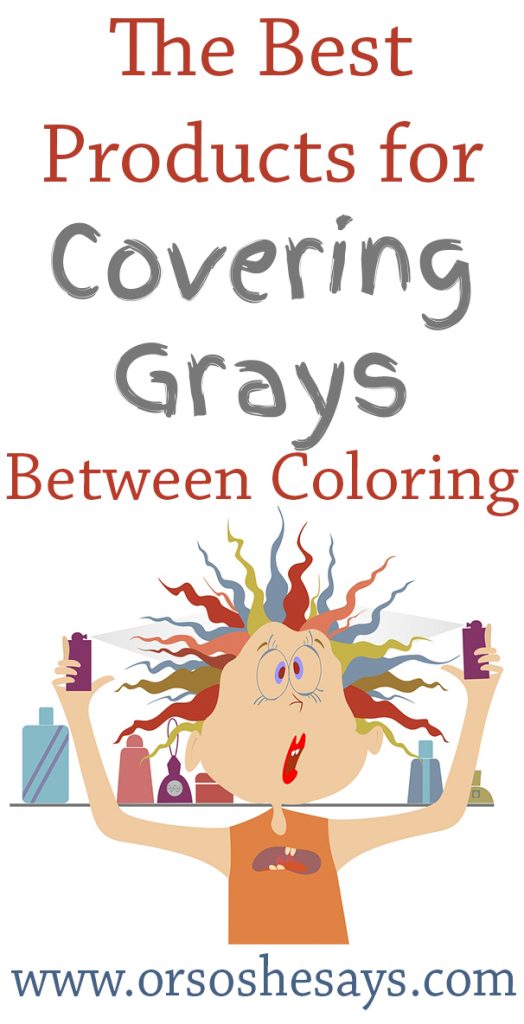 Best Products for Covering Gray Hair Between Colorings
Style Edit Root Concealer. I saw that it got great reviews on Amazon. I was kinda leery, because it's a spray. Why? Well, I don't do the colored SCALP thing. That freaks me out. I just want my roots colored where I need them, with no colored scalp involved. I was worried the spray would do the icky scalp thing. But alas, I ordered it and tried it out… and I LOVE IT! The color was perfect, didn't spray all over my scalp, and would stay in until I washed my hair. Yay! I totally stocked up on this heavenly goodness.
And, then I found something else that I also love. Clairol Root Touch-Up. Yes. The model looks a little possessed, but I swear this stuff is so great. Sometimes I want to extend my colorings a little longer than what I do when using my Style Edit Root Spray, and that involves just coloring my roots by myself. I used to buy some professional coloring products from my hair stylist, but then I found this Clairol Root Touch-Up to be way faster, easier, cheaper, and the color totally went with any color I had. Everything is measured and portioned off for you, ready to mix and brush on. Sooooo…. when I want to go even longer between colorings, this is what I use to cover gray hair. Oh, and there are lots of colors to choose from.
And, that's all. End of blog post.
If you loved this post on covering gray hair, check out:
The Best Products for Thinning Hair
Pin This Image to Save Post for Later