Thanksgiving is coming right up and with Halloween behind us, now is the perfect time to decide on some new Thanksgiving traditions to start this year! Thanksgiving tends to get the shaft, and I completely understand why. Halloween can be all-consuming with kids and once it's over, Christmas doesn't seem too far away, and heaven knows it's nice to get all the Christmas-work done as early as possible. That leaves wee-little Thanksgiving begging for the attention it deserves. I'm just as guilty of overlooking it as the next person, but I've been thinking a lot about family traditions and thought of some FUN ones for Thanksgiving. It's definitely inspiring me to want to make it a bigger deal this year!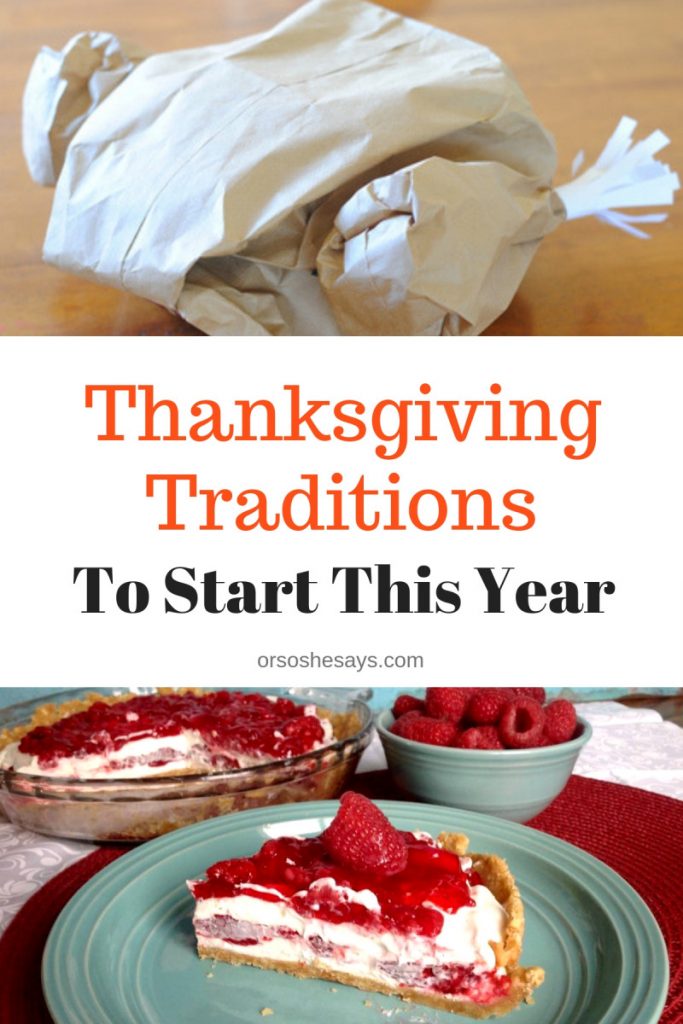 But first… speaking of family traditions…
One of my blogging BFFs, Kierste of Simply Kierste, came out with her very first book on that very topic! Of course, I had to get a copy of Simply Tradition and I've literally had my nose in it every day these past couple weeks. Kierste is a fellow momma-of-many (6 kiddos!) and has no shortage of tradition ideas that the family will look forward to year after year.
The book is organized in the most PERFECT way… by seasons! But, since we're coming right up on Thanksgiving, I've been swooning over all the awesome Fall and Thanksgiving tradition ideas, like the Thanksgiving Tree, Autumn Wassail, and Bucket List. Oh, and I'm not kidding… her tip for making caramel apples is genius, something I had never thought of before! I promise, you'll love this book and it will make a fantastic gift for any of the gals in your life or even your neighbors.
And, speaking of Thanksgiving traditions, here's a few more ideas from yours truly:
Thanksgiving Dinner Guess Who Game
.
It's pretty simple. At the start of dinner give everyone a pen and paper. Have them all write 10 specific things that they have been thankful for during the past year. When everyone is done, put them in a bag and when everyone is ready (maybe at dessert time) pull them out and start reading off the lists. Have everyone try and guess WHO's list it is. If you want to take it up a notch. Give each list a number and have everyone write on a paper who's list they think it is, hiding their answers from each other. Whoever gets the most right, wins a prize!
.
First Thanksgiving Dinner
.
.
.
Gratitude Gift
.
As a family, think of several people (outside the home) that really deserve a big thank you because they have touched your lives. Put together a "gratitude gift" (maybe a basket of goodies and a card) and deliver them together. This makes a great family night!
.
Thanksgiving Kids Table Fun
.
After Dinner Thank You Card Tradition
.
When everyone is done eating and waiting to digest so, they can have dessert, try this: Quickly clear the dinner plates out of the way and place a basket in the middle of the table, filled with all things needed to write a Thank-You card. Tell everyone to think of 3 people who have made an impact on their life this past year (big or small) that they haven't properly expressed their gratitude for. Using the goodies in the basket, have everyone write 3 Thank-You cards to those people, seal and stamp them. Addresses can be found later, but a stamp will help ensure that it gets sent! This is a great way to reflect on the special people in your life and remember how thankful you are for them!
.
The basket could include:
.
Stationary
Thank-You Cards
Envelopes
Stamps
Pens/Pencils
Crayons for the Kids
Stickers
Scrapbook embellishments
Glue sticks
Scissors
.
Turkey Tales
.
This is a super cute
Turkey Tales
idea that a teacher did in her classroom, but could easily be incorporated into a family setting! Click the image to read all about it…
.
.
Old Family Videos Night
This would be fun on Thanksgiving night!! …or any night, really. Pull out all the old family videos and have a blast laughing and reminiscing. If you don't have videos, look through the scrapbooks together. It's a perfect way to remember what you are most thankful for, your family! Pull out the cheese tray and desserts and make a fun evening out of it.
.
Food Bank or Shelter Donations
.
Do your part to make sure other families can have their holiday meals. Take the kids, go through the pantry together, or shopping at the store…then take your donations to the local shelter or food bank. It makes a great teaching moment! If you need some tips on planning a food drive, check out this post:
How to Plan a Food Drive
.
After Thanksgiving Dinner Christmas Craft Station
.
After Thanksgiving dinner lots of families like to decorate the Christmas tree together. Another fun idea is to have a little craft station for the kids. It will keep them busy while everyone cleans up and digests for a while. Have a bunch of strips of Christmas themed paper and glue sticks and let the kids put together their very own Christmas Count-Down Chain to hang in their room. They could also color pictures of Santa, then glue cotton balls on his beard.
.
Family Night ~ Gratitude Turkey
.
'This festive Thanksgiving Family Night idea was created to help each member of your family understand the importance of "stuffing their lives" with gratitude for their many blessings.' Check out this Family Night lesson here:
Gratitude Turkey
.
.
Thanksgiving Dinner Add-On Game
.
I know lots of families will go around the table and have everyone say what they are thankful for. That's sweet, but why not make it a little more fun? So, while everyone is eating, play Add-On! My kids love this game! It's really simple and I'm sure you've done it before…but, the first person starts by saying something like:
.
"I am thankful for Thanksgiving dinner." And the next person adds on to that.
.
"I am thankful for Thanksgiving dinner and football." Again.
.
"I am thankful for Thanksgiving dinner, football, and family."
.
"I am thankful for Thankgiving dinner, football, family, and slippers." etc., etc., etc.
.
You get the drift. You keep going around and around the table and see how well everyone can repeat the chain without forgetting anything. It's fun AND, it doubles as a way to hear what everyone is thankful for!
.
Thanksgiving Pie Tradition
.
.
.
Thanksgiving Table Word Search
.
I love the idea of having an activity for the family set out on the table. There can even be a prize for the person who completes this word search the fastest! Find it here:
Thanksgiving Word Search
.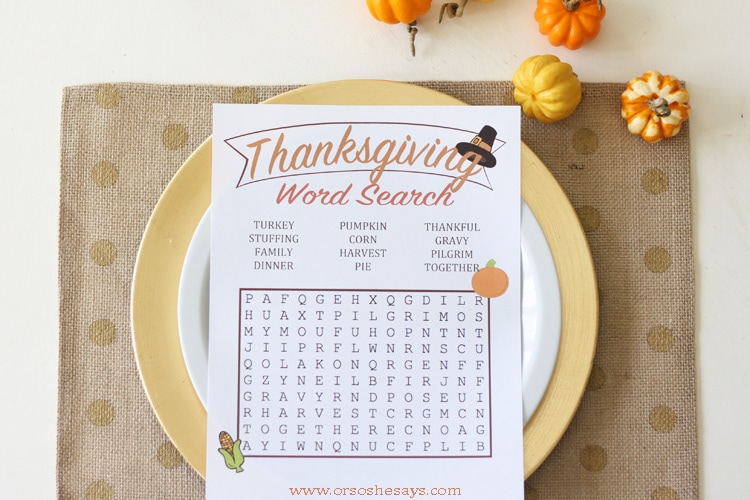 .
Hope you found some great Thanksgiving traditions! Have a wonderful family-filled holiday!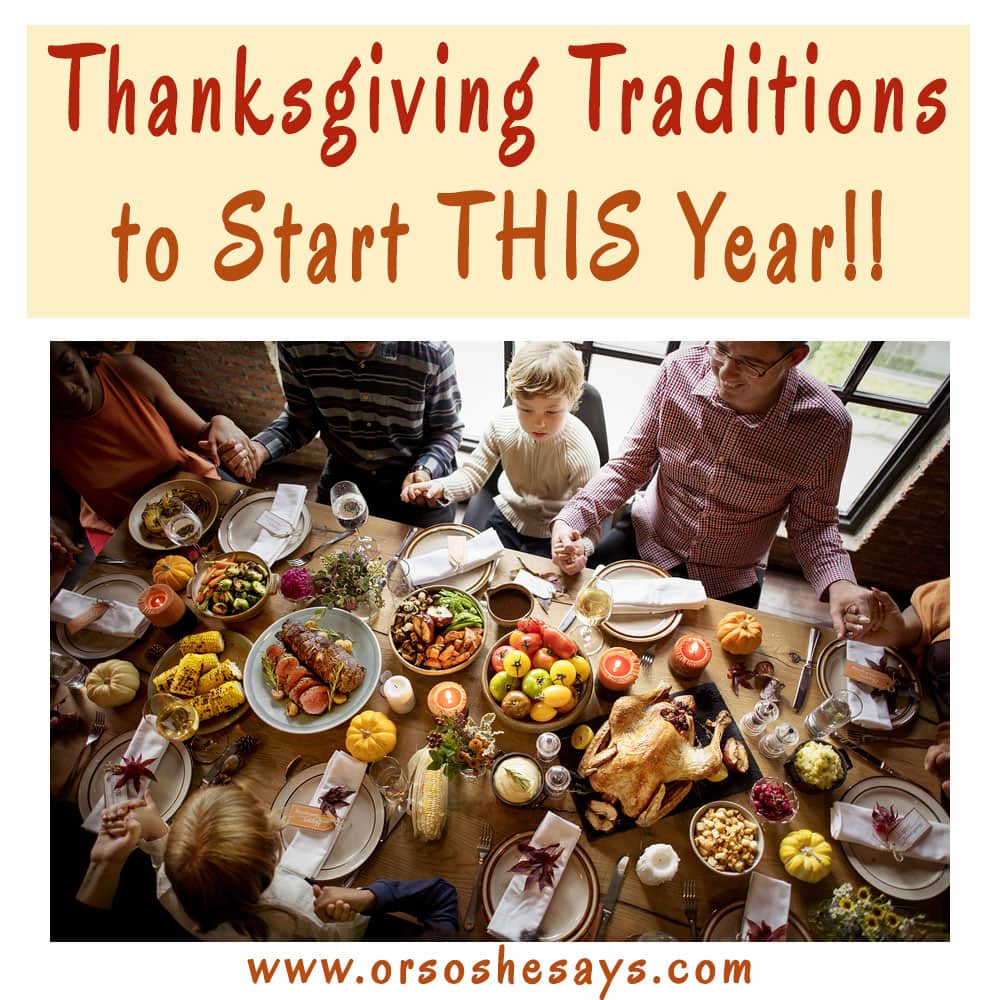 Our picks for making Thanksgiving Traditions that stick: