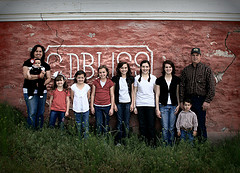 Hi, I'm Montserrat. Around the blogosphere though I'm know as Cocoa because of my blog,
Chocolate on my Cranium
. My husband and I live on an alfalfa hay farm in northern Nevada. We have seven girls (yes, seven!) and one little boy. Because of all those girls I get to do many fun projects.
Isn't this little cake cute? (It's the size of an Oreo!)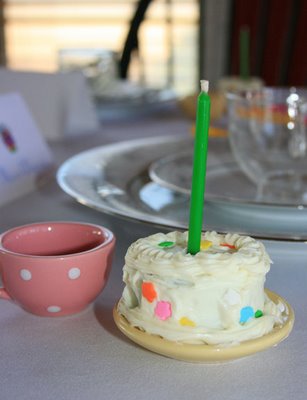 For my daughter's birthday party she decided to have a doll tea party, so naturally each doll had to have it's own cake too.
For each tiny cake you need two sandwich cookies (we used Oreos), frosting and sprinkles.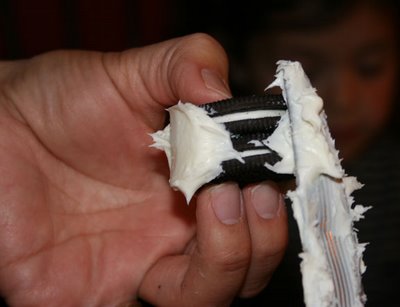 Put a little frosting between both cookies to hold them together. Spread frosting around the edges of the "cake" first.
Put a dallop of frosting on a small plate. Ours are from a tea set. Then carefully place the cake in the center of the plate. Frost the top.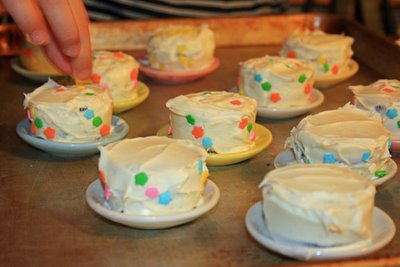 Add sprinkles in whatever design you want. We made ours to match my daughter's birthday cake. Finish the cakes off with decorative piping around the top and bottom.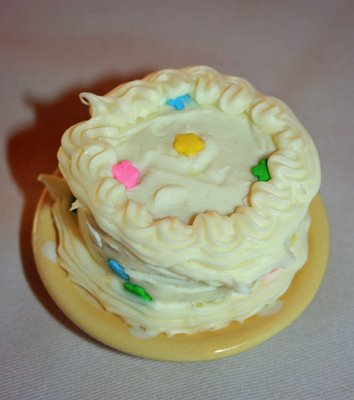 One little girl took a nibble out of hers and showed everyone how it looked just like a real layer cake!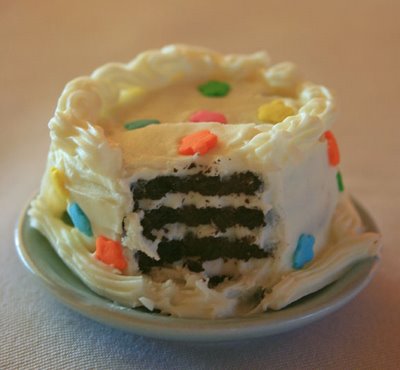 These were so much fun and added just the right touch to the doll tea party.
For more ideas on creating small doll sized treats for a dolly tea party visit these other posts on my blog:
Petite Watermelons
Itty-Bitty Ice Cream Cones
Mini S'mores and Donuts
Have fun! Smaller really is better! (I say that since I am only 5'2″)
Cheers!