Hello, Everybody! This is Maria from Shopgirl stopping by again to share a recipe with you! I'm so excited to share this recipe with you today, because I've been trying out and tweaking so many different bread recipes over the past couple of months, and this one is one of my favorites! I have made a couple variations of this whole wheat no-knead bread, and this version has great texture and flavor, and would be perfect to go along with some soup or a big salad in the summertime! What I love most about this recipe is not only that you don't need to knead it, but that you simply mix all the ingredients in a bowl, cover it and let the dough sit for about 12 – 20 hours and then just bake it up and you have a beautiful loaf of bread! I usually prepare the dough in the evening and let it sit all night and then bake it in the morning. Here's how you make it…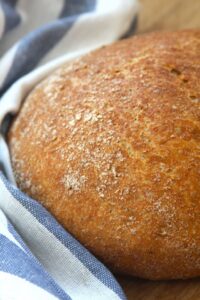 INGREDIENTS:
1 1/2 cups all-purpose flour plus extra for dusting
1 1/2 cups whole wheat flour
1/2 tsp dry yeast
2 tsp salt
1 5/8 cup water
DIRECTIONS:
1. In a large bowl, combine the all-purpose flour, the whole wheat flour, yeast and salt. Slowly add in the water and stir with a wooden spoon until all the ingredients have combined. You will have a super sticky dough, but that's what it's supposed to look like! Cover the bowl with a cloth kitchen towel, place it in a warm spot and let it sit for at least 12 hours and up to 20 hours (I usually let my dough sit for about 14 hours).
2. Once the rising time is up, take the kitchen towel off and you should be seeing lots of little bubbled on the surface of the dough (which will be REALLY sticky!). Take the dough out and place it on a floured surface, shaping it into a round loaf. Sprinkle it generously with more flour and cover it with a kitchen towel and let it sit while you preheat your oven to 450 deg F (while your oven is preheating, place your baking dish inside it to warm up. You can use a dutch oven, but I've used a large casserole dish before and it worked just fine!)
3. Once your oven has preheated, take out the baking dish and very carefully place the round loaf in it, cover the baking dish and bake for 30 minutes, then take off the lid and bake for another 15 – 30 minutes, until the loaf is beautifully golden brown and sounds hollow when you tap it. Let the bread rest for at least 30 minutes before slicing.
Notes: Recipe adapted from The NY Times.
[amd-zlrecipe-recipe:346]
For other delicious bread recipes, check these out!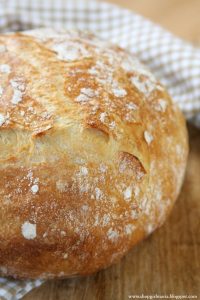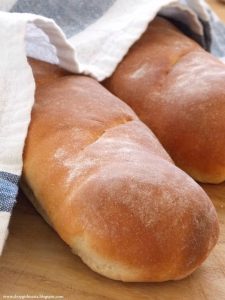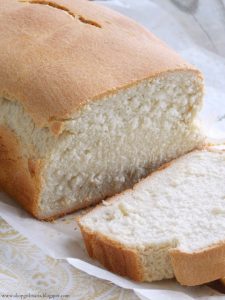 I hope you all enjoy these different bread recipes! There's just nothing as homey, cozy and comforting as the smell of some homemade bread baking in the oven, and there's nothing as good as a warm slice of that bread thickly spread with some butter! It's the simple pleasures and comforts that are the best! I hope you all love this bread, and I hope that the month of June is a wonderful one for you! May this be the best summer ever! I will be back here again next month, but until then, come on over to visit me over at Shopgirl! Have a great week, Everybody!
Recipes, please!! (& great family ideas too.)
Subscribe to get our latest content by email.