We celebrated St. Patrick's Day a little early at my house, and it was all for you! I'm not going to make a St. Patty's meal twice…and I needed some pictures to show you BEFORE the big day. So, that's love. Remember it, always. The measure of a true friend is someone willing to give up their St. Patrick's Day for you.
Corned beef and cabbage wouldn't fly at my house. I've got an 8 year old that actually refuses to eat pizza OR chicken nuggets. Heaven help me. But, soup is a safe bet around here…especially, when there is homemade bread to dip in it! Yum! I tripled the recipe so that we had leftovers the next day.
Here's our St. Patrick's Day dinner…
(Because broccoli is green. It works, right? P.S. The Beard Man says this is the best broccoli cheese soup he's ever had…if that means anything to you :))
Broccoli Cheese Soup
(adapted from My Kitchen Cafe)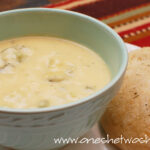 Broccoli Cheese Soup
Ingredients
2

cans chicken broth

1

small onion

chopped (I'm not a big onion gal, so I just used about a TBS of dried onion flakes...they're smaller 🙂

2/3

cup

flour

1/2

cup

butter

1/2

tsp.

pepper

4

cups

milk

3

cups

extra sharp cheddar cheese

shredded

1

cup

swiss cheese

shredded

Broccoli florets

steamed & chopped ( I used about a bag of frozen...amount is totally your preference.)
Instructions
Simmer chicken broth and chopped onion for 15 minutes in a covered saucepan, until onions are soft. (Because I just used dehydrated onions, it didn't have to heat so long)

Heat the milk in the microwave for 1 to 2 minutes.

In a large stockpot, melt the butter.

Add the flour and pepper, whisk and cook together for a couple of minutes.

Whisk in warmed milk.

Continue to stir and cook until the soup starts to thicken.

Next add the chicken broth and continue to stir until well blended.

Add the cheeses and steamed broccoli.
~ Shamrock Shaped Soft Pretzels ~
(These are delicious! Dipped in soup, even better!)
These soft pretzels were from a post last year
(before I knew how to take pictures without a flash)
, you can find the recipe
HERE
.
(I don't have a pic, but you can imagine.)
(Cupcakes may just be my most favorite dessert, ever! The kids had a ball making these.)
You've probably seen these rainbow cupcakes all over the internet by now…so, I thought I would give them a try! After making the soup and pretzels…I was thinking a cake mix from a box sounded pretty darn convenient. I just picked up a French Vanilla cake mix and mixed it as directed. I put about a cup of the batter into 5 separate bowls. Then, I used the gel food coloring and stirred a color into each bowl (rather, my kids stirred in the colors). We then layered each of the colors into every cupcake liner…I know you can make these look a little more like perfect stripes, rather than swirls. But, swirls are faster…and I was feeling the love for "faster". Swirls…meaning, I didn't perfectly push each color to the edge of the liner.
Afterward, I just used my basic buttercream frosting: 1 stick softened butter, 4 cups powdered sugar, 1 tsp. vanilla, and milk to consistency.
Anyway, it was fun meal…nothing too kooky…and really yummy!