Now, I admit I prefer a baby shower with NO games…ya know, the 'open house' kind. But, sometimes things don't always go my way, as was the case 3 weeks ago, when I was put in charge of baby shower games. I was a little panicky, because of…well, my baby-shower-game-attitude, AND it's a bit intimidating to be in charge of entertainment for a group, varying in age. But, turns out that I found some fun ideas online, got LOTS of help from all of you Facebook buddies, and things turned out great! Ahhh…yay. Oh, and guess what…this is awesome. My sister-in-law just had her first baby, after trying to get pregnant for 10 years! No treatments, it finally just happened. Best thing ever.
So, today I thought I would share with you some of the fun baby shower games and activities that I considered (and, some that we actually did):
Who's the Baby? – Have everyone bring a baby picture. Pin them on a corkboard or hang them on a clothesline, with a number by their picture. Have all the guests guess who is which baby, and write it down. Whoever gets the most right wins!
Me…and, the coolest grandma, ever.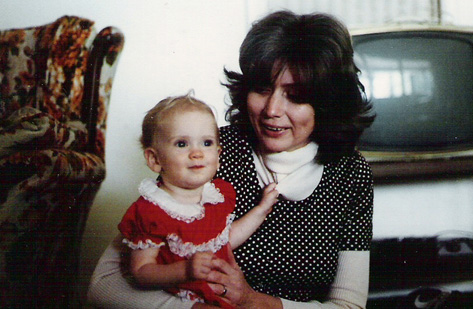 What Presents?? – As the new mother is opening all the gifts, have the guest try to memorize as many things as they can. After the un-wrapping is over, everyone writes down as many gifts as they can remember. Whoever gets the most wins!
Never Say 'Baby' – This is a fun one that we did at a previous baby shower. I passed out a binki on a ribbon, for everyone to wear around their necks. Throughout the shower, whoever caught someone saying 'baby', could take away that person's binki necklace. By the end of the shower, whoever collected the most, wins a prize. (I think I found these plastic binkis at a party store, in the baby section.)
Sketch Artist – Have everyone hold a paper plate on their head, and try to draw what they think the baby will look like. The picture/artist with the most laughs wins! Or, which ever one the new mom picks as her favorite.
The Price is Right – Purchase about ten baby items, such as: diapers, wipe ups, onesies, binkis, bottle, formula, baby food, baby powder, baby shampoo, etc. Make sure you keep the receipt. Have them set out on a table for everyone to see, so they can guess the total price. After everyone turns in their guessed total, see who is the closest, without going over. The winner receives a prize, and the new mother receives all the items.

Alphabet Book – Print off 26 pages on cardstock, with a letter of the alphabet on the corner of each. Have buckets of colored pencils sitting out, and hand each guest a paper with a letter on it. Each guest is to draw something that starts with the letter, then write a short note to the baby on the back of the page. After the pages are completed, collect them, laminate them (or put them in sheet protectors), tie them together, and give it back to the new mom, as a gift for her baby.
Craft Activity – Make hair bows, bow ties, applique onesies, tie a quilt, baby bracelets, mobiles, etc. Sometimes it's fun to just make things, eat, and chat!
Candy Bar Phrases – Pass out a printable, with a list of candy bars and corresponding phrases. Have the guests try to match them up. I bought a super cute printable from The Party Stork, on Etsy. Whoever got the most right, won a bucket of candy bars (the same ones listed on the game).
Words of Wisdom – The Party Stork has tons of great printables, it was hard to narrow it down. But, I knew no baby shower would be complete without some good old fashioned advice from us seasoned mommas. I bought these and printed them out on cardstock, for the guests to fill out while they were waiting for everyone to arrive.
Guess the Baby Animal – Hand everyone a list of animals. Time them to see who can guess the most names of the baby animals. For example, Seal – Pup, Lion – Cub, Deer – Fawn, Goat – Kid, etc. Whoever can get the most correct wins.
Classic Baby Books – Have everyone bring one classic children's book to give to the mother, unwrapped. Without letting the guests see the book cover, read the first page of each book. Whoever can guess (write down) the correct book titles of the most books wins a prize.
Time Capsule – Have everyone bring an item that relates to the year the baby is born, and put them all in a cute container/time capsule, for them to unseal when they are older. Items could be a newspaper clipping, popular CD or movie, picture of the baby's house or town, trendy fashion accessories, best selling book, etc.
Some simple prizes for the winners:
A plate of cookies
Jam and bread
Mug with hot chocolate
Lipgloss set
Manicure kit (file, nail polish, polish remover, wrapped in cellophane)
Kitchen set (towel, wooden spoons, hot pad, apron, etc.)
Gourmet cupcakes
Lotions and soaps
A stack of chocolate bars, tied with ribbon
Book on motherhood (or other great read) and bookmark
DVD and popcorn bag
Potted plant
Stationary and pen
Candle
Gift Cards (Barnes & Noble, Massage, Restaurant, Amazon, iTunes)
Jewelry
Picture frame
Hope that gives you some ideas!!


Need more ideas for baby showers?? Check out these previous posts:
Not Your Average Baby Shower ~ Ideas Up the Whazoo!
Baby Shower Theme Ideas
Baby Food Jar Candles
Baby Shower Ideas and Breakfast Fajitas