Hello, hello! It's Brooke from Blissful Roots here with you today. I'm always so excited to spend time here with Mariel and her readers! And I'm always so excited about this time of year. Fall (my favorite season) is on the way, back to school time is just around the corner, and this year it will mean baby boy number four in October for our family. So many fun things to look forward to.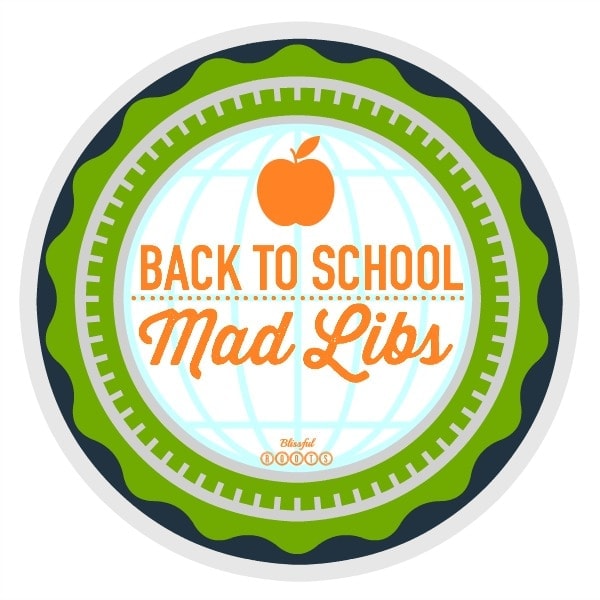 As many of you know, I'm a school teacher at heart, so I have to share something school-related for the month of August. Some of you may remember I shared our family's back to school countdown tradition last year here at Or So She Says. It's such a fun way to build anticipation for the big day. My boys ALWAYS have the first day jitters, so I do what I can to make the days leading up to, and the big day itself fun and exciting.
I like to try and add a few new activities to our countdown each year, just to mix things up a bit for my boys. In July, our family took a big road trip from Utah to Arkansas. I packed up a ton of activities to keep my boys busy during the 23 hour (one way!) drive. And ya know what? The big book of Mad Libs (click the link if you've never heard of them) was their favorite! It was mine too, actually. I love how my four-year-old already knows that a noun is a person place, or thing (thank you, Mad Libs). And we all get a kick out of how funny our stories turn out. My twins laugh and laugh and laugh over them!
So, I thought I'd see if I could round up a few back to school Mad Libs to add to our countdown this year. They are the perfect way to add a bit of light-hearted humor to what can be a kind of scary first day.
Here are some of the school Mad Libs I found online. I cannot wait to do these with my boys! Some of them you can print out and use on paper, others are all done online. And of course, you can always try your hand (or have your kids help) at making one up yourself.
Lunch Box Diaries Mad Lib from Journal Sentinel online
School Rules Mad Libs from Funbrain
The First Day of School from teAchnology
Back to School! Mad Lib from Free Stuff 4 Kids
School Themed Mad Libs from Teachers Pay Teachers ($1 download)
Lunch Room, Recess, and Art Class Mad Libs from Classroom Jr.
You can also purchase an entire book of School Rules! Mad Libs. I found a copy on Amazon for under $5, or there is an official Mad Libs website (they even have a great app!) that offers it for about the same price. I'm thinking this would be a great present for the backpack fairy (click here to see more on her) to leave.
Well, there you have it. A complete list of back to school Mad Libs to try out this year. And of course, Mad Libs are great year-round as well. Just in looking for school Mad Libs, I ran into Mad Libs for pretty much every holiday, occasion, theme, you name it! Such a great way to get a bit of an English lesson in while having lots of fun!
I hope the first day of school goes well (or has gone well) for all of you and your kiddos. I will have about a month and a half (before the baby comes) when all of my boys are in school- a first. My youngest is just preschool, so it's only two days a week, but I'm looking forward to some quiet time to feel like I can finally get ready for this new little guy.
Stop by Blissful Roots and visit me this month. I've got your back to school days covered! A great 2014 back to school round up, our favorite homemade Orange Julius recipe that makes the perfect after school snack, and some great printables for the wonderful teachers who will be devoting this up and coming year to your child. Happy learning!