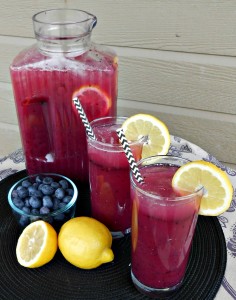 There's just something about a summer night that begs for a nice cool drink while lounging in your favorite chair (or even better…a hammock!) on your porch or patio. Am I right? I would be relaxing every night as the sun was going down, watching a beautiful sunset and sippin' something wonderful if it weren't for those pesky mosquitos! I'm a magnet for them! If anyone has a good trick to keeping them away that doesn't include dousing yourself with disgusting insect repellant I'd LOVE to hear from you!
This is a favorite summertime drink of my families. So refreshing! And although the recipe includes Lemon-lime soda, it is really good without it as well. You can also change out the blueberries for blackberries, raspberries, strawberries, or a combination of all! I love that it is so versatile!
And what Father would not love to have a nice big cold glass of this brought to him on Father's Day evening. Tell him to go and relax and surprise him. If the Father in your life is anything like my husband & Father, this will be one of the best gifts he'll receive. (Mine are pretty easy to please!)
Blueberry Lemon Pina Colada
1/2 cup fresh lemon juice (about 6-7 medium sized lemons)
2 cups cold water
2 cups fresh or frozen blueberries
1/2 cup sugar (we use equal amount of Stevia in ours)
3/4 cup Pina Colada Mixer
about 1 liter lemon-lime soda, whatever brand you like
ice
lemons slices for garnish, if desired
Combine lemon juice, water, blueberries and sugar in a blender and blend until smooth. Transfer to a 2 quart sized pitcher. Add the pina colada and stir to combine. Add lemon-lime soda to make 2 quarts.
Serve with ice and lemon slices.
And go watch the sunset!
Here's a few other amazing drinks: Frape (My Dad's all-time favorite drink), Homemade Dry Ice Rootbeer, and Helen Jean Punch!
Make a different one each week and enjoy your summer nights!
This post sponsored by: Blurb
Make your own Blurb Cookbook!