Summertime is here and that means summer vacations are just around the corner! Disneyland is without a doubt one of the most popular summer vacation destinations. It's true that summer time is known as a busy time for Disneyland, but that certainly doesn't mean you should delay a trip because of it. There is so much to do at the Disneyland Resort – even during busy travel times. Of course, it's nice to visit when crowds are low, but there are some perks to visiting during summer – extended hours and seasonal entertainment are just a couple.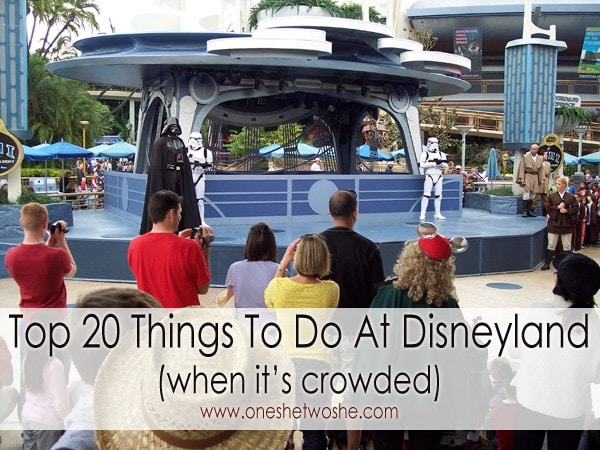 Here is my top 20 list of my favorite things to do at Disneyland when it's crowded:
No trip to Disneyland is complete without a Dole pineapple whip. These yummy tropical treats are located just outside of the Tiki Room. Grab one and head directly into the Tiki Room where you can eat it inside.
Race over to Cars Land first thing in the morning and grab a FASTPASS for Radiator Springs Racers. Lines later in the day can stretch into hours, so if you need an alternative to a FASTPASS, you can also try out the Single Rider line.
Take in seasonal entertainment. This year Monstrous Summer will kick off on Memorial Day weekend. You'll be able to meet Mike and Sulley outside temporary university dorms and watch them lead the Pixar Play Parade. Also, during the summer, a fireworks display takes place almost every night in front of Sleeping Beauty's Castle.
Aladdin – A Musical Spectacular is probably my favorite show at the Disneyland Resort – or anywhere really. This full Broadway caliber production lasts about 45 minutes and the theatre has a ton of seating, so it's unlikely that you'll be turned away, even during busy season.
Take advantage of longer attractions (6-15 minutes long) with quickly moving lines. Some of my favorites include it's a small world, Pirates of the Caribbean, Haunted Mansion and Little Mermaid ~ Ariel's Undersea Adventure.
Book a Character Dining lunch. Disney Character Dining is the best way to see your favorite characters and not wait in any lines. Many Character Dining options are available for breakfast only, but both Ariel's Grotto and Goofy's Kitchen offer meals later in the day. Because mornings are normally the least crowded times in the parks, you'll make the most out of your time by hitting rides in the morning and taking a Character break during mid-day.
Dine at Blue Bayou – and request a table by the water. Located inside Pirates of the Caribbean, you'll extend your pirate experience by eating here. You can make reservations 60 days in advance, so book early to get the best times. To save on cost and escape the heat, plan on a late lunch.
Watch the Jedi Training Academy which takes place throughout the day in Tomorrowland. The busier the day, the more often Darth Vader attempts to disturb the force. A handful of kids ages 4-12 are selected to participate as Jedi Knights in each show.
I can't stress this enough… grab FASTPASSES as often as possible and use them! Some of the best rides for FASTPASS tickets are Radiator Springs Racers, Space Mountain, Splash Mountain, Soarin' Over California, Indiana Jones and Tower of Terror.
Head over to It's Tough to Be a Bug, an eight minute long 3D show held in Bug's Land. The theatre holds a lot of people, and it's a great place to get out of the summer heat.
Take in the ambiance and entertainment of the new Buena Vista Street. This bustling area of Disney California Adventure Park almost always has a show taking place. Grab a park schedule while you're there and be sure to watch the Five and Dime Performers and the Red Car Trolley News Boys.
Experience Captain EO for a blast from the past! This 17 minute show is a ton of fun for parents who remember it from their childhood at Disneyland. It's also fun for kids that are being introduced to MJ's epic 3D show which is retro and futuristic at the same time.
Climb aboard the Disneyland Railroad, which can either be used as transportation around Disneyland or a "Grand Circle Tour" of the park. Train stations are found at MainStreet USA, New Orleans Square, Mickey's Toontown and Tomorrowland. You'll see areas of Disneyland you can only see via the Disneyland Railroad, plus take a peek inside Splash Mountain!
Billy Hill & The Hillbillies is a truly unique comedy/bluegrass/musical act you can only see inside Disneyland Park. They perform regularly at the Golden Horseshoe Saloon inside Frontierland and perform even more often during busy season to entertain crowds.
World of Color is a must-see nighttime spectacular and you will need a ticket. During busy times the ticket line gets really long, really quickly. Although free, tickets have been known to "sell out" by 10am. Instead of waiting in line, you can make a reservation for a World of Color lunch or dinner at the Wine and Country Trattoria or new Carthay Circle Restaurant. Special prix-fixe menus come with a premier viewing ticket for the show. Then, get to your assigned section as early as possible.
Explore Pirate's Lair on Tom Sawyer's Island for a way to get away from the crowds. You'll travel by raft to this island crawling with pirate surprises.
Visit the Disney Animation building. You can spend some serious time here, and a lot of people tend to pass by this amazing area without realizing what's inside. Here you'll find interactive areas in the Sorcerer's Workshop including the Beast's Library, Ursula's Grotto and the Magic Mirror Realm.
Although located inside the Disney Animation building, Turtle Talk with Crush is worth mentioning on its own. This 10-12 minute interactive show is based on audience participation and is never the same twice. Normally not too crowded, this is definitely worth a visit during your Disney vacation.
Tucked away in the quieter area of Frontierland is Big Thunder Ranch, which features a charming petting zoo. It's something you may not think of when you're thinking Disneyland, but it's a fun experience and a great way to get away from crowds. There's also an all-you-care-to-eat BBQ nearby.
Take a scenic cruise aboard the Mark Twain River Boat or the Sailing Ship Columbia. Both vessels are authentic representations and only operate seasonally or during peak travel times, so it's worth checking it out.
There is so much to see and do at the Disneyland Resort this summer, so don't let the crowds scare your family away. One other suggestion is to book a longer vacation with at least 3-day tickets (4 or 5 days would be even better) so if your kids (or you) start to get overwhelmed, you can leave the parks and not feel pressured to spend all day every day at Disneyland. Swim breaks, nap breaks and even beach breaks are fun ways to split up your trip. No matter what, just remember, you're at the Happiest Place on Earth!
If you'd like help planning your trip, be sure to check out www.getawaytoday.com or call Get Away Today's Reservation Specialists at 855-GET-AWAY (don't forget to use promo code Top20Disneyland!)