Chicken salad is one of my most favorite things! In Mormon culture, it's pretty expected to have chicken salad sandwiches after every baby blessing, missionary farewell, and missionary homecoming… at least, in Utah. And I must say, I don't mind at all. It definitely beats the green Jell-O, which I'll have you know I have NEVER seen at a Mormon gathering. But, I'm still looking. There is this fantastic BBQ place in town (Holy Smoke) and they serve the green Jell-O, as a side of humor, but that's about it. Anyway, so if you're blessing your baby or basically, having chicken salad sandwiches, invite me. I want some!
Speaking of chicken salad sandwiches, have you tried the one at Chick-fil-A?? Mmmmm! Awesome. I have my mom on an assignment to create a copycat of their recipe. She's amazing at that. In fact, this recipe for Chicken Pesto Sandwiches is from her. It's a copycat from a favorite soup and sandwich place, Cafe Zupas. Dude, so my mom… you should see her. She takes a bite of something and is like, '1 tps. minced garlic, 1/2 tsp. oregano, 1 cup sour cream…'. It's crazy. And, most of the time, her recipes come out even better than the original. Now, I haven't had the original of this sandwich, but all I know is it's pretty dang good. A fun twist on the typical chicken salad sandwich. And, it's super easy. Plus, if you get the chopped rotisserie chicken at Costco, you'll have it ready in less than 10.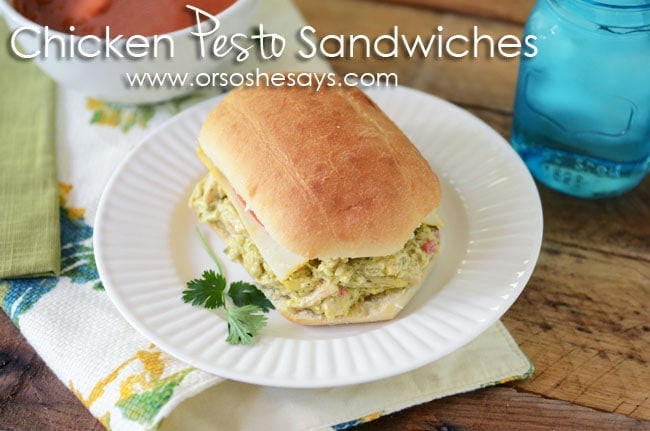 Did you know Costco sells rotisserie chicken pieces now?? You can find it by the refrigerated meats. The other Costco items I love for this recipe are the Torta Sandwich Rolls and the Basil Pesto. The rolls are thin enough that you could even make panini sandwiches, if you wanted. The roasted red peppers give the salad a little kick and the slivered almonds, a little crunch. Both good things. 🙂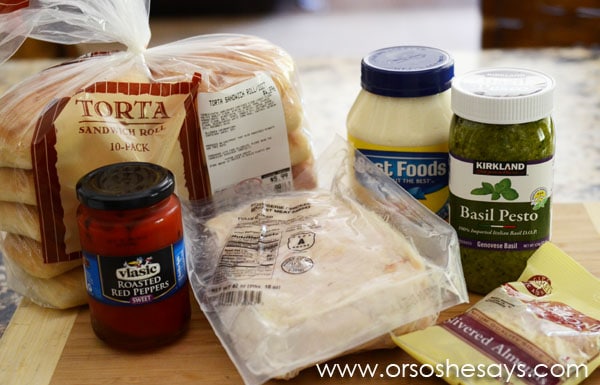 Chicken Pesto Sandwiches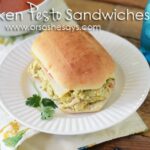 Chicken Pesto Sandwiches
Ingredients
Torta or Ciabatta Rolls

Chicken

cooked and cubed

Roasted red peppers

in a jar, chopped

Slivered almonds

Mayonnaise

enough to mix well with the chicken

Basil Pesto

to taste

Tomato slices

Muenster Cheese slices

Sprouts

optional
Instructions
* Everything in this recipe is 'to taste'. So, if you want more pesto, add more. Less peppers, add less. It's all up to you!

In a bowl, combine the cubed chicken, roasted red peppers, slivered almonds, pesto and mayonnaise. Fold gently.

Slice your rolls, add chicken mixture, a slice of Munster cheese, a slice of tomato and sprouts if desired.

Can be pressed in a Panini-maker for crispness.

* If using an entire bag of Costco chopped rotisserie chicken, I personally used about 15 oz. mayo, 12 oz. pesto, 1/2 cup slivered almonds, and one jar or chopped red peppers.
If you like this recipe, be sure to try another favorite chicken salad recipe, Bacon Ranch Chicken Salad Croissants and Mrs. Patsy's Chicken Salad.