It only requires a few minutes (and no oven!) to whip up these delicious, chewy, no-bake cookies, bursting with oats, peanut butter, and chunks of chocolate!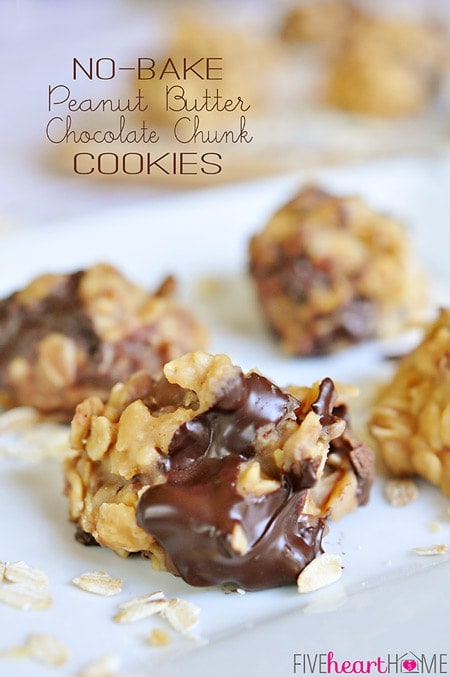 Hi, y'all! It's Samantha from Five Heart Home, and I'm happy to be back today with a no-bake cookie treat that will curb that cookie craving with nary an oven required!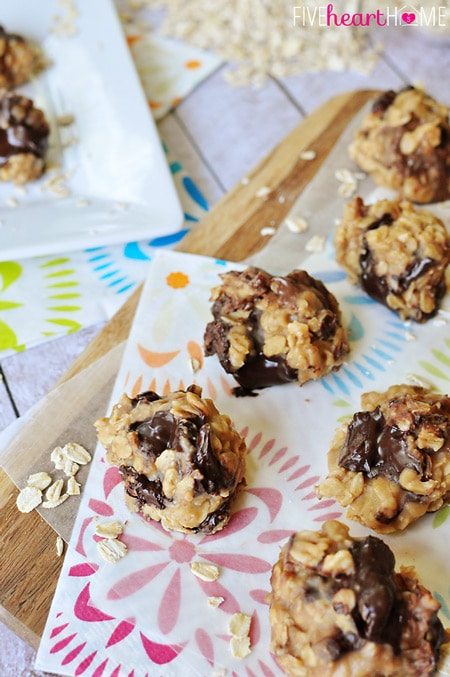 There are still a couple of weeks to go before the official first day of summer, but across many parts of the country, summer temps are already here to stay. I don't know about you, but the last thing I feel like doing when it's boiling outside is turning on the oven. The A/C is already working hard enough! That's why this is the time of year that you'll find my family eating refreshing salads, dinners from the grill, and — when that sweet tooth acts up — no-bake desserts!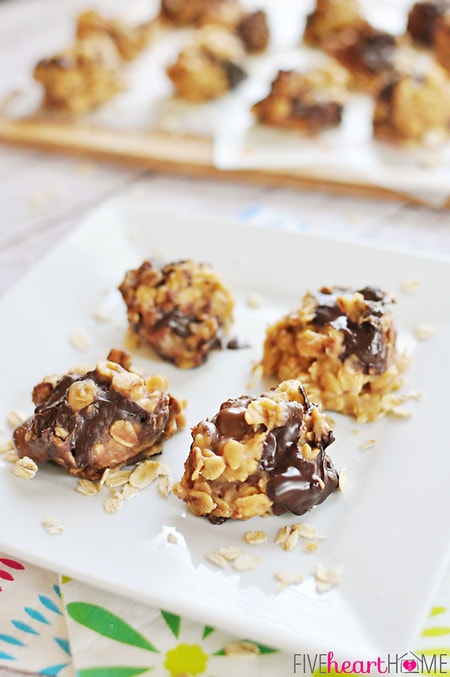 Today I brought over a variation of a little treat that's been around for decades! These no-bake cookies go by a variety of nicknames, but no matter what you call them, they are delicious. And have I mentioned how simple they are to make? A few ingredients get boiled together on the stove for a specific amount of time, and then the remaining ingredients are stirred in. Plop little mounds onto some wax paper, allow to set, and ta-daaa! Decadent, chewy cookies, chock-full of oats, peanut butter, and chocolate. Who would argue with that?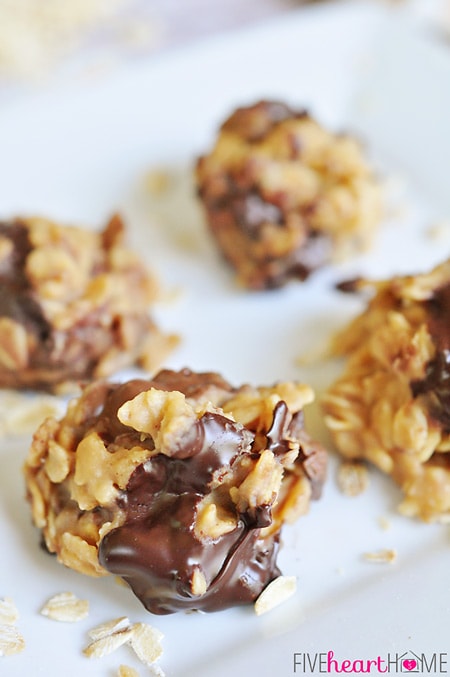 This no-bake cookie is a spin on the classic recipe, with chunks of chocolate substituted for cocoa powder. Take my word for it on this one…if cocoa powder is good, chocolate chunks are better! And since the oatmeal mixture will be be warm when you stir in those chocolate chunks, they will partially melt and swirl through your cookies, resulting in the most scrumptious pockets of pure chocolate when you bite into a cookie.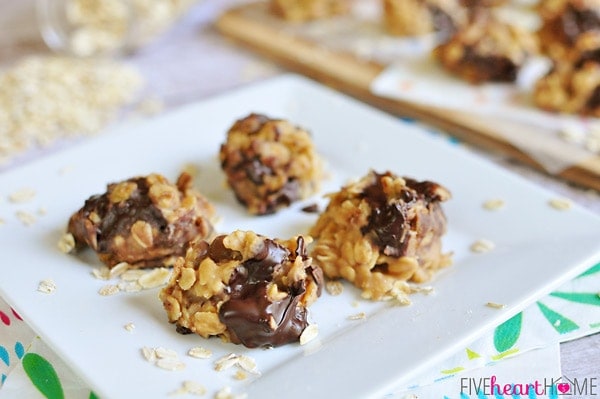 These cookies are sweet in a way that's reminiscent of fudge. You can choose to make them with quick oats or regular rolled oats, depending on how chewy you want your final cookies to turn out. I prefer them with rolled oats, but lots of no-bake cookie recipes call for quick oats, so I think it's definitely a matter of personal preference. And finally, if you have a reason to avoid peanut butter, you can make these with nut-free sunflower seed butter instead.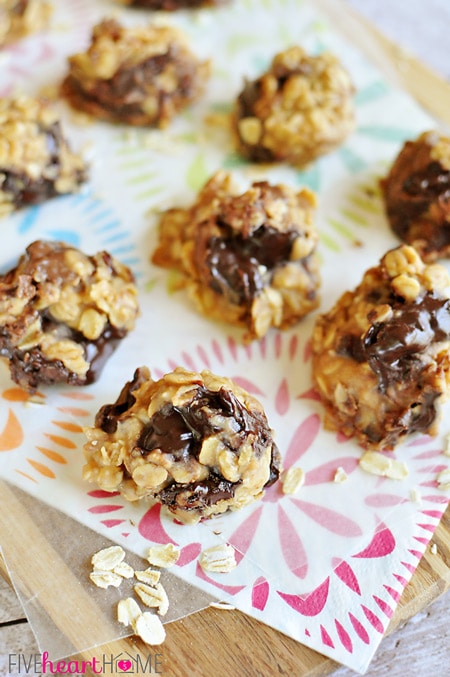 So did you eat no-bake cookies growing up? And if so, did your family have a special name for them? If you've never had the pleasure of enjoying them before, I encourage you to give them a try! No-Bake Peanut Butter Chocolate Chunk Cookies take mere minutes to whip up and they'll disappear almost as quickly…which should tell you just how tasty these little guys are. 😉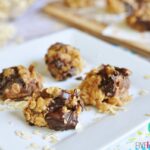 No-Bake Peanut Butter Chocolate Chunk Cookies
It only requires a few minutes (and no oven!) to whip up these delicious, chewy, no-bake cookies, bursting with oats, peanut butter, and chunks of chocolate!
Ingredients
1/2

cup

1 stick real butter (NOT margarine)

1 3/4

cup

sugar

1/2

cup

milk

preferably 2% or whole

3/4

cup

creamy peanut butter

2

teaspoons

vanilla

1/4

teaspoon

salt

3

cup

oats

quick oats OR regular rolled oats for chewier cookies

8

ounces

chocolate chunks

milk or dark chocolate, chilled
Instructions
Line two cookie sheets with waxed paper. Measure out all cookie ingredients and set aside.

Melt butter in a large pot set over medium-high heat. Stir in sugar and milk and bring to a rolling boil. Set timer and continue stirring as mixture boils for exactly 1 1/2 minutes.

Remove pot from heat. Stir in peanut butter, vanilla, salt, and oats until mixture is well combined. Add chilled chocolate chunks and stir just a few times so that chocolate is incorporated and starts to streak, but it should not melt completely.

Drop oatmeal mixture by tablespoonfuls into little mounds onto prepared cookie sheets. You may leave them rounded or use the back of a spoon to slightly flatten them. Allow cookies to set and cool. Store in an air-tight container at room temperature (for up to a few days) or in the refrigerator (if you prefer them firm and chilled).
Recipe Notes
You have to work quickly when making this recipe since it sets up quickly, so I recommend measuring out all ingredients ahead of time so that they're ready when you need them.
Sunflower seed butter may be used in lieu of peanut butter, for those with peanut allergies.
You may use quick oats for more tender cookies, regular rolled oats for chewier cookies, or a combination of the two.
If you use chocolate chips/small pieces of chocolate, or chocolate that hasn't been chilled/frozen, it may all melt when you stir it into the warm oatmeal mixture. It will still taste great, but you won't have any chunks of chocolate remaining in your cooled cookies.
I like to use a small cookie scoop to quickly scoop my cookies into little mounds.
It would be an honor to have you swing by Five Heart Home sometime, where I share quick & easy, family-friendly, real food recipes like these…
Tortellini Pasta Salad with Tomatoes, Basil, & Fresh Corn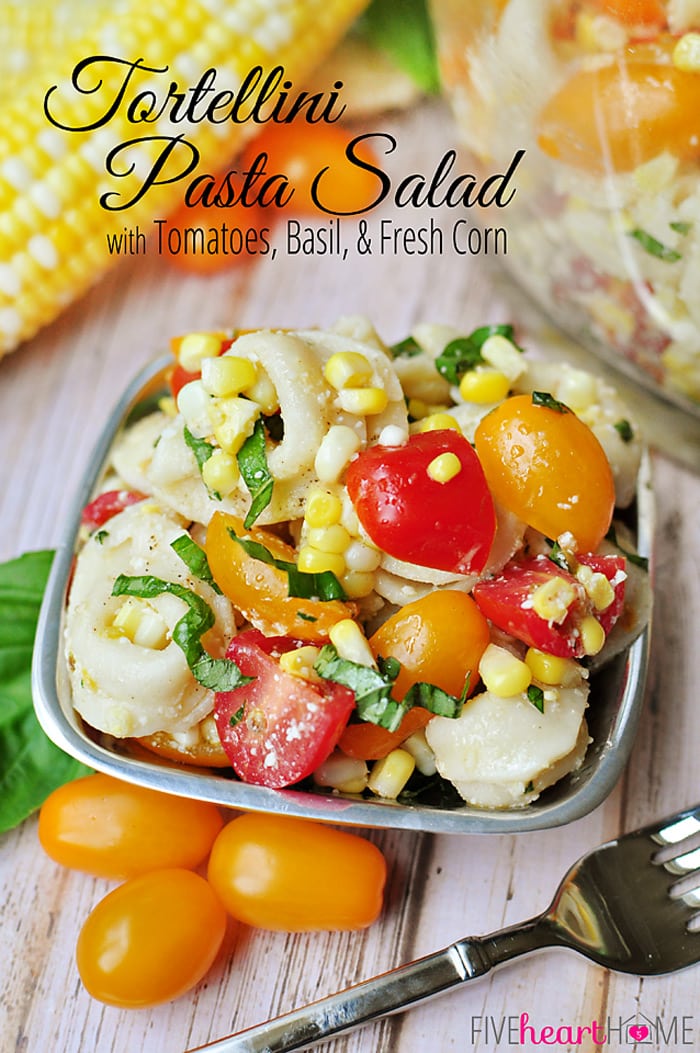 Easy Strawberry Cream Cheese Pastries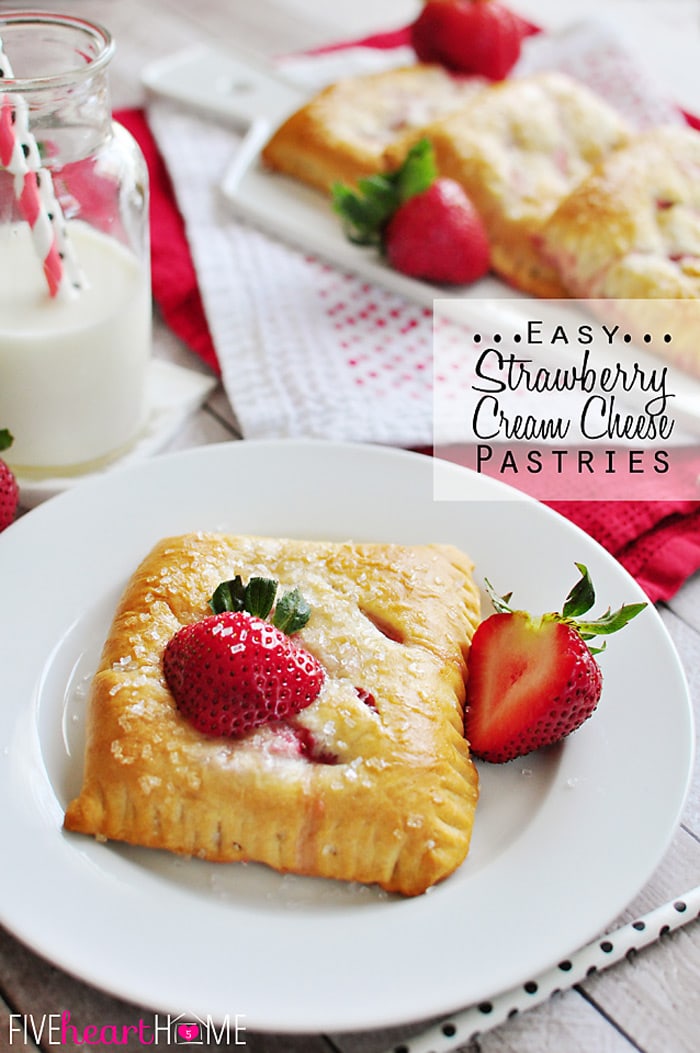 Red, White, & Blue Watermelon Salad with Watermelon Vinaigrette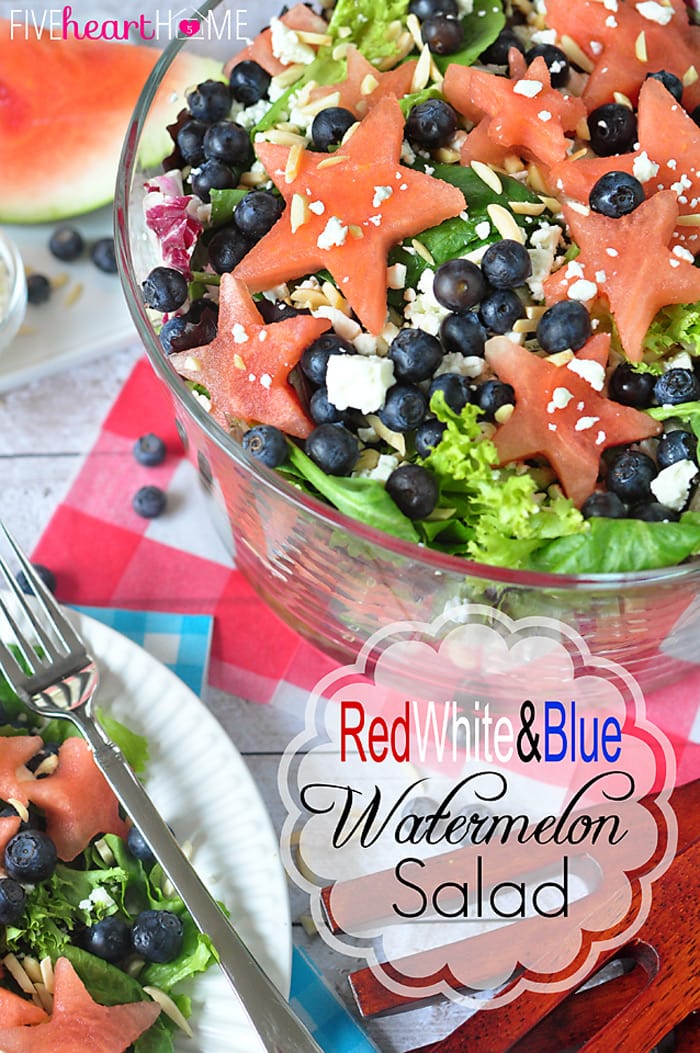 I look forward to visiting y'all again next month! In the meantime, I'd love to connect with you via the social media below. 🙂
BLOG | FACEBOOK | PINTEREST | INSTAGRAM | GOOGLE+ | BLOGLOVIN' | TWITTER