I can't remember if I told you this, but my favorite place to buy my chicken is Harmon's. Is there one near you? I think they're only in Utah. I love that they sell the chicken, with ALL the gunk, veins and arteries already cut off. Then, you can buy it cut into strips, pieces, or whatever. Ahhh….it really makes life so much better. Who knew it could be that simple to make me happy? But, it is. Handling raw meat is one of my least favorite things, ever. Anyway, so I had a pound of chicken, just waiting for me to cook it up or go bad, so I rummaged through my recipes and found this one called Kaytucky Chicken from Kayotic Kitchen. After a few adjustments, and a shape-change, they were done…and, delicious! If I wasn't on a stinkin' low carb diet, I would have devoured at least five two of them.
So, you'll need a pound of diced chicken, a box of puff pastry sheets, crushed red pepper, green onion, garlic salt, cheddar cheese, bacon, and cream cheese. This recipe is pretty flexible…one of those kinds where you can add a little of whatever you want.
Crumble up some cooked bacon (extra easy is the microwave kind, which I LOVE Costco's brand), shred some cheese, and chop of about half a bunch of green onion. I don't like a lot of green onion, so whatever.
Cook up your chicken, and dump it in a bowl. While it's still warm, drop 6 oz of cream cheese in the bowl and stir it up. Add the green onion, bacon (however much you want), and cheese. Add about 1/2 tsp of red pepper flakes and at least 1/2 tsp of garlic salt…I may up that to a tsp. next time, just for kicks. Stir everything together.
After your puff pastry has thawed, slice each sheet into 4 squares. Drop a hunk of the chicken mixture on each square and pull the sides up to the top center, to seal the ball. The mixture will make about 10 puff balls, but since I only had 8 squares of puff pastry, I just did 8.
I placed my puff balls in one of those LARGE muffin tins, just to ensure it would hold it's shape. But, turns out, it wasn't super necessary. They held their shape nicely when I also tried just putting them on a cookie sheet. Those ones spread a little more, but not much. Not enough to go buy a large muffin tin, that's for sure.
Brush the top of each pastry ball with egg (that has been whisked). Bake at 400 degrees for about 22 minutes.
These would great for a light lunch or dinner, served with fresh fruit. And, really the variations for the inner ingredients are endless.
Chicken Puffballs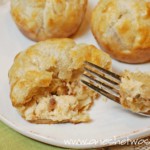 Chicken Puffballs
Ingredients
1

lb

chicken

diced and cooked

5

pieces

of bacon

cooked and crumbled

1

cup

cheddar cheese

grated

3

green onions

chopped finely

6

oz.

cream cheese

softened

1/2

tsp.

garlic salt

1/2

tsp.

crushed red pepper

1 1/2

box puff pastry

thawed

1

egg

whisked
Instructions
Heat oven to 400 degrees.

Lay out the puff pastry to defrost and cut each sheet into 4 squares.

Cook bacon and crumble, shred the cheese, and slice the green onion, set aside.

Cook the diced chicken and dump in a bowl. Add the cream cheese to the bowl of warm chicken and stir until well distributed. Add the bacon, onion, cheese, garlic salt, and red pepper to the bowl, stir well.

After the puff pastry has defrosted, place a large dollop of the chicken mixture into the middle of each square. Pull up the sides to the top center and squeeze together to seal the chicken mixture inside.

Place on a greased sheet pan or inside large muffin tins.

Brush the tops with an egg, that has been whisked.

Bake for about 22 minutes, or until the tops turn golden.