It's coming … the dreaded cough and cold season. All those cute kids head back to school and share their not-so-cute germs with each other. It's inevitable that someone at my house will end up sick, so I try hard to be prepared before the fevers, coughs and sore throats that appear (usually during the wee hours of the morning).
This lovely pink mini duffle bag became our trusted family medical kit somewhere along the way. It's the perfect size to hold all the essentials, and it travels very well. I make sure to pack it whenever we go out of town because I know it has got everything we may need if someone manages to get sick on vacation. And someone almost always does!
My little guy was the one to get a sore throat on both of our big summer trips this year. It's always so hard to know whether I should take him to an emergency clinic or not when we're traveling. We've visited said clinics at the beach, my parents' hometown, my in-laws', etc. And all but one of those times his sore throat ended up being a virus. I would love to have avoided those unnecessary and expensive trips to unfamiliar doctors!
Well, I recently added a new tool to my family medical kit that will hopefully help me decide whether a doctor's visit is necessary. This genius new tool is the SayAhh! Sore Throat Home Exam Aid. The kit includes a scientifically designed oral retractor, a flashlight, a chart with illustrations, as well as descriptions of six common childhood throat ailments. SayAhh! also has a wonderful web site with numerous other resources, and there's even a SayAhh! Exam Guide App to help you compare what you see in your child's throat with what a normal throat should look like. All of these tools help you give a better report to doctors to help determine if an office visit is necessary.
My son has the hardest time opening his mouth wide AND saying "ahhh" at the same time so I can see what's going on. The SayAhh! oral retractor is super helpful because it minimizes the gag reflex (always a good thing) and encourages his stubborn tongue to relax. Plus, the included flashlight makes it really easy to see inside his throat (Tip: One AAA battery is needed for the flashlight but is not included, so make sure you've got one on hand.)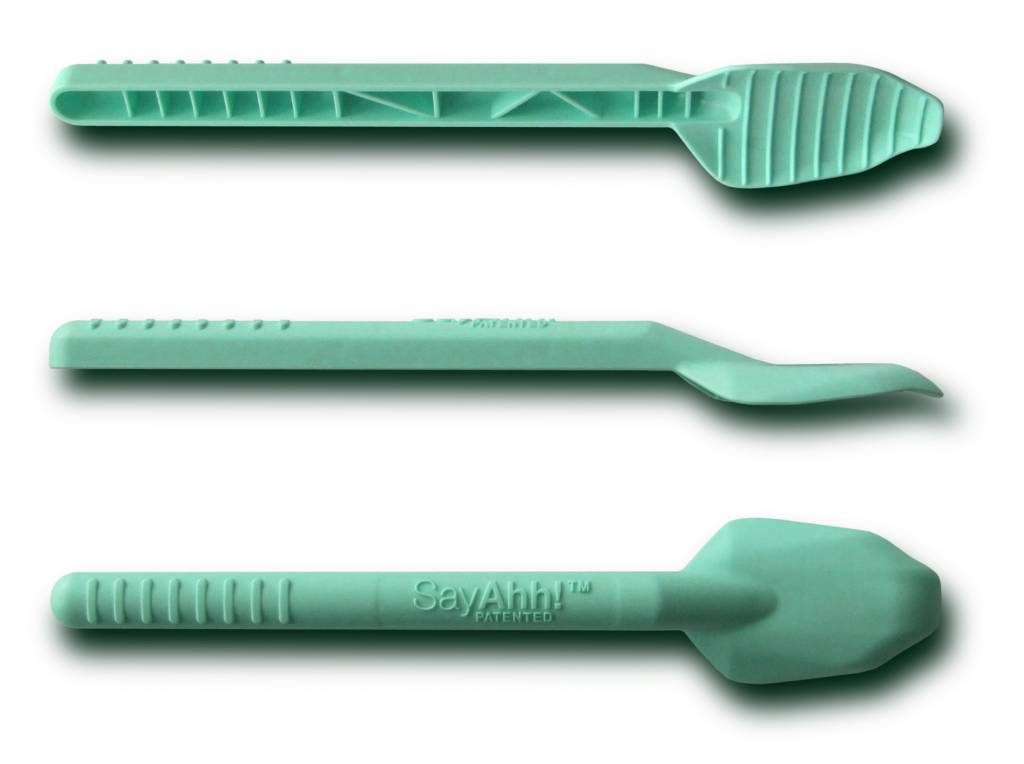 A doctor designed the SayAhh! retractor to make it easier and less stressful to examine the throats of children. Here's how it works:
The angles and curves of SayAhh! provide true control of the tongue, which helps improve visibility for the examiner. With SayAhh! the tongue remains controlled and relaxed, vs. a wooden tongue depressor, which causes the tongue to curl, obstructing vision of the throat.
The unique curvatures and retraction ridges on the underside help to minimize the gag reflex, which helps to relax the person being examined.
SayAhh! is made of an easy-to-grip medical grade plastic that is more comfortable in the mouth than wood or metal.
I would highly recommend adding the SayAhh! Sore Throat Home Exam Aid to your medicine stash before you need it! OSSS readers can save $1.00 on your purchase of the SayAhh! Sore Throat Home Exam Aid with our special promo code "mom439."


Also, they've got a fun giveaway running through September 18, 2015. Just enter the SayAhh! Cold Season Survival Stash Sweepstakes for a chance to win a $25 American Express gift card that can be used to stock up on cold/flu supplies. There will be 15 winners randomly selected at the end of the giveaway. Plus, if the SayAhh! Facebook page reaches 1,500 fan likes by September 18, they'll give an additional Grand Prize Winner a $200 American Express gift card!
I'd love to know what tips and tricks you have for surviving cold and flu season!
Now through November 1st, get free shipping when you purchase the new SayAhh! Sore Throat Home Exam Aid online at http://sayahh.com/purchase.html!
This is a product-provided, sponsored conversation that contains affiliate links. All opinions, text and experiences are my own.