I love collecting Christmas books. They're such an easy and fun way to create a special moment with the kids and build upon the holiday excitement. After Christmas is over, I pack them away with all of the decorations, so each year when I pull them out, the kids are excited to see the, all over again!
I wanted to add some books to our stack this year, so of course, I hit up my trusty Facebook gals! (You girls always have the best suggestions!)
So, here's some of their favorite Christmas books for kids!
…and, some of MINE too.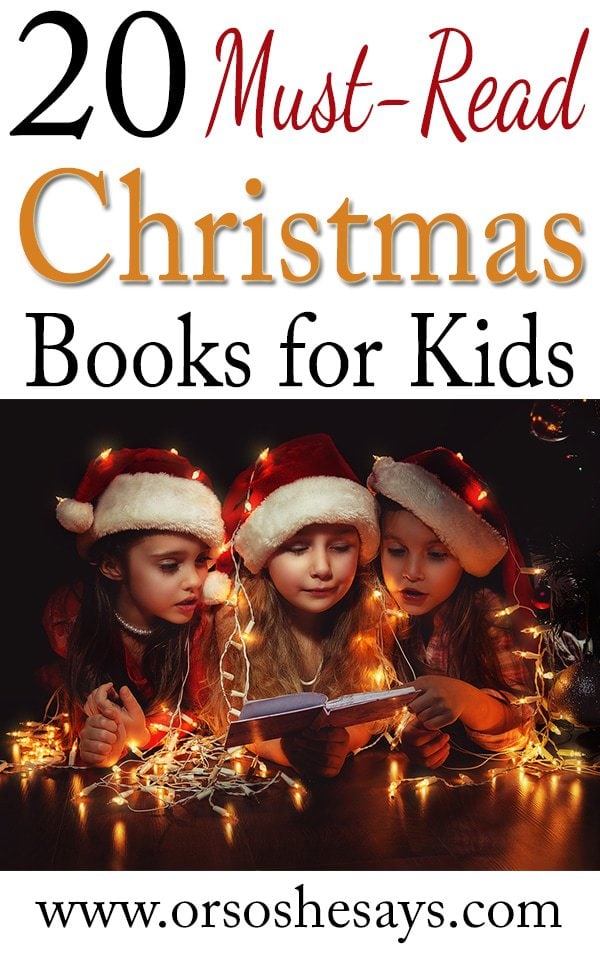 The Crippled Lamb by Max Lucado ~ "Joshua was a lamb with a crippled leg who felt left out because he couldn't run and play like the other lambs. But God had a very special plan for Joshua's life, as He does for all who feel alone. Readers can expect a gentle tug on their hearts as the little lamb's prayers are answered in an amazing way."
Snowmen at Night by Caralyn Buehner ~ "Have you ever built a snowman and discovered the next day that his grin has gotten a little crooked, or his tree-branch arms have moved? And you've wondered . . . what do snowmen do at night?"
The Night Before the Night Before Christmas by Natasha Wing ~ "It's December 23, and Christmas is just around the corner. But one family is having trouble getting its act together. Once again, Natasha Wing follows the rhythms and meter of Clement Moore's classic Christmas poem, yet gives it her own entirely original twist."
Olive, the Other Reindeer by Vivian Walsh ~ "Olive is merrily preparing for Christmas when suddenly she realizes "Olive… the other Reindeer… I thought I was a dog. Hmmm, I must be a Reindeer!" So she quickly hops aboard the polar express and heads to the North Pole. And while Santa and the other reindeer are a bit surprised that a dog wants to join the their team, in the end Olive and her unusual reindeer skills are just what Santa and his veteran reindeer team need."
How Santa Got His Job by Stephen Krensky ~ "When Santa was young and needed a job, no one was looking for a man in a red suit to deliver gifts on Christmas. So Santa tried just about everything — from a chimney sweep to a postman to a circus performer. But none of these worked out. It wasn't until he met a group of elves who helped him use all his special talents, that Santa was able to find his dream job."
The Christmas Wish by Lori Evert ~ "Long ago, a brave little girl named Anja wanted to be one of Santa's elves. So she leaves a note for her family and helps her elderly neighbor prepare for the holiday, then she straps on her skis, and heads out into the snowy landscape. From a red bird to a polar bear to a reindeer, a menagerie of winter animals help Anja make her way to Santa."
Bear Stays Up for Christmas by Karma Wilson ~ "The day before Christmas, snuggled on his floor, Bear sleeps soundly with a great big snore…." Bear's friends are determined to keep Bear awake for Christmas! So they wake Bear up and have him help them find a Christmas tree, bake cakes, hang up stockings, and sing Christmas songs. Bear stays up — by discovering that giving is one of the best Christmas presents!"
Room for a Little One by Martin Waddell ~ "'Tis the eve of Christmas–a cold winter's night–when Kind Ox offers to share his stable by the inn. Assuring each tentative visitor that "there's always room for a little one," he first gives shelter to Old Dog, then, in quick succession, Stray Cat, Small Mouse, and Tired Donkey, who is accompanied by Joseph and a weary Mary. As predators and prey gather together in "the peace of a stable," they learn lessons about tolerance and generosity. Finally, they bear witness to the birth of the most wondrous "Little One" of all: the baby Jesus."
A Wish to Be a Christmas Tree by Colleen Monroe ~ "This charming tale of an overgrown pine always being passed by for Christmas, and what his woodland friends do to help him, is sure to become a Christmas classic. With delightful illustrations by wildlife artist Michael Monroe and enchanting text from Colleen Monroe, the birds, deer and squirrel of this story help make their special friend's wish come true."
The Carpenter's Gift by David Rubel ~ "Opening in Depression-era New York City, The Carpenter's Gift tells the story of eight-year-old Henry and his father selling Christmas trees. They give a Christmas tree to construction workers building Rockefeller Center and celebrate together. Through the kindness of the construction workers and neighbors, Henry gets his wish for a nice, warm home to replace his family's drafty shack. He plants a pinecone from that first Rockefeller Center Tree. As an old man, Henry repays the gift by donating the enormous tree that has grown from that pinecone. After bringing joy to thousands as the Rockefeller Center tree, its wood will be used to build a home for another family in need."
The Christmas Train by Thomas Monson ~ "Thomas S. Monson recounts a Christmas memory from his childhood. As a boy, he yearned for an electric train. To his delight, on Christmas morning he got exactly that a train that operated through the miracle of electricity. Then he noticed a second train that his mother had purchased for the boy down the street whose family was struggling. Although it was only a wind-up train, it had an beautiful oil tanker car, which little Tommy wanted for his own. Soon after, Tommy s mother invited him to accompany her to the neighbor s home to deliver the gift. Young Mark was thrilled with his new train and, of course, didn t notice the missing train car. However, a remorseful Tommy did. What happened next will bring the spirit of Christmas into every heart and home."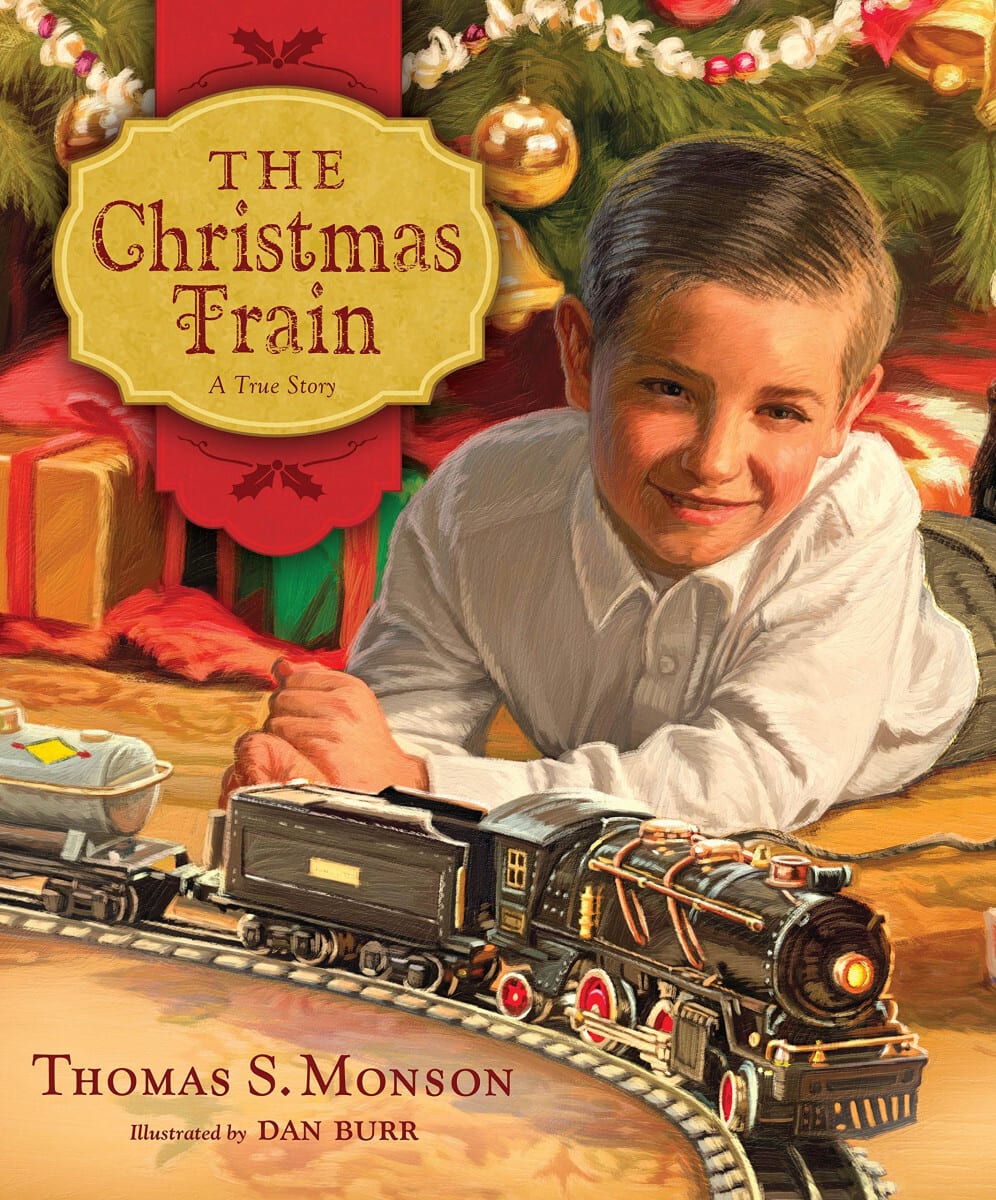 Why Christmas Trees Aren't Perfect by Richard Schneider ~ "Long, long ago, in a land far away, lived a perfect little tree named Small Pine. Small Pine hoped to maintain its perfect form and be selected by the Queen as her Christmas tree. But as the warm-hearted little tree gave shelter to birds, rabbits, and deer in the forest, its branches became damaged. Fortunately, the Queen had a different idea of perfection…"
The Sweet Smell of Christmas by Patricia Scarry (my favorite!) ~ "Christmas is almost here! Little Bear can smell it—and so can you! The air is filled with the aroma of gingerbread cookies, minty candy canes, the piney Christmas tree, and yummy hot apple pie. Celebrate the holiday season with this classic Golden storybook which includes six scratch-and-sniff scents."
The Little Christmas Elf by Nikki Shannon Smith ~ "Nina, the littlest elf in Santa's workshop, doesn't finish the teddy bear she's making in time for it to get loaded onto Santa's sleigh-but, encouraged by Santa Claus himself to not give up, she works far into the night to finish it. While Santa is out delivering presents, a baby is born. Santa comes back for Nina's now-finished bear—and guess who he takes along to deliver it?"
The Berenstain Bears and the Joy of Giving by Jan Berenstain ~ "In The Berenstain Bears and The Joy of Giving Brother and Sister Bear can't wait for Christmas and all the presents they'll open. But during the Christmas Eve pageant, something special happens! The Bear cubs learn a very valuable lesson about the joy of giving to others."
Humphrey's First Christmas by Carol Heyer ~ "We've all heard the story of the three wise men who brought their gifts to Baby Jesus. But what about the camels who carried them? Here is the story of Humphrey the camel and his long, cold journey to Bethlehem. Humphrey has lost his blanket and schemes to acquire a new one. When the party reaches its destination, Humphrey is so drawn to the love surrounding Baby Jesus that he finds himself selflessly giving his new blanket to the Christ child."
Who is Coming to Our House? by Joseph Slate ~ "Who is coming to our house? Someone, someone," says Mouse. As Pig makes room, Lamb cleans up, Goose stacks the hay, and Duck lines the crib with eiderdown, Mary and Joseph are on their way by donkey. All the animals welcome the baby Jesus to their home."
I Want a Hippopotamus for Christmas by John Rox ~ "Christmas is coming, and one little girl wants nothing more than a hippopotamus to play with and enjoy. But will Santa Claus and her parents make her Christmas wish come true?"
The Christmas Owl by Angela Muse ~ "A Barred owl becomes injured and must ask others for help. He promises to give back to those who have a generous heart and he is true to his word. This colorful holiday tale is perfect for children aged eight and under."
Gingerbread Baby by Jan Brett ~ "It all begins when Matti opens the oven too soon and out jumps a cheeky little Gingerbread Bay. He leads Matti's mother and father, the dog and the cat. And a whole colorful cast of characters on a rollicking chase through the village and into the forest, staying just out of reach, daring them to catch him along the way.
But Matti's not with them. He's at home in the borders making what turns out to be a gingerbread house into which the Gingerbread Baby runs. Only Matti knows he is safely inside. And readers will too when they look under the lift-the-flap gingerbread house at the end of the story, and there he is!"
Other Christmas posts you should DEFINITELY check out!
24 Meaningful Christmas Traditions
Gift Idea Central ~ the coolest collection of gift ideas!!