These simple Primary Talks for church at home are a perfect way to involve the children each Sunday, while we are social distancing. The talks for children are based on weekly Come Follow Me lessons.
Each month, primary leaders and parents visit our site to download our simple primary talk templates. Our Come Follow Me based talks are used in Sunday meetings around the United States and beyond! When the Church of Jesus Christ of Latter-day Saints announced that all church meetings would be put on hold during the Covid-19 pandemic, we considered also pausing the distribution of our primary talks as well. Primary was cancelled, so we assumed they would not be needed. How wrong we were!
The need for these simple primary talks has actually increased as families are holding private church meetings at home.
Primary Talks for Church at Home ~ April 2020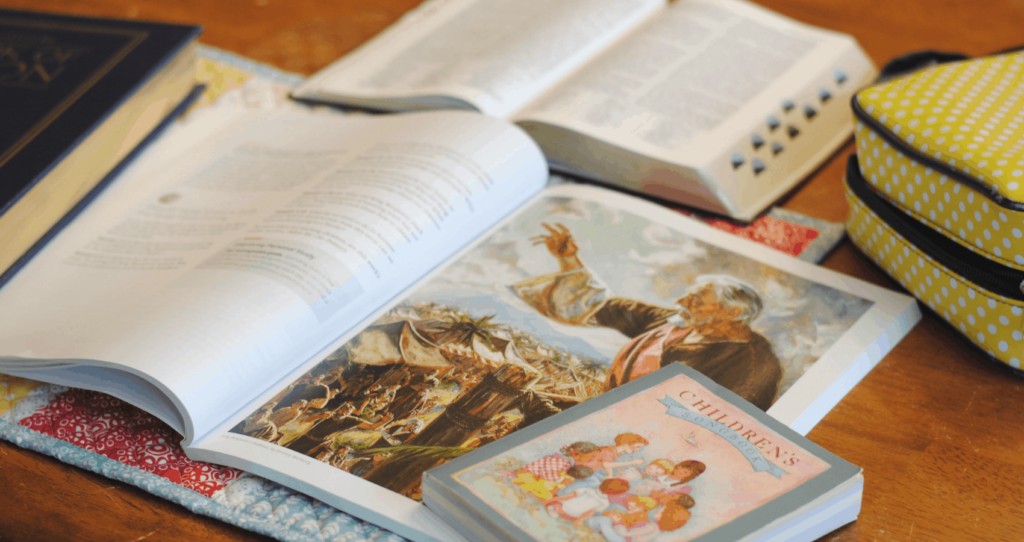 Instead of just one child from each ward giving a talk on Sunday morning, each participating family has the chance to let their own primary age children present a message at home. The number of children speaking about Christ and teaching lessons about His name has grown tremendously! It is such an exciting time to be a member of the Church of Jesus Christ of Latter-day Saints. Indeed, this is a time of learning and of growth.
I love hosting my own little Sacrament Meeting and Sunday School with my husband children each Sabbath day. It has become the highlight of my week! I haven't been very diligent at hosting weekly Family Home Evenings, so this situation has given me the boost that I needed to get things rolling. Spending time teaching each other, singing hymns, and talking about Jesus and His Gospel has increased the Spirit in our home. It is wonderful.
I am sure all of our Sunday meetings look a little bit different. That is one things I love about the Come Follow Me curriculum.
Come Follow Me can be applied to each family's unique circumstances and contoured to meet their individual needs.
How We Format Our Church at Home
We decided to run our Sunday meetings starting with a small Sacrament meeting. We write the agenda on our little chalk board. Everyone gets to participate! My children have used these Primary Talk Templates as their Sacrament Meeting talks. It works so well.
After our Sacrament Meeting, we gather around the kitchen table for an open discussion about the weekly Come Follow Me lesson. I use the Primary version and the Individuals and Family manual. It is a good combination for my family of young kids and teenagers! I have been surprised at the things my kids know about the Gospel. Yay for great teachers in our ward. I have also be shocked at some of the things they haven't known. Boo for lame Mom (me!) for not teaching them better at home.
If you haven't had the opportunity to begin your home church meetings, then I hope these talks give you an easy jumping off point! Don't be discouraged. Use this time to start new. I am so glad that I did. Our lessons are not perfect, but I know that Heavenly Father has recognized our efforts and blessed our home because of them.
You can download and print each week's message by clicking on the PDF download link. Or, you can just read the talk right from this blog post using an electronic device. (My kids feel official when they have a printed version of the talk to use at our tiny podium!)
Church At Home Primary Message: Easter Sunday Lesson, April 12th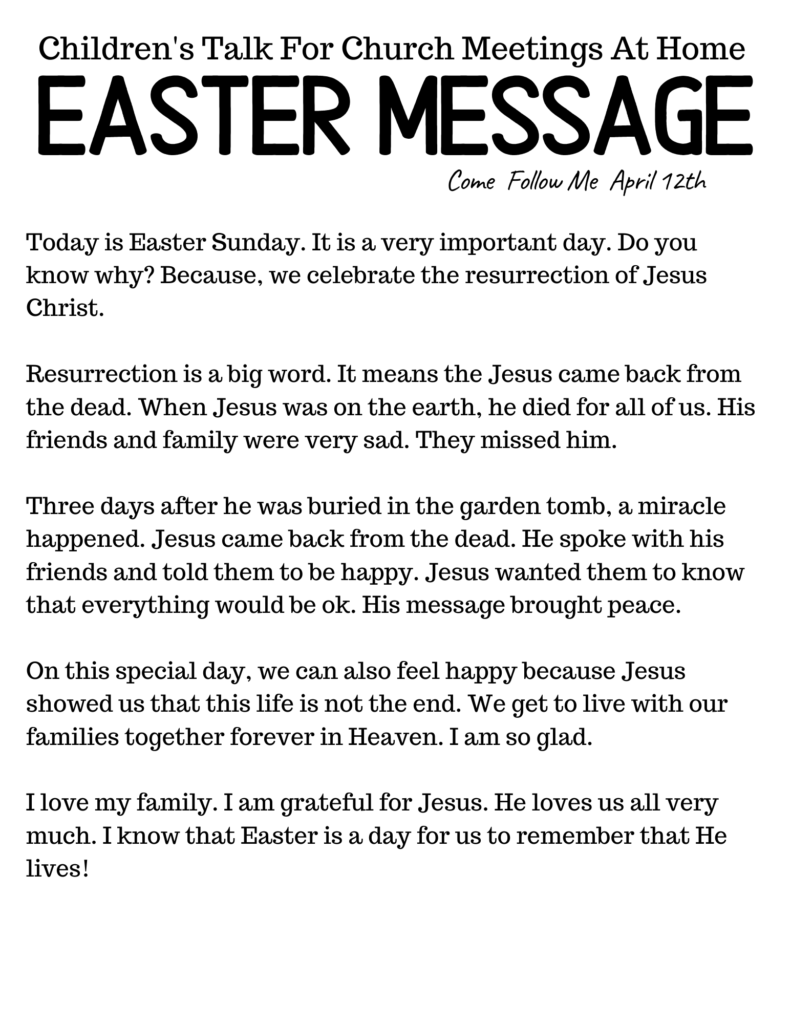 Today is Easter Sunday. It is a very important day. Do you know why? Because, we celebrate the resurrection of Jesus Christ. Resurrection is a big word. It means the Jesus came back from the dead. When Jesus was on the earth, he died for all of us. His friends and family were very sad. They missed him.
Three days after he was buried in the garden tomb, a miracle happened. Jesus came back from the dead. He spoke with his friends and told them to be happy. Jesus wanted them to know that everything would be ok. His message brought peace.
On this special day, we can also feel happy because Jesus showed us that this life is not the end. We get to live with our families together forever in Heaven. I am so glad.
I love my family and am very grateful for Jesus. He loves us all very much. I know that Easter is a day for us to remember that He lives!
At Home Church Talk: Service is Love, April 19th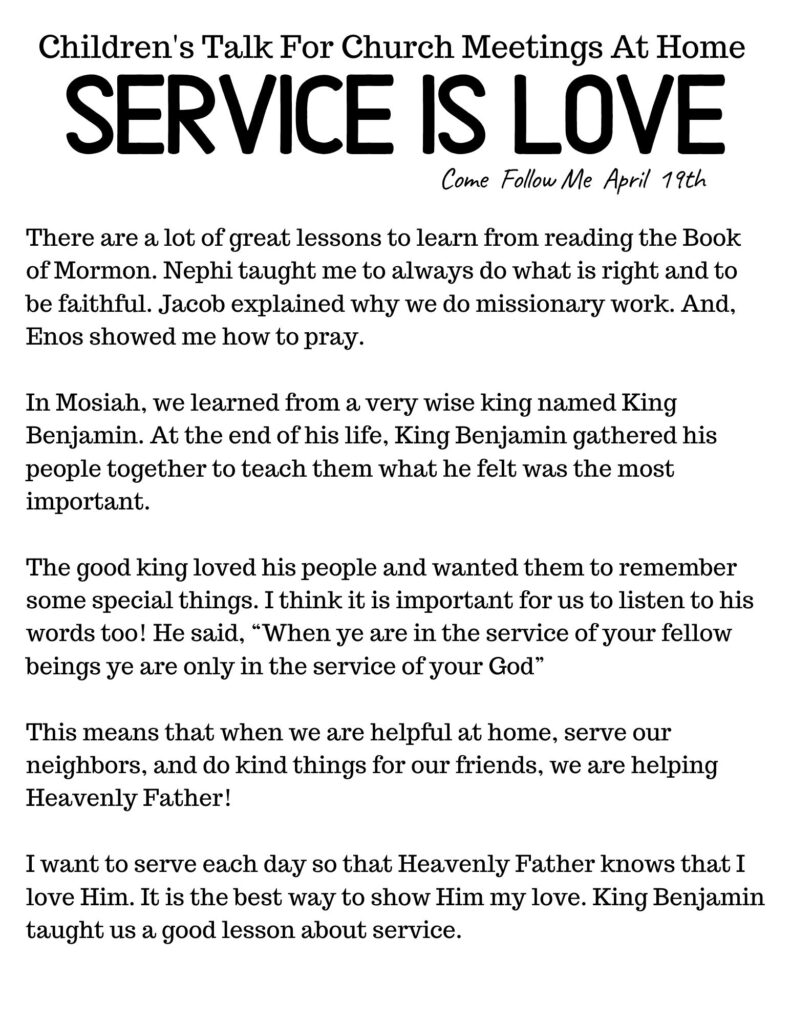 There are a lot of great lessons to learn from reading the Book of Mormon. Nephi taught me to always do what is right and to be faithful. Jacob explained why we do missionary work. And, Enos showed me how to pray. In Mosiah, we learned from a very wise king named King Benjamin. At the end of his life, King Benjamin gathered his people together to teach them what he felt was the most important.
The good king loved his people and wanted them to remember some special things. I think it is important for us to listen to his words too! He said, "When ye are in the service of your fellow beings ye are only in the service of your God" This means that when we are helpful at home, serve our neighbors, and do kind things for our friends, we are helping Heavenly Father!
I want to serve each day so that Heavenly Father knows that I love Him. It is the best way to show Him my love. King Benjamin taught us a good lesson about service.
Talk For Children for Church At Home: I Will Bear His Name, April 26th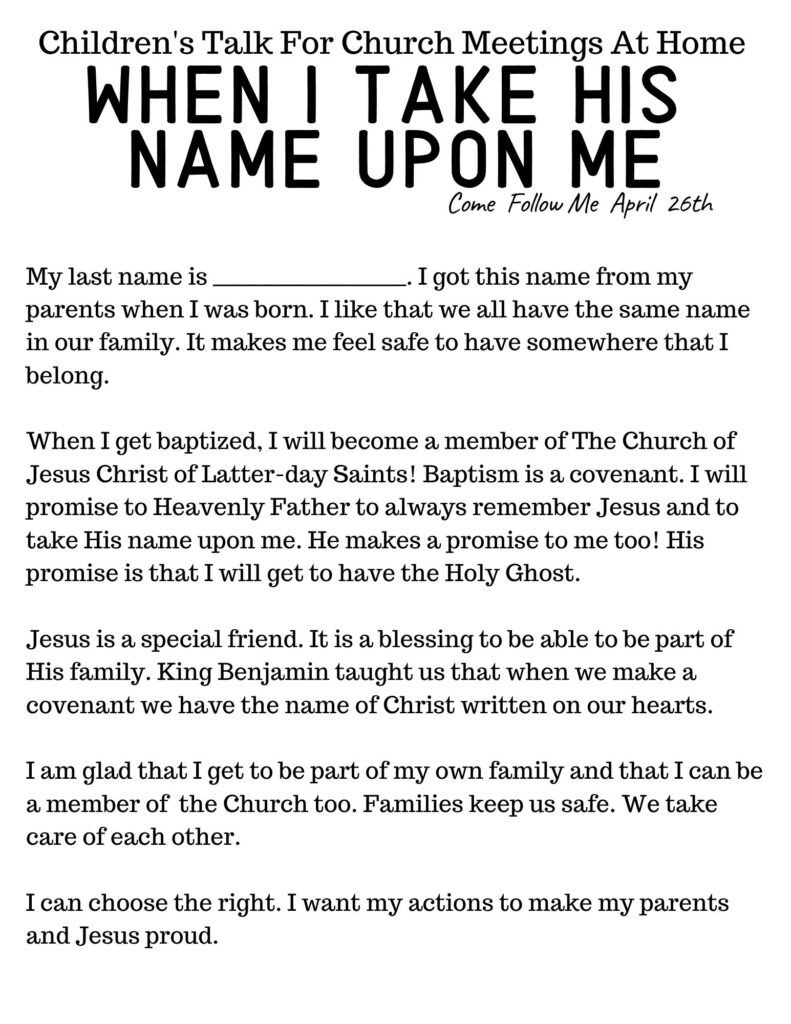 My last name is _______________________. I got this name from my parents when I was born. I like that we all have the same name in our family. It makes me feel safe to have somewhere that I belong. When I get baptized, I will become a member of The Church of Jesus Christ of Latter-day Saints! Baptism is a covenant. I will promise to Heavenly Father to always remember Jesus and to take His name upon me. He makes a promise to me too! His promise is that I will get to have the Holy Ghost.
Jesus is a special friend. It is a blessing to be able to be part of His family. King Benjamin taught us that when we make a covenant we have the name of Christ written on our hearts. I am glad that I get to be part of my own family and that I can be a member of the Church too. Families keep us safe. We take care of each other.
I can choose the right. I want my actions to make my parents and Jesus proud.
I Will Bear His Name PDF Download
To save this Church at Home Primary Talks post, pin this image: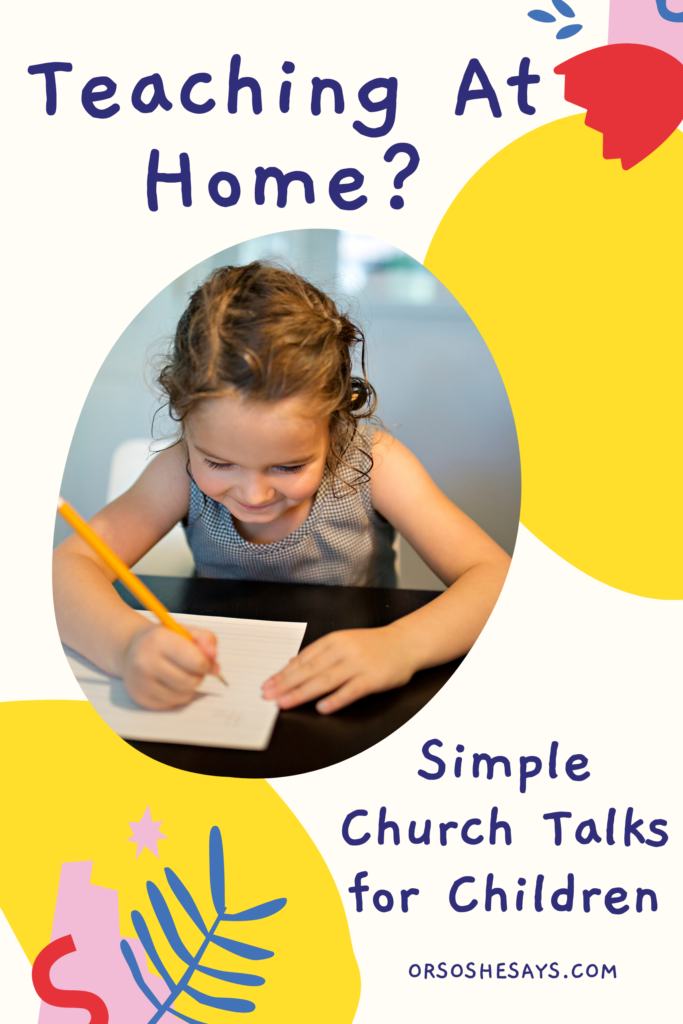 We will create Primary Talks for Church at Home each month! When we do get to return back to our regular Sunday meetings at our meetinghouses, you are welcome to continue to use our talks for your personal Come Follow Me lessons! I have a feeling we will all have the desire to continue teaching our families at home. It is a beautiful experience.
If you liked this Latter-day Saint Home Church post, check out: