This post was originally shared in 2016. I felt it was important to share it again.
Back in December, Dan and I took all of the kids on a cruise. It had been planned nearly a year in advance, so we were SO excited when it was finally getting close to the time to leave. Well… we were all excited, except for my 11 year old son, Shane. Somehow Shane got it in his head that we were going to die, either on the cruise or the airplane. He didn't know which, but he was 100% convinced that it was true. And, it was completely ruining him. It weighed on his mind constantly and there was no reasoning that could console him. He believed with all of his heart that I was taking him to his death. He couldn't be around televisions or radios that had the news on, he lost his appetite and wasn't eating, and he was certain that Christmas was never going to happen for us.
One evening, a couple nights before leaving, he came to me in tears and asked if I would say a prayer and ask Heavenly Father if we really should be going. It was breaking my heart to see him in so much turmoil. My husband gave him a priesthood blessing and we talked to him a lot about his fears… it all seemed to help for about a day, until we got on the plane. He started falling apart all over again. His fears get the best of him. We obviously made it to our destination, boarded the cruise ship and had a wonderful time.
A couple days before it was time to go home, we were settling down for the night in our cabins. I was out on the balcony, overlooking the ocean and doing some Christmas shopping on my laptop. Shane came out to sit by me and I could see in his eyes that his fears had come back… he was already worried about our trip home. I asked him if he wanted to talk about it and sure enough, he was ready to live in Texas (where our ship would be porting) for the rest of our lives, to avoid the plane ride home.
As I was listening to him talk, overlooking the vast ocean, a little story came to my mind that I shared with him…
Feeling Peace from God ~ Stronger Than the Storm
Christ had been teaching a multitude of people and when he finished, he invited his disciples to come with him in his boat to cross the Sea of Galilee. Mark described it by saying…
"And when they had sent away the multitude, they took him even as he was in the ship. And there were also with him other little ships.
"And there arose a great storm of wind, and the waves beat into the ship, so that it was now full.
"And he was in the hinder part of the ship, asleep on a pillow: and they awake him, and say unto him, Master, carest thou not that we perish?
"And he arose, and rebuked the wind, and said unto the sea, Peace, be still. And the wind ceased, and there was a great calm.
"And he said unto them, Why are ye so fearful? how is it that ye have no faith?
"And they feared exceedingly, and said one to another, What manner of man is this, that even the wind and the sea obey him?" (Mark 4:36–41)
I explained to Shane that just as Christ was on their boat, he is on ours. He is on his boat, and He is on my boat. If we are devoted to Him and have faith in Him, we don't need to be afraid, He will be 'on our boat.'
We can feel at peace no matter how big the storms are that come our way or how often the storms come. And, then I told him one of my favorite things to do when life is stormy is to listen to spiritual music… so, I pulled up this song, Stronger Than the Storm by Jenny Phillips, on my laptop for him and we listened to it together. I wish I could play it for you, but there isn't a video or audio file anywhere to be found. It was a special moment for me to be able to listen to that peaceful song with him, talk to him about having faith, finding peace, and how much God loves Him. And, I believe everything I said because I feel God's peace. It's real.
Sometimes life is just scary. We have fears of things that are happening or may happen in our world. We have our own personal fears. God knows all about them. He has felt them, He understands them, and He is there for us.
Recently, I received a somewhat haunting email to my blog account. It said, "I am searching, searching, searching for peace. Please mail me a Book of Mormon." She had found me through one of my free Book of Mormon offers.
Usually the emails I receive are long and wordy, people explaining their desire to learn more about my religion, which I love to read. Often emails are simply their mailing address with no explanation. But, this one really struck me… "I am searching, searching, searching for peace." Her repetitive use of the word, "searching," clearly conveyed her feelings of unrest and being engulfed in the storms of life, and I felt so sad for her. But, also happy that I could send her something that has brought an indescribable amount of peace to me. Since receiving that email, I've been thinking a lot about PEACE and how so many people are searching for it. They want to know what it is and where it comes from.
Peace is a gift from God.
"Peace is a state of existence that comes to man only upon the terms and conditions set by God, and in no other way." ~ Howard W. Hunter
As peace is a gift from God, Christ is rightfully called The Prince of Peace. I've never thought much about that title until preparing this post. It is a perfect title, because I know personally that I need Him to feel peace in my life. One of my favorite scriptures is when Christ is speaking to His disciples before His death. He said…
"Peace I leave with you, my peace I give unto you: not as the world giveth, give I unto you. Let not your heart be troubled, neither let it be afraid." (John 14:27)
Something I learned about that particular scripture is that Christ was using the Jewish form of salutation and benediction: "My peace I give unto you." It was something said all the time by those in their time and existence, but then He said, "not as the world giveth, give I unto you." So essentially it would be like Him saying to us, Have a good day. And, I don't mean that the way the rest of the world says it. I mean, I am GIVING you a good day. But, of course instead of a good day, He is literally GIVING peace in that scripture, not just using a common saying. And of course He is perfectly capable of blessing peace upon others, being The Prince of Peace. True and lasting peace can only come from Him.
Peace is promised to us when we keep the commandments & trust God.
There is no promise of peace to those who reject God and disobey His commandments.
"But the wicked are like the troubled sea, when it cannot rest, whose waters cast up mire and dirt. There is no peace, saith my God, to the wicked." Isa. 57:20–21
"… Indifference to the Savior or failure to keep the commandments of God brings about insecurity, inner turmoil, and contention. These are the opposite of peace. Peace can come to an individual only by an unconditional surrender—surrender to him who is the Prince of peace, who has the power to confer peace." Howard W. Hunter
The Atonement covers more than just our sins.
When we think of the atonement, we usually think of Christ suffering for our sins. Living an unrepentant life certainly brings unrest and utilizing the atonement brings us immense peace. But Christ did more than just feel the guilt and pain caused by our sins, He felt the feelings of every negative feeling we feel.
Sister Chieko N. Okazai, a former member of the LDS Relief Society General Presidency, said:
"We know that on some level Jesus experienced the totality of mortal existence in Gethsemane. It is our faith that he experienced everything, absolutely everything. Sometimes we don't think through the implications of that belief. We talk in great generalities about the sins of all humankind, about the suffering of the entire human family. But we don't experience pain in generalities. We experience it individually.
That means Jesus knows what it felt like when our mother died of cancer – how it was FOR your mother, how it STILL is for you. He knows what it felt like to lose the student body election. He knows that moment when the brakes locked, and the car started to skid. He experienced napalm in Vietnam. He knows about drug addiction and alcoholism. He understands your mother-pain when your 5 year old leaves for Kindergarten, when a bully picks on your 5th grader, when your daughter calls to say that the new baby has down syndrome. He knows your mother-rage when a trusted babysitter sexually abuses your 2 year old, when someone gives your 13 year old drugs, when someone seduces your 17 year old. He knows the pain you live with when you come home to a quiet apartment where the only children who ever come are visitors, when you hear that your former husband and his new wife were sealed in the temple last week, when your 50th wedding anniversary rolls around and your husband has been dead for two years. He knows it all. He's been there."
I love that.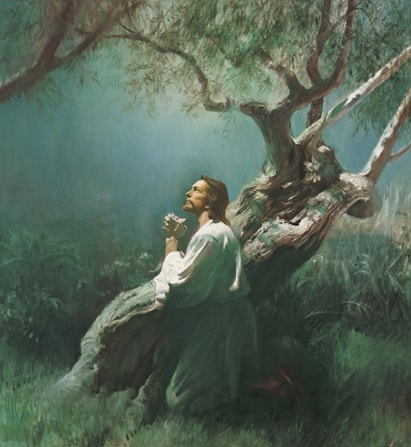 So, since Christ has been there, since he knows and has felt it all… is there anyone better to turn to? He is a better source than your best friend, your mom, or a Google search. Whether you're in mourning, when you're afraid, or any time that life is just hard… He can relate to you, He can guide you, and He can comfort you better than anyone.
"Peace was on the lips and in the heart of the Savior no matter how fiercely the tempest was raging. May it so be with us—in our own hearts, in our own homes, in our nations of the world…" Howard W. Hunter
Christ truly is the Prince of Peace. He is the only source of real peace. He is on your boat and He is on mine, as long as we are keeping the commandments, and we can find rest in Him. He has felt it all. He is the one to turn to. He is stronger than my storms and stronger than yours. I am so thankful to Him and for all He does and has done for me. I could never be without Him.
This is one of my most favorite songs!!
If you liked this post on feeling peace from God, check out:
Pin this image to save this post on finding peace in troubled times:
For additional image choices, click the Pinterest button at the top of this blog post.