Summer time is such a nice break! So nice, in fact, that it's easy to push all things "learning" and "school" by the wayside…much like your kids. Suddenly, you realize school is about to start and you don't want your wee-one struggling…so you do last minute cramming…and this post is for you!
1. Dot-to-Dot ABCs – Get a blank sheet of paper and scatter/write the alphabet all over the page, with a dot next to each letter. Have your child connect the letters in the right order. If you are working on a certain section of the alphabet, just include those letters. Also, be sure to do another sheet using lower-cased letters.
Make your own OR get a Dot to Dot Alphabet Book, $2.34
2. ABC Chart – Using a few sheets of paper, write every letter down. Use the papers to have your kid trace the letter you wrote. Too boring? Give them some paint and water and let them trace by painting. Or, give them a handful of pretzels, noodles, etc. and have them lay the food over the letters to match. Or…give them a bowl of candy. Call out a letter (or sound) and have them place the candy of the correct letter. They can eat the candy for each correct letter.
Make your own or download one, here.
3. Floor Letters – Use 26 pieces of paper, write one letter (large) on each sheet. Lay them in a line on the floor…you may have to tape them down. Call out a letter OR a letter sound and have your child run and stand on the correct letter. If that's too easy…say a word and have your child stand on the first letter in that word. You could also mix up the letters on the floor and have your child put them back in order OR spell a word that you say.
4. Sound Buckets – Use 26 small buckets, bags (Ziploc would work great!), or other container. Write a letter of the alphabet on each container. Find objects that start with that letter to fill the bag with. If you can't find an object, print a picture of it off of the computer and cut it out. Give your child the containers or bags of the letters they are working on. Empty the contents and have them sort them correctly into the containers again.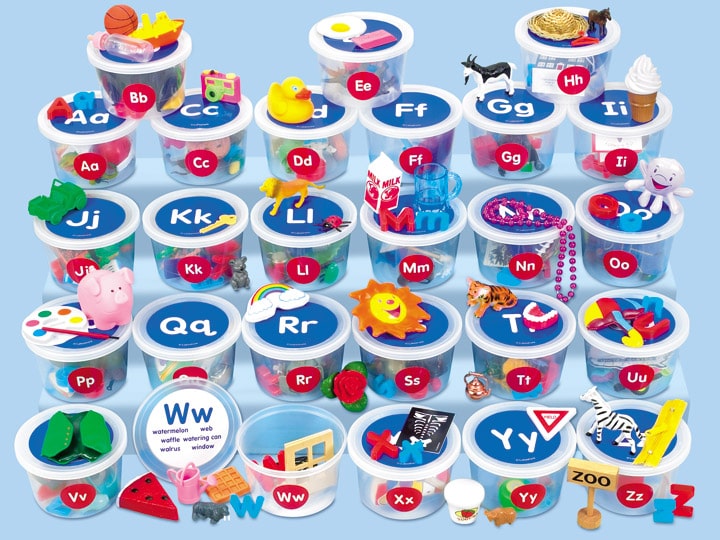 Make your own OR check these out! These are pricey but I love them and plan on using them with all my kids! Alphabet Teaching Tubs by Lakeshore Learning Store, $149
5. Flashlight Letters – Give your child a flashlight. Say a letter or sound and have them write on the wall (using a flashlight) the correct letter.
Let them eat Alphabet Spaghetti-O's, Alphabet Cereal, or Alphabet Cambell's soup. Have them look for certain letters. You can also find Scrabble Cheez-It Crackers…you could easily play games with those, and they're not messy. Who knew
learning the alphabet
could be yummy?
Make some ice letters out of juice in these cool
ice trays
!