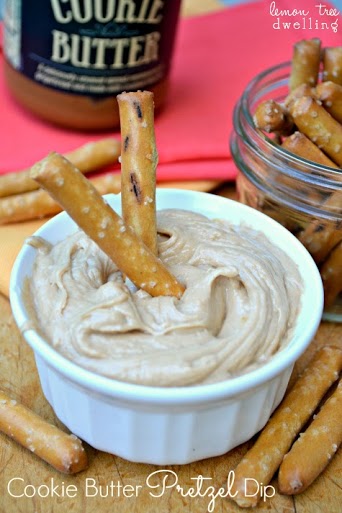 Hello, Or So She Says readers!! It's Cathy from Lemon Tree Dwelling, back with another fun recipe to share with you. This time, I'm using Cookie Butter! Anyone who has ever tasted Cookie Butter can tell you just how amazing it really is….so amazing that, once you've had it, you can't stop thinking about it! Which leads you to do things like eat it by the spoonful straight from the jar, and tell everyone you know about it, and come up with as many different ways as you can to use it (mostly because eating it straight from the jar only feels acceptable for so long….)
Well, with the start of the school year rapidly approaching, I thought it might be time for me to start dreaming up some Cookie Butter after-school snacks. I have two kiddos in school this year – one starting kindergarten and another starting second grade, and both of them LOVE Cookie Butter! They've had it in breakfast pastries and in desserts and, of course, by the spoonful….but they've never had it as a snack. I can't wait to see their faces the first time they come home to this one!
This Cookie Butter Pretzel Dip combines Cookie Butter, cream cheese, brown sugar, powdered sugar & vanilla into a super smooth, super creamy, delicious snack. The perfect way to use Cookie Butter….perfect for dipping pretzels or crackers or apple slices….perfect as an after school snack for the kiddos, and for you, too!
Cookie Butter Pretzel Dip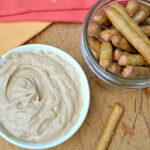 Cookie Butter Pretzel Dip
Ingredients
8

oz.

cream cheese

1/2

c.

Cookie Butter or Biscoff Spread

1/2

c.

brown sugar

2

T.

powdered sugar

1

tsp.

vanilla
Instructions
1. Combine all ingredients and blend until smooth.

2. Serve with pretzels, crackers, apple slices, or your favorite dippers.

3. Enjoy!
Thanks so much for having me here again today! If you like this recipe, I'd love for you to visit me at Lemon Tree Dwelling to check some more of my favorite recipes, like my Cookie Butter Morning Buns or my Salted Caramel Apple Dip! Hope to see you again soon!