Hi there! I'm Tanna and I blog over at The Hub of our Home. I'm so excited to be a new food contributor here on Or so she says. Since you are going to be seeing me around here a little bit I figured I'd start out by telling you a little bit about my self. I'm a full time wife and mommy to 3, 2 wild boys and 1 sassy girl. I love spending time with my family, crafting, cooking/baking, reading, eating ice cream and playing with my kiddos. I don't like snakes, scary movies, steak or gardening.
Well, I guess I shouldn't say I don't like gardening. I'm just really not very good at it. I try, I really do. My hubby and I have tried planting a garden nearly every summer since we were married with very little success. One year our neighbors cows got out and trampled our plants, another our chickens decided to eat our plants, another I may have forgot to water them a time or two (oops). The list could go on, but I think you get the point. I am, however, hoping and crossing my fingers and hoping that this year will be different. We were a little late getting our garden planted, but so far the plants look great and actually have vegetables starting to grow on them. If all goes good we should be enjoying the fruits of our labors in the next week or so. I was hoping to be able to make this Double Chocolate Zucchini Cake from zucchini grown in my very own garden, but with my past record I decided not to hold out hope and ended up buying some.
My mom has been making this Double Chocolate Zucchini Cake since I was a little kid and it has always been a favorite of mine. You start with a simple chocolate cake, mix in some zucchini for moisture, sprinkle it with some chocolate chips, and top it all off with a simple powdered sugar glaze. This cake is a great way for any of you who actually have a live producing plant to use up your zucchini. Or if you are like me this cake is totally worth buying some zucchini at the store. Trust me.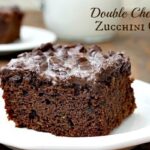 Double Chocolate Zucchini Cake
Ingredients
3

Eggs

1

Cup

Sugar

1

Cup

Brown Sugar

1

Cup

Vegetable Oil

1

Teaspoon

Vanilla

2

Cups

Zucchini

shredded

6

Tablespoons

Unsweetened Cocoa Powder

3

Cups

Flour

1

Teaspoon

Salt

1

Teaspoon

Ground Cinnamon

1/4

Teaspoon

Baking Powder

1

Teaspoon

Baking Soda

2

Cups

Semi Sweet Chocolate Chips

Glaze:

1

and 1/2 Cups Powdered Sugar

1/4

Cup

Water
Instructions
Preheat your oven to 325 degrees.

In a mixing bowl whisk together all of the dry ingredients. Set aside.

In the bowl of your mixer add the eggs, both sugars, oil and vanilla. Mix until combined.

Stir in the shredded zucchini.

Add the dry ingredients and mix until combined.

Pour the batter into a greased 9x13 cake pan.

Sprinkle the chocolate chips evenly over the top of the batter.

Bake for about 45 minutes or until a toothpick inserted in the center comes out clean.

Allow the cake to cool for 10 to 15 minutes before adding the glaze.

For the glaze whisk the powdered sugar and water together until fully combined and there are no more clumps of powdered sugar.

Drizzle the glaze evenly over the cake.

Allow the glaze to set up for a few minutes and then serve warm or allow the cake to cool before serving. Enjoy!
If your a zucchini fan you might also like my Zucchini Bread recipe or if it's chocolate you're after check out my Cookie Dough Brownies.