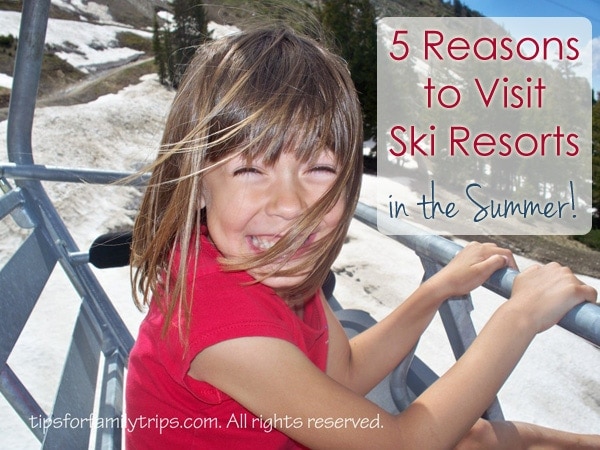 Are you ready to escape the summer heat? Try a ski resort.
Ski resorts are not just for winter fun. Many resorts have transformed themselves into year-round destinations. Here are five reasons why ski resorts are great places to visit during the summer…
1. Cooler temperatures
When temperatures reach triple-digits in the summer, that's typically my cue to retreat indoors, which is a shame on an otherwise beautiful, sunny day. In the summer, ski resort temperatures are more likely to top out in the 80's (F), which is just about right for me. The mountains are also a great place to escape summer smog.
If you take the ski lift or gondola to the top of the mountain, you may find snow, even in the hottest part of summer. Once in July, my family shared the gondola at Utah's Snowbird resort with a couple of snowboarders. They were planning to ride the big patches of snow that were still tucked into the mountain's shadows.
2. Great scenery
The mountains are beautiful in the summer. Towering pines and aspens cover the hills and wildflowers are in bloom. Ski lifts and gondolas are the best way to get a bird's eye view of the mountain. The Scenic Lift at Keystone Resort in Colorado gives passengers a great view of the Continental Divide, Lake Dillon, and pretty much everything else from elevations of up to 11,000 feet.
3. Resort atmosphere
To attract visitors and make the most of the mild summer temperatures, resorts host special events throughout the summer. Many resorts have an outdoor concert series. Snowbird hosts a free Family Flicks series on Friday nights through the summer.
Most resorts offer a variety of good restaurants that offer everything from casual fare to fine dining. Do you enjoy shopping? Resort towns are full of fun boutiques and shops. You may even find a great off-season deal on winter wear.
4. Alpine slides (and more!)
Alpine slides are downhill tracks built into the mountain. Passengers ride to the top on the ski lift with their sleds and control their own speed with a hand brake. Many major ski resorts feature these fun slides and some resorts are upping the ante with alpine coasters.
If you're wondering what an alpine coaster is like, envision yourself careening around a metal track at 30 mph on a sled with nothing holding you on except a lap belt. It's terrifying – in a good way. Park City Mountain Resort has an alpine coaster, and it was my favorite part of our family's day there. For a full review of the summer activities at Park City Mountain Resort, with money saving tips, check out the full review at my family travel blog, TipsforFamilyTrips.com.
Other fun summer resort activities might include zip lines, bungee trampolines, climbing walls, playgrounds and mini golf. These are best suited for active adults and families with school-age children. Infants and toddlers may not be allowed to ride alpine slides or chair lifts, so leave very young children with a sitter or plan to take turns riding.
5. Great Mountain Biking
When the snow melts away at ski resorts each year, miles and miles of world-class mountain bike trails are exposed. Ski lifts are equipped to carry you and your bike to the top of the mountain where you will likely have several trails to choose from. It's all downhill from there.
Bring your own bike or rent one from a local shop. To find the best trail for you, consult the resort's website before you go or ask around. Bike shop or resort employees are likely to be good resources.
Those of us who live near Salt Lake City, Utah are lucky to have many great summer resorts located within a short drive of home. That makes it easy to take a day trip to resorts like Park City Mountain Resort, Snowbird, Snowbasin or Utah Olympic Park.
For those who live farther away or just want a longer getaway, ski resorts might be just the ticket for your next summer vacation, reunion, romantic weekend, or girlfriend getaway.