Hi it's Sierra here from The Blue Robin Cottage! I am so excited to share a fun, girly craft with you today! Fall fabric hair bows are the perfect way to top off any outfit.
But first, tell me if you can identify with this scenario:
You're getting your little lady ready for school: she's all dressed, teeth are brushed and you've just finished doing a Pinterest perfect hairstyle (I'm still trying to work on this part), and now all you need is a hair bow to match.
Well, good news moms, because I've got ya covered! I'm going to show you how to make some adorable fabric hair bows! The ones I've made for this tutorial are fall inspired but the loveliest thing about these sweet little bows is that you can make them in any color you want! The possibilities are endless!
Here's what you'll need:
*1/4 of a yard of cotton fabric for each bow
*Sewing machine or Hot glue gun
*Floral wire
*Scissors
*Alligator clips or thin elastic
First, we need to cut out our bow pieces. We need one rectangle that is 5X10 and one that is 2X3.
Take both rectangle pieces and fold in half width wise:
Sew a straight stitch or hot glue a very thin line at the top.
Turn right side out and press. I used a bobby pin on the small center piece.
Fold the larger bow piece in half and take the two raw edges and sew or glue them together making sure your seam is facing outward like so:
Flip right side out.
Pinch the large bow piece with your fingers and secure with a small piece of floral wire. This will hold the bow shape in place.
Put a small dab of hot glue in the center of your large piece and take your small bow middle piece and place it on top.
This is the part where you will attach your alligator clip or elastic. Wrap the middle bow piece around your alligator clip or elastic on the backside and secure with hot glue.
You are all finished! Now you have some adorable bows that will match any outfit!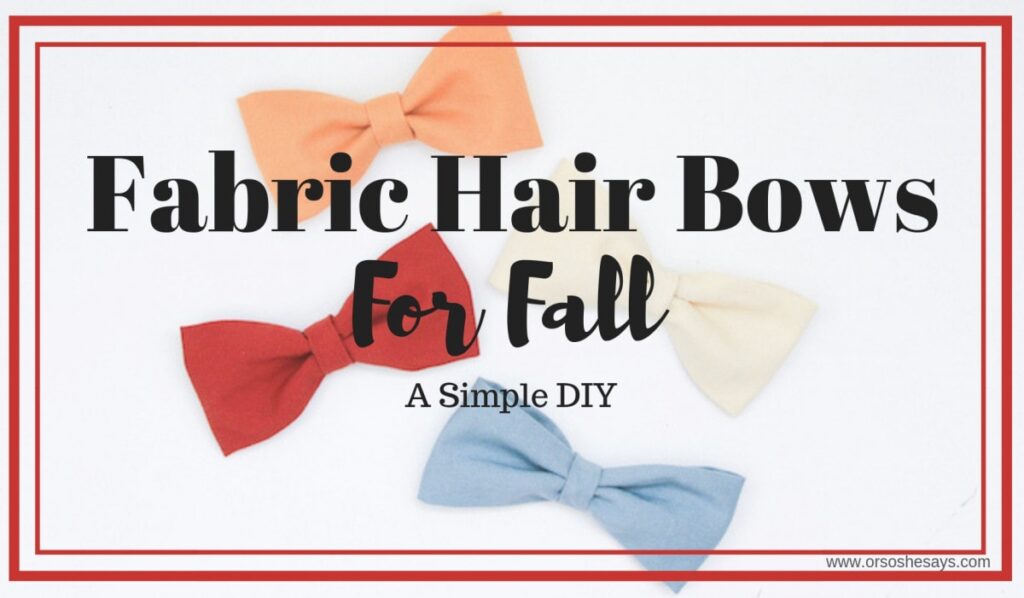 Here are some more posts all about hair on OSSS: