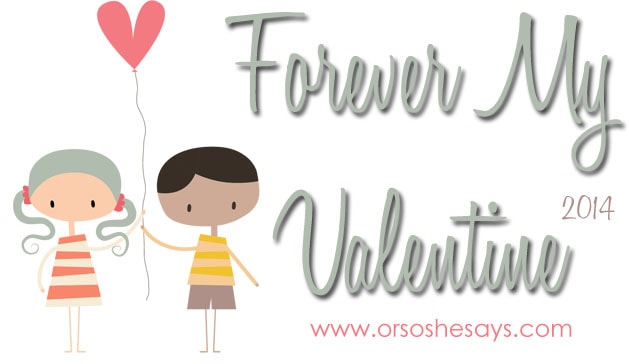 My name is Michelle. I'm 24 years old and have been married to my husband, Kevin for 2 ½ years, although we've been together for 8 years! 2 years ago we moved from our home town of Gonzales, LA to our new town of Tallahassee, FL. We moved to help start a church. I've been fortunate enough to be a stay at home wifey, which leaves free time for my crafting. I am so in love with this life we have made.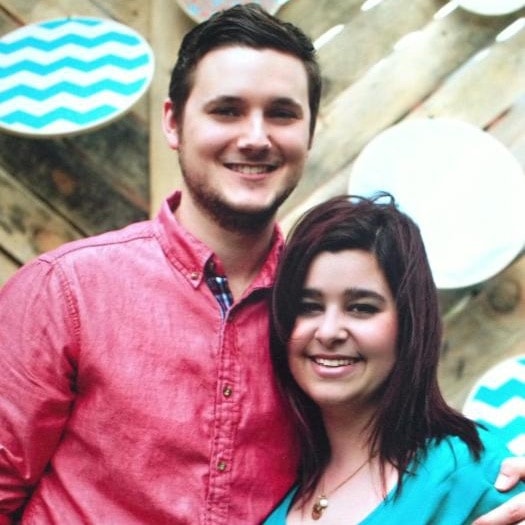 How did you meet?
If you ask Kevin, we met sophomore year in high school in driver's ed. class. He said that I was singing to myself and he told me that I had a pretty voice, and apparently I ignored him and turned away. Which makes sense because I was incredibly shy! I always tell people that we met junior year of high school in our choir class. Which is where we actually began a friendship.
What did you do on your first date?
We had an incredibly fun first date! We played laser tag, ate Chik-Fil-A, and walked around the levee in Baton Rouge (which is also where he proposed). I'd like to go on record saying that I beat him very badly in laser tag. We laughed so much, and that still has not stopped.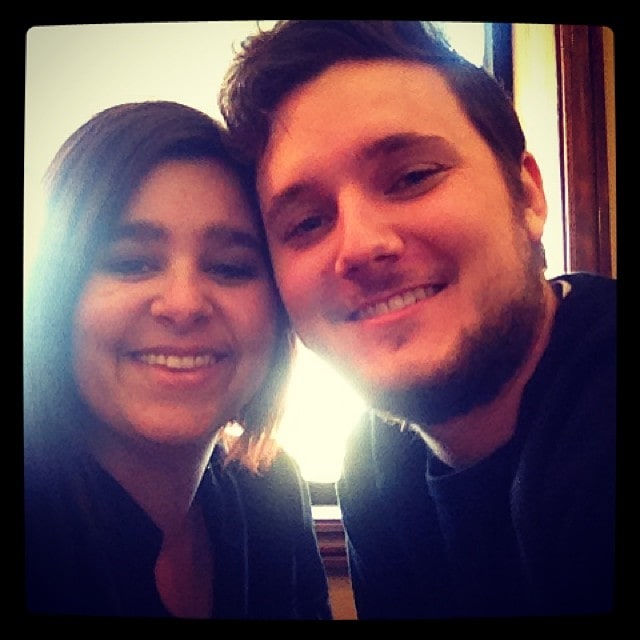 What's the best romantic getaway you've been on?
On our 1 year anniversary we went to Jacksonville Beach, FL. We stayed on the beach, and had NO PLANS. It was incredibly relaxing. We lounged around and walked around and laid around. The beach is always a great getaway for us when things seem busy.
What would be the ultimate romantic getaway?
The most romantic getaway, in my opinion, would be a trip to the mountains. I love Tennessee, and a cozy cabin tucked away in the mountains, just me and him sounds like perfection. OH! And in the winter, because what's more romantic than snow?
What are your favorite songs or favorite albums that make you think of each other?
We never really had a song, until our wedding day. I walked down the aisle to the song "On A Night Like This" by Dave Barnes, and now every time we hear it, it brings back that incredible memory. And also, the song "Marry Me' by Train, every time we hear it, wherever we are and whatever we are doing we stop and text each other.
If you were to make a special dinner for him, what would you make?
I would probably make fried rice with shrimp and chicken. He loves shrimp. And he loves Asian food. I usually serve it with some edamame, but if you don't like that you could easily do some green beans. To be honest, I found it on Pinterest!
Easy Fried Rice with Chicken and Shrimp
2 cups prepared rice
1 chicken breast, cut into bite-sized pieces and seasoned with salt & pepper
½ lb Shrimp, seasoned with salt and pepper
1/2 cup frozen mixed vegetables
2 green onions, chopped
1 clove garlic, minced
1 egg
3 teaspoons sesame oil, divided
2 Tablespoons soy sauce
Whisk egg with 1 teaspoon oil in a small dish then set aside.
Heat 1 teaspoon oil in a large wok or skillet over medium-high heat. Add chicken then stir fry until cooked and remove to a plate. Add shrimp then stir fry until cooked and remove to a plate. Heat remaining teaspoon oil in the wok then add frozen mixed vegetables and green onions. Stir fry until tender, about 2 minutes, then add garlic and cook for 30 more seconds. Push vegetables to the side then add egg and sesame oil mixture into the center and scramble.
Add cooked chicken, rice, and soy sauce to wok then toss well to combine.
What is the coolest gift you ever bought him?
Well, this is hard, because if we're being honest, I've gotten him a few cool gifts. Being that he is a musician, all things that he wants are pretty cool, guitars, headphones, etc. But the coolest thing I got him would probably the VIP Tickets to the Hillsong UNITED concert. Not only did we stand just feet away from the stage, but we got to meet the band before the show.
If you could give your husband anything what would it be?
I would give him a trip to Australia, he is possibly borderline obsessed. Just kidding, but he does really want to go there. He would like to go for many reasons; surfing, Hillsong Church, and it is absolutely gorgeous. I'm sure we will visit one day.
It makes me laugh when my husband…
This one is hard, because we laugh at each other so much! I would have to say I laugh the most whenever he tries to dance, which is not often, and never in front of people. You would think that as a musician he would have good rhythm… and you would be so wrong. Hilarious.
What are some every-day ways that you show love to each other?
Well, I get up early and fix his lunch everyday, and sometimes I'll stick post it notes in there too. He's the kind of guy that requires regular time by himself, so I always try to let him have that. And he always helps with the dishes, which may not seem very loving to everyone, but to me it is the most wonderful thing!
What are some things you like to do together?
We are some movie watching people. We love watching movies, comedies to be exact. He also likes for me to play video games with him, which isn't always my favorite but it's usually fun. And he usually wins, I'm incredibly bad at video games.
What's your favorite smell on your husband?
He doesn't usually wear cologne, but I love LOVE the smell of his body wash. He uses Old Spice Denali. Smells. So. Good.
I love my marriage because…
We love each other. That might sound silly, but we know that love is a choice and we choose to love each other every day. We also choose to make God the center of our marriage. While we may not always be incredibly, blissfully happy, but we make our way back to that eventually. I would not want to be anywhere other than this place with this man. I can't wait to see the rest of our story unfold.
* The 'Forever My Valentine' series continues all week! So check back every day for even more insights into the love lives of OSSS readers and get some ideas from them for Valentine's Day!