Well, I survived another stint on tv. Is stint a word? It just sounded right. Here I am, looking nerd-a-licious with the hosts of Channel 2's Fresh Living and Utah's First Lady. Spanx don't work as good as I hoped. But, it was fun and I'll be going back February 16 with my son to share one of his recipes (see homeschooling posts). It's always fun to be in the news rooms, seeing all the anchors you watch on tv. There are literally tvs everywhere…all over the walls,
tv stands
, on desks. The sets where they film are teeny tiny, I would never of guessed. Speaking of teeny, tiny…it's so true that tv adds weight to you. Everyone I saw looked like twigs in real life! Crazy. See Mary Nickles there? She's 6 feet…I have to tell everyone…I look like such a shrimp next to her. If you
must
watch it, I guess I'll let you…ugh….here's the link: http://connect2utah.com/recipes-and-life/fresh-living-main, search "Mom's World (Picky Eaters)".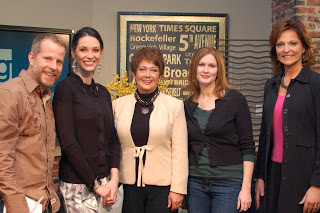 Anyway, onto the good stuff…
It really makes me happy when I have a "place for everything." That goes for my home, my car, my purse. It doesn't mean I'm an organization goddess, by any means. But, I sure super-like being organized. So, it's no surprise that every time I opened my purse I would be quickly swept into the depths of utter despair. My pens were covered in chewing gum and goldfish cracker crumbs. My cell phone was ringing, but couldn't be found. I would pull out my wallet and 3 diapers, chapstick, and 17 receipts would fall to the floor. I knew somewhere in there was the card that said when my son's next doctor appointment was. And, my hand sanitizer was being smothered by my little one's snot rag…thus, needing sanitizing of it's own. Oh, my purse. I can't tell you how many I've gone through, thinking THIS time I would get it right. THIS purse would keep me organized. I was wrong, every time…until now.
Let me introduce you to my latest must-have that I tell everyone about…bags by Baggallini.
Oh, baby. When it comes to purse organization, this is IT! These things have pockets e.v.e.r.y.w.h.e.r.e!! Now, I literally have a "place for everything." There's a spot for my phone, ipod, diapers, wallet, chapstick, pens, calendar, kid snacks, etc. I love it….AND, really…the prices are reasonable (considering people spend hundreds of dollars on purses…wha??)
There are millions of colors and I love how they are nylon. Casual, easy to clean, and super cute. They are not paying me to say this. In fact, Baggallini is on my "terd-butt list" for ignoring my email when I asked for them to donate a bag to you girls. But, never fear…I have my ways and I've scored a Baggallini bag for a lucky winner. I'll tell you about it at the end of the post.
Anyway, so here's my beloved new bag…The Town Tote. There are pockets all around the outside of the bag and a ton of them inside!
I loved mine so much that I had to get one for my bestie….I gave her this Zipper Bagg…and she loves it. I think she said, "there's a place for everything!" Funny, I said the same thing.
Anyway, I've got one
Baggallini Town Tote
up for grabs…specifically, THIS one…retailing for $60 bucks.
Here's how it will work…
the 10th person to send me in a new guest post will be sent this awesome Baggallini "Around Town" bag!

We could have a winner today, or it might take several days…ya never, never know.
To read about sending in guest posts, visit the "Guest Posts 101" above.
Off you go! I can't wait to see the great ideas that come in! (P.S. I can't promise to post every guest post I get, but if it fits in the schedule and suits the blog, I totally will.)