Today's Picks: Gifts for Families 2015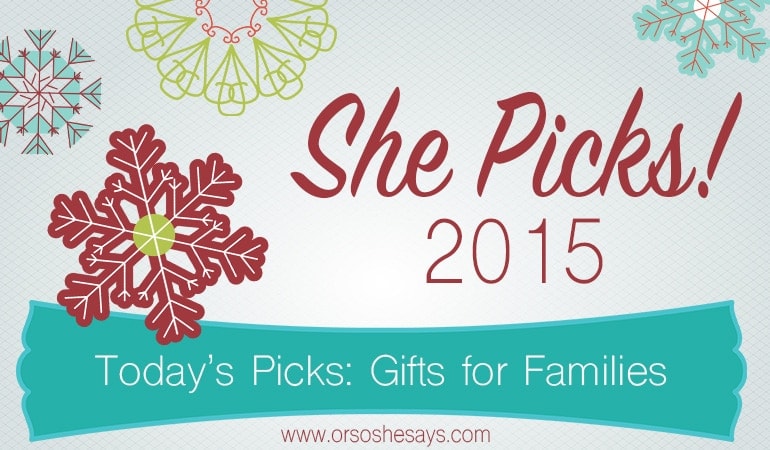 Pick #1
Great gifts for families are all about spending time together and creating memories, and what brings family together more than food!? That's why this Cuisinart Electric Fondue Maker would make a super fun gift for your family or any family. Fill it with chocolate or cheese and gather 'round! I know my kids would have a blast with this thing!
Bundle this gift with: These Trudeau Square Fondue Plates would be a fun addition; they have little groves so that each dipped item can keep all of it's gooey deliciousness to itself! For some more ideas of what this baby can do get the Dip Into Something Different: A Collection of Recipes from Our Fondue Pot to Yours cookbook!
Pick #2
This Disney Stained Art Jigsaw Puzzle would make for another great family activity! I love that it isn\'t so huge that it'll take you all year to finish it but it's big enough to give you a challenge. The kids will love seeing all their favorite Disney characters come together, too!
Bundle this gift with: a great Disney movie that you don't have yet that you can all watch together as a family. Here are a few newer ones that we've loved: Inside Out, Cinderella, and Big Hero 6.
Pick #3
Here's something a little different for you- The Yonanas Elite Frozen Healthy Dessert Maker. People are crazy about this thing on Amazon and I can see why! Basically, it's a soft-serve machine for fruit! "Easily create yummy tasting treats by adding any combination of chocolate, or fruits like over-ripe bananas, berries, or mango to the chute for a smooth "ice-cream" like taste." Delicious AND healthy? Yes, please! The family will love coming up with their own tasty fruit combinations and watching it turn into a yummy treat before their eyes.
Bundle this gift with: The Healthy Foods Yonanas Recipe Book was made just for this frozen dessert maker and will give you some fun recipes to try.
Pick #4
For some outdoor fun for the family that loves a little friendly competition, get the GoSports Slammo Game Set. Slammo is an intense 2-on-2 game that's similar to volleyball, but with a smaller ball and a circular net. Reviewers love taking this game to the beach or to family camp-outs or reunions and report having "hours of fun!" Apparently, it gives you quite a workout, too! I can totally see my husband and his brothers playing this game for hours on family vacations… It'd make for a great distraction while my sister-in-laws and I go shopping! Hmm… 😉
Bundle this gift with: If you want to stick to a beach theme, snag this Camco Handy Mat with Strap. It's pretty much a huge mat blanket that you can spread out on the beach and it folds up nice and compact so you can carry it like a purse. Reviewers love it! Or, get this 15-Pieces Beach Sand Toys Set if you've got younger kiddos, so they can play in the sand and build sand castles while you play Slammo!
Pick #5
This Pie Face Game is Amazon's #1 bestselling board game right now. Watch some of the hilarious YouTube videos going around of people playing it, and yo\'ll know why! Pass the game around the table and put your face in the opening, but watch out, the pie-throwing arm could go off at any moment! Not sure, I would want a face full of whipped cream but I know my kids would love seeing me get pied in the face!
Bundle this gift with: The whipped cream is not included for obvious reasons so be sure to get some of that! You could also bundle this with a few other fun and top-rated board games like the Fibber Board Game, 5 Second Rule – Just Spit it Out!, and Melissa & Doug Suspend.
Pick #6
Have you seen this documentary, The Star of Bethlehem?? With nearly 1,000 perfect 5-star reviews, people say it's MIND-BLOWING! I'm so curious. Sounds like it would definitely make a great family gift for Christmas!
Bundle this gift with: The Nordic Ware Microwave Popcorn Popper would go perfectly with this gift! It makes yummy homemade popcorn in the microwave. Just put some kernels in the bowl, stick it in the microwave, and you're golden! No need to buy bags of expensive microwave popcorn anymore! Plus… only $14 bucks. 🙂 Throw in some Bob's Red Mill White Corn Popcorn and some Gold Medal Seasoning Popcorn Salt and your all set for a great family movie night!
Pick #7
For my last pick, you\'ve got to check out this Customized Retroviewer and Reel! This company uses your family pictures to make your very own customized picture reels that fit into those fun little 3D viewers that so many of us had as kids! They have various packages available but they always include your choice of a red, black, or white viewer. I bet the kids would think it was pretty AWESOME to see pictures of themselves in a fun toy like this!
Need more gift ideas for families?
Check out the She Picks! from past years:
Gifts for Families ~ She Picks! 2009
Gifts for Families ~ She Picks! 2010
Gifts for Families ~ She Picks! 2012
Gifts for Families ~ She Picks! 2013
Gifts for Families ~ She Picks! 2014
and even more can be found here at Gift Idea Central (where ALL past and future gift ideas on 'Or so she says…' are saved. It's a MUST-PIN!!)
Lots more great gifts on my favorite shopping site, Amazon!
See you back tomorrow and every weekday for more She Picks!
Previous She Picks! 2015:
Gifts for Babies and Toddlers ~ She Picks! 2015
Gifts for Girls, Ages 3 to 6 ~ She Picks! 2015
Gifts for Boys, Ages 3 to 6 ~ She Picks! 2015
Gifts for Girls, Ages 7 to 12 ~ She Picks! 2015
Gifts for Boys, Ages 7 to 12 ~ She Picks! 2015
Gifts for Teenagers ~ She Picks! 2015
Gifts for Women ~She Picks! 2015
Gifts for Men ~ She Picks! 2015