This is a sponsored post written by me on behalf of Payless for IZEA. All opinions are 100% mine.
I love a good tradition, especially ones that are unique to our family. Over the years, we've adapted a few traditions to fit our family. And funny enough, they all involve shoes!
Is it weird to have shoe traditions?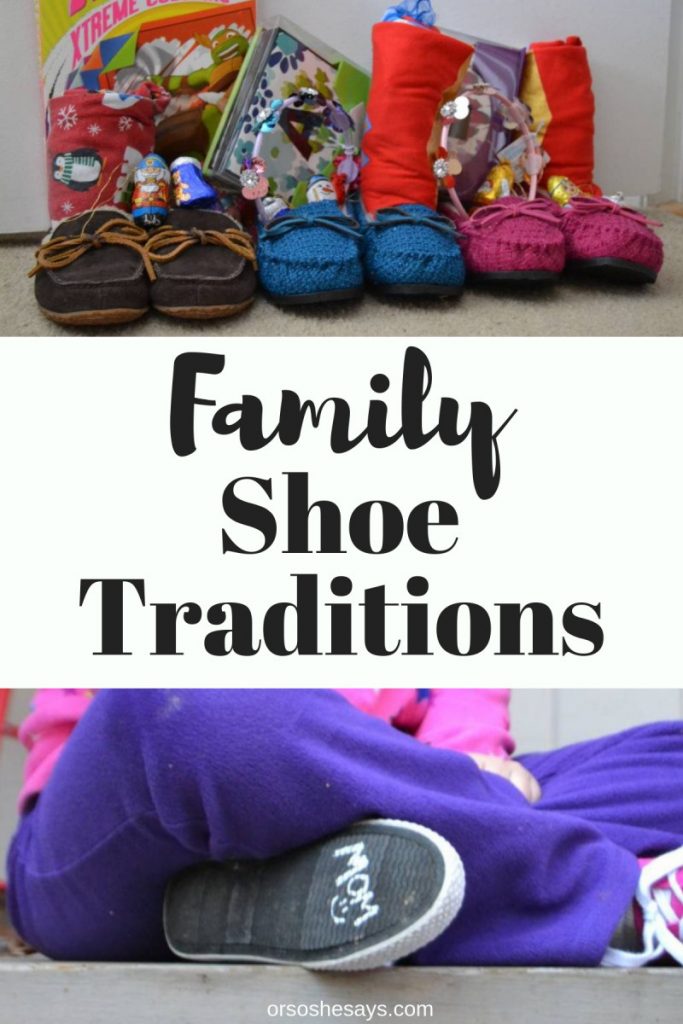 Shoe Traditions #1: Saint Nicholas Shoe Gifts
I spent 18 months in the Netherlands as a missionary for my church, and I learned to love so many things about the Dutch people and their traditions! I really wanted to carry some of my experiences there over to my family. So, my husband and I decided before we ever had kids that we'd adopt the tradition of filling kids' shoes with little treats and gifts on December 5, also known as Sinterklaas Dag or Saint Nicholas Day. In the Netherlands, children put their shoes out on the evening of December 5, and Saint Nicholas fills them with fun surprises.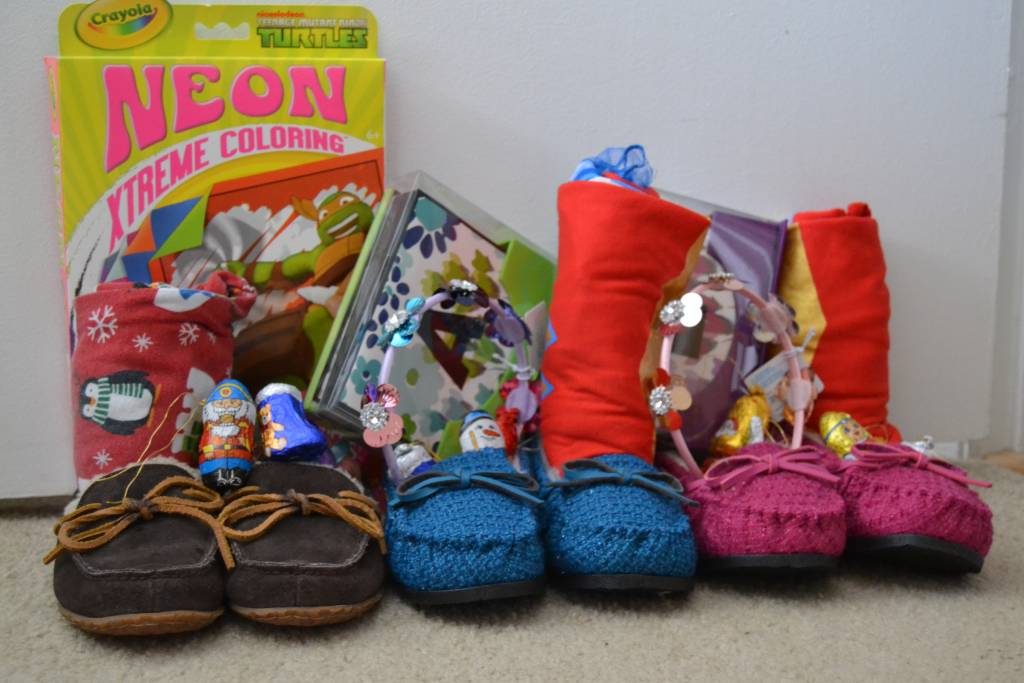 In our family, the kids find their shoes filled on the morning of December 5. I always include a new pair of pajamas as one of their gifts. That way they have the rest of the month to wear them before Christmas. It's a really fun way to kick off the month of giving, and it wouldn't feel like the holidays at our house without this fun tradition!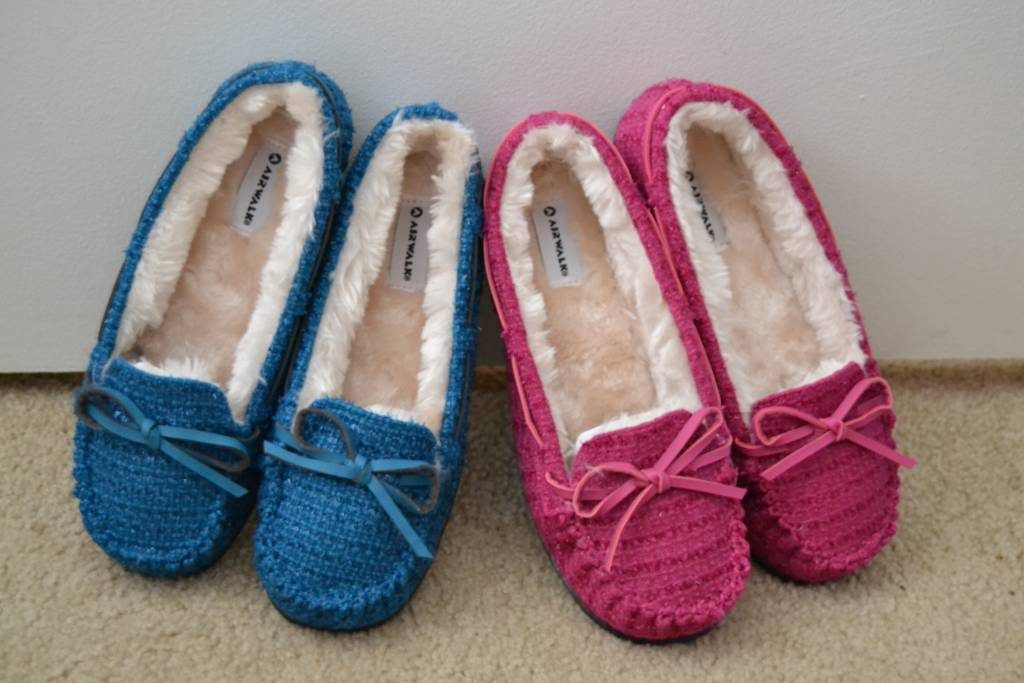 This year, my girls have new slippers on their Christmas wish list, so I'm going to add a new element of surprise by replacing the shoes they lay out with these adorable slippers from Payless. They'll love the super soft inside and the bright, sparkly outside of these slippers. They're perfect!
Shoe Traditions #2: Surprise Shoe Messages
I love leaving surprise notes for my kids to find – under their pillow, in their lunch bag … and on the soles of their shoes! I love imagining them finding their message as they sit down for story time at school or as they put their shoes on to go outside to play.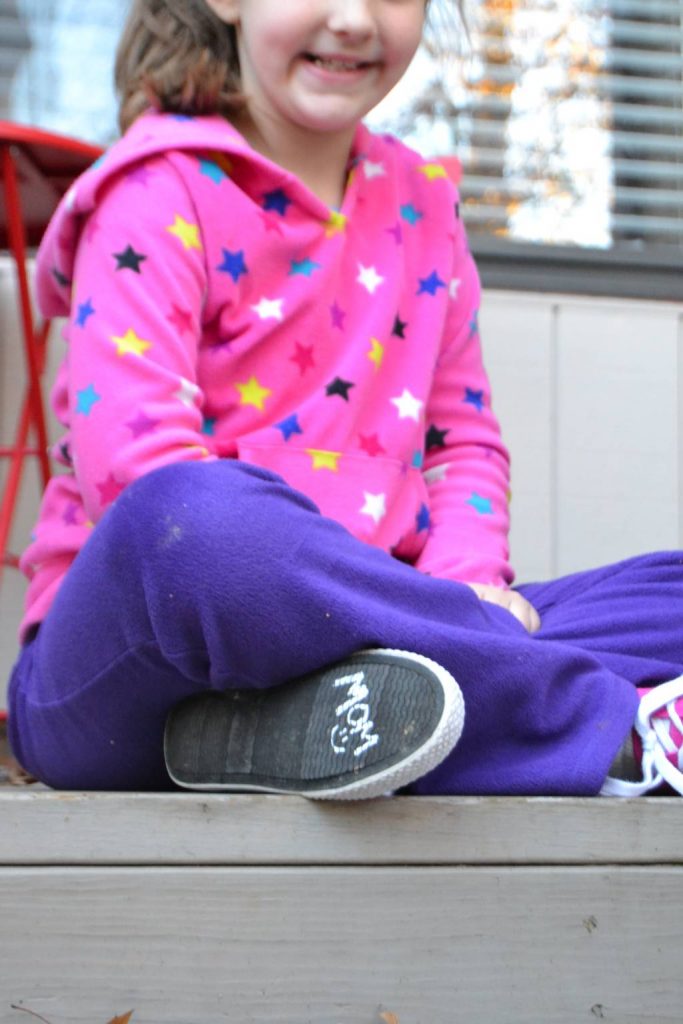 Most shoe soles are black or dark, so finding the right pen to write your message can be tricky. I've actually found white out to be the best option. It goes on easily, and stays for just the right amount of time. I like the message to wear off eventually because it gives me an opportunity to surprise them with a new note.
This is my third-grader discovering her most recent message on her new Payless sneakers. It was really sweet to watch her face light up as she went from one shoe to the next reading my short, but heartfelt message. I hope she knows I'm thinking of her every time she notices her little shoes notes.
Shoe Traditions #3: The Birthday Fairy
This is the newest of the shoe traditions in our family. The birthday kid chooses one of their favorite shoes to put next to their bed on the night before their big day. Then the Birthday Fairy comes and fills it up with a quarter for every year that they are old.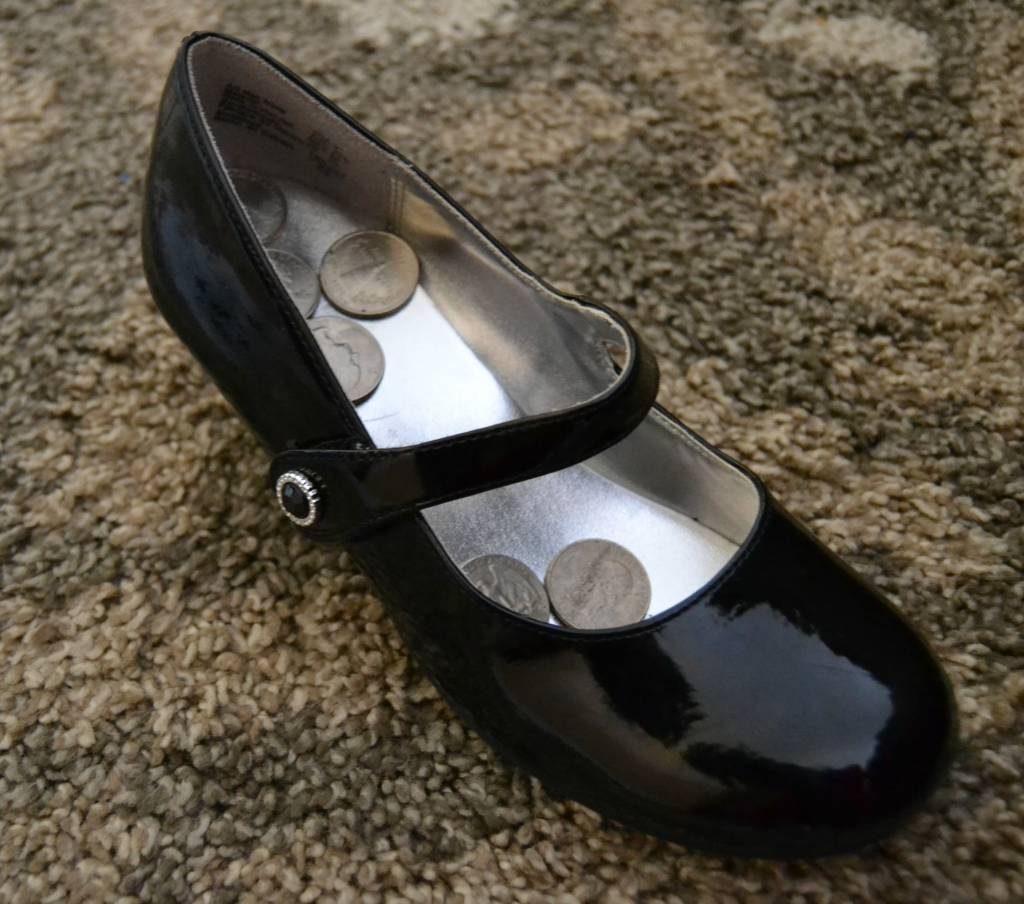 I knew my kids would love this tradition because they love the idea of the Tooth Fairy. They know the truth about the Tooth Fairy, but they still like to pretend. So, it was fun to tell my daughter on the eve of her last birthday that she'd find a surprise in her shoe from the "Birthday Fairy" the next day. She had all kinds of questions after that announcement, but I didn't give any clues. She came running in our room the next morning like she'd won the lottery! I'm thinking when the kids get older, I (I mean the Birthday Fairy) may start leaving dollar bills in place of quarters. It was cute to see which shoe my daughter chose as her favorite to put out on her birthday eve. She usually gets more excited about her bright sneakers or sandals, but this time she choose her "high heels" (as she calls them) from Payless. They happen to be my favorite shoes to see her in too. She looks absolutely adorable! I hope I've given you some new and novel ideas of traditions to start in your own family. Feel free to put your own twist, much like I have, on these fun shoe traditions and make them your own.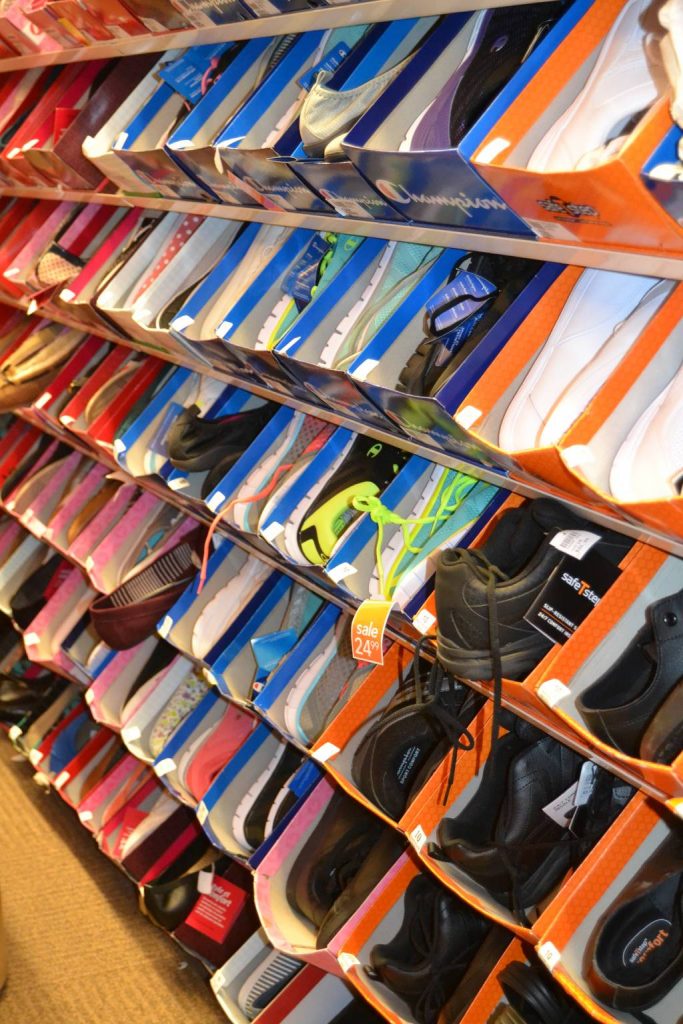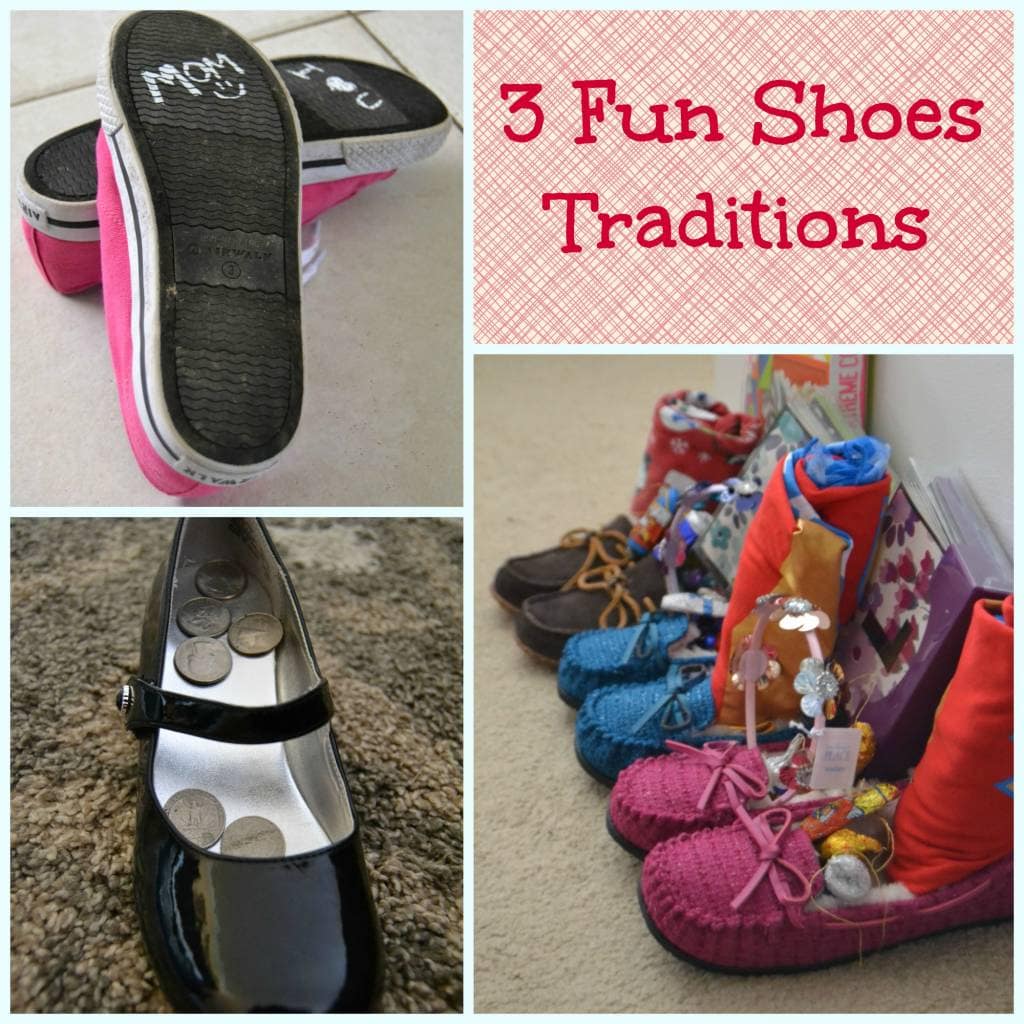 If you need the perfect shoes in order to execute any of these shoe traditions, then I'd highly recommend Payless. They have a huge variety of shoes at affordable prices, and they're always on-trend and stylish. Payless also has a great Pinterest page with all kinds of fun shoe inspiration! Check it out here: Payless on Pinterest
Our picks for starting shoe traditions in your family:
SITAILE Cute Home Shoes, Kids Fur Lined Indoor House Slippers Bunny Warm Winter Home Slippers for Girls Purple 22
Minnetonka Cassie Slipper (Toddler/Little Kid/Big Kid),Cinnamon,2 M US Little Kid
NORTY – Big Boys Suede Moccasin Slipper, Grey 40595-5MUSBigKid
Super Mario Brothers Boys Plush Slippers (Medium / 13-1, Mario Luigi Blue)
Stride Rite Girl's Light-Up Unicorn Slipper, Pink/Multi, 9/10
Anddyam Kids Family Cute Cat Household Anti-Slip Indoor Home Slippers for Girls and Boys Little Kid (6-8 Years)
SleepytimePjs Family Matching Sleepwear Knit Striped Pajamas PJ Sets (STM1-STRIPE-RED-5Kid)
SleepytimePjs Holiday Family Matching Fleece Deer Plaid Pajama PJ Sets-Kids – Lounge Set (STMF-5007-K-8)
Sleepyheads Holiday Family Matching Winter Snowflake Pajama PJ Sets – Kids (SHM-5012-K-10)
IF Pajamas Christmas Big Girls Boys Gift Pjs 100% Cotton Long Sleeve Kid Pajamas Sets Size Red 8
Elowel Little Girls Christmas Santa 2 Piece Pajama Set 100% Cotton 5 Years
Boys Christmas Pajamas Kids Pjs Sets Cotton Toddler Clothes Children Sleepwear Size 6T
Leveret Kids Red & White Striped Baby Boys Girls Footed Pajamas Sleeper Christmas Pjs 100% Cotton (Size 6-12 Months)
Special Delivery Flapjack Kids Flapjack Onsie Pajamas by LazyOne | Adult Kid Infant Dog Family Matching Pajamas (12)
SleepytimePjs Holiday Family Matching PJs Sets, Kids Lounger W/ Grey and Red Plaid, Youth 10
Sharpie Oil-Based Paint Marker, Medium Point, White Ink, 3 Markers (35558)
Sharpie Water-Based Poster Paint Marker Extra Fine Point White, Pack of 3-35574
Sharpie Metallic Permanent Markers, Fine Point, Silver, 12 Count
Sharpie – Fine Point Metallic Permanent Markers – Silver/Gold/Bronze (1-Pack of 4)