Today's Picks: Gifts for Girls, Ages 7 to 12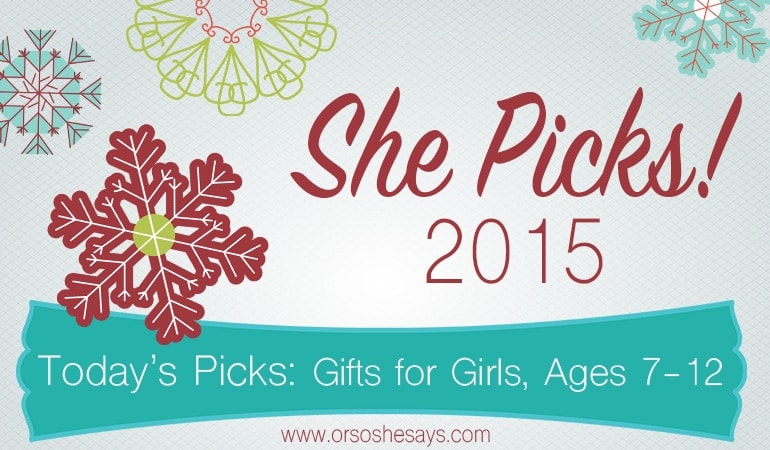 Pick #1
My 9 year old has decided she's my personal interior decorator. Every holiday, she scrummages through our storage room for every decoration she can find, then she places them all through the house… everywhere that I probably wouldn't place them. But, that's okay.
When I saw this Crayola Cling Creator, I immediately thought of her… her AND Christmas. She would love creating window clings to decorate our windows with! And really, all of my kids (and boys) would love this.
Bundle this with: the refill pack for the Crayola Cling Creator (I can see the kids needing this, for sure!)
Pick #2
Both of my girls (ages 7 and 9) have become obsessed with LEGO Friends, ever since they played with them at a neighbor's house. Now both of their wish lists are filled with set after set of these LEGO Friends. There are lots to choose from, at all different price points. My favorite thing about them is how they'll shut themselves in their room and play for hours, together! I love seeing them have fun together and it's always nice when something is more exciting than the iPad. Oh okay, one thing I don't love… these LEGOs are always scattered across their floors. Makes me crazy!
Pick #3
I don't know that we have the right kind of neighborhood for this, but my daughters have both been dying for one of these Razor Pocket Mod Electric Scooters. A couple of their friends have them and they have so much fun riding them around.
From Amazon: "Featuring a high-performance, chain-driven electric motor and a vintage-inspired body, the Pocket Mod can reach speeds of up to 15 miles per hour–plenty fast enough for a quick trip to the corner store or a fun ride in the country. The scooter also teams a pair of 12-inch pneumatic tires with a rear suspension system to ensure a comfortable ride. Other features include a retractable kickstand, variable-speed acceleration, a padded seat, and a built-in battery that travels for up to 10 miles on a single charge."
And… they're pricey. A main present, kind of thing. Either way, a girl can always wish!
Pick #4
I love seeing my kids make arts and crafts. It makes my heart sing. Anything that gives their brain a rest from electronics is a hit in my book. This Melissa & Doug Weaving Loom has been on my radar for some time now. I love how it makes weaving (one of the oldest crafting traditions in the world) totally doable for kids. My daughter just saw me looking at it and she said, "Oooh, can I add that to my wish list?" So, we have a winner here, my friends.
Bundle this gift with: a package of quality yarn and a fun movie to watch while working, like my daughter's favorite, Wild Hearts Can't Be Broken.
Pick #5
UPDATE * HOLY COW… THIS IS ON SALE FOR $34.99 TODAY!!!!!!!
A $50 tablet?!?? I didn't know there was such a thing… well, a $50 tablet that is an awesome quality tablet too! Holy cow. My girls love reading their books on my iPad and I don't love sharing it… so, something like this Kindle Fire would be great for them to read their novels on! (Need some suggestions?? Check out this post: Great Books for Older Kids.) Plus, obviously they can listen to music and watch their favorite shows… after I just talked about getting my kids away from electronics… but, if they're used a lot for reading, which is what the Kindle is designed for, that would definitely make me happy.
Oooh, and I just learned something cool. Have you heard of Amazon FreeTime?? Check this out!
"Amazon FreeTime is built from the ground up to help give parents peace of mind when it comes to tablet use. Parents can create a profile for each of their children and choose which books, apps, games, and videos they want to give their kids access to. Amazon FreeTime is free on every Fire tablet."
Also, "Amazon FreeTime Unlimited is the first-ever all-in-one subscription that brings together books, games, educational apps, movies, and TV shows—all the types of content that kids and parents love. From just $2.99 per month, enjoy unlimited access to content including titles from Disney, Nickelodeon, Sesame Street, PBS, and more."
Awesome! I'm sold even more. Amazon also offers a Kids' edition Kindle, but the reviews aren\'t nearly as positive as this one, so I think I would stick with this and take advantage of the Amazon FreeTime. Several reviewers mentioned this Kindle as being slow when it comes to downloading apps and obviously the memory on this isn't huge, hence the lower price. So, if those negatives are a little too negative for you, Amazon offers upgraded devices, such as the Fire HD6 (get the 16gb option.) The HDX series is a huge upgrade, but you then enter a different price range, around $300 and up.
Bundle this gift with: a case for the Kindle, in their favorite color!
Pick #6
This set of Fashion Angels Stickers is the number one item on my 7 year old's wish list… and it's only $9 bucks! Sweet. I think we can do that. This sticker kit contains 20 style boards and 700 fashion stickers. Both of my girls would love this and it would make a great 'quiet' activity… because sometimes we need those.
Bundle this gift with: the Fashion Angels Makeup Portfolio or Alex Toys Spa Hair Chalk.
Pick #7
One of my daughter's favorite things this past year has been her Hello Kitty Sewing Machine. She not quite a sewing superstar yet, but we've had fun doing a basic pillow and next we're going to try some pajama pants or scrunchies (remember making those for your hair??) One of these days I'm wanting to sign her up for sewing lessons. It's such an awesome skill to have… something I definitely wish I was more skilled at! Oh, and I will say this sewing machine is super CUTE. That's a little important, right??
Bundle this gift with: the Singer Beginner Sewing Kit (all the basics!) and this book with 21 sewing projects for kids (it gets awesome reviews!)
Need more gift ideas for girls, ages 7 to 12?
Check out the She Picks! from past years:
Gifts for Girls, ages 7 to 12 2011
Gifts for Girls, ages 7 to 12 2012
Gifts for Girls, ages 7 to 12 2013
Gifts for Girls, ages 7 to 12 2014
and even more can be found here at Gift Idea Central (where ALL past and future gift ideas on 'Or so she says…' are saved. It's a MUST-PIN!!)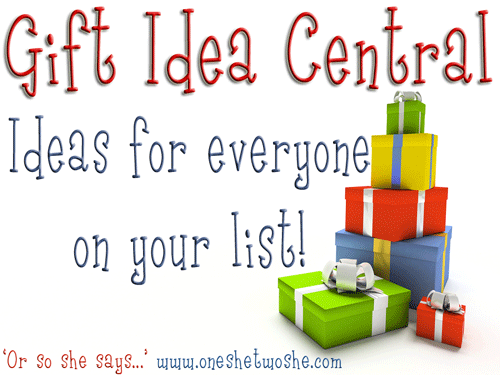 Lots more great gifts on my favorite shopping site, Amazon!
The previous She Picks! 2015 shared so far:
Gifts for Babies and Toddlers ~ She Picks! 2015
Gifts for Girls, Ages 3 to 6 ~ She Picks! 2015
Gifts for Boys, Ages 3 to 6 ~ She Picks! 2015
See you back tomorrow and every weekday for MORE She Picks! Here's a little secret… it's Gifts for Boys, ages 7 to 12.