Hi Everyone! It's Adelle from Packed with Fun, the official blog for Get Away Today. The holidays are here and they've been going strong at the Disneyland Resort for a couple of weeks. It's a special year at Disneyland since it's also their 60th Anniversary. In fact, it's the only year that the Diamond Celebration and the holidays will happen simultaneously. If you want to learn more about what's going on at Disneyland over the holidays this year, you can read about it here. Since it's a special year, I thought it would be fun to take a popular holiday tradition and put a Disney spin on it. I'm talking about doing your Elf on the Shelf Disney style. It would be a great way to countdown to your holiday Disneyland vacation, or even announce the gift of a future Disneyland vacation to your family!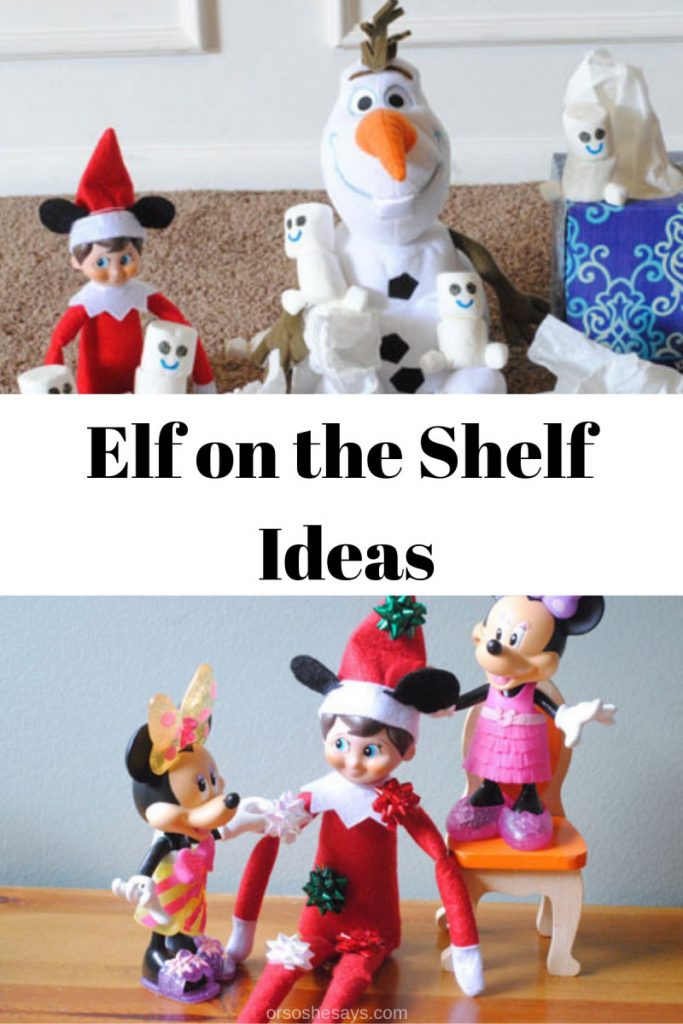 Here are 10 Elf on the Shelf Disney style ideas that you can use with things you may already have around your house:
I hope it inspires some Disney magic at your house! To begin, you can Disney-fy your Elf with his own pair of Mickey ears with some felt and floral wire. It just adds that extra magic touch.
1. Elf gets bow-tiful at Minnie's Bow-tique!
2. Elf helps baby-sit Elsa's "snowgies." You can make your own snow babies at home with some marshmallows and edible markers.
3. Everyone knows Sven loves reindeer games. Here Elf gets swept up in a game of Monopoly. You can add some extra flair with a pair of pipe cleaner antlers.
4. Here Elf embarks on an adventure with Jake and the Never Land Pirates.
5. Elf enjoys a Disney movie night with his friends. They also just happen to be the stars of the movies!
6. Elf blasts off with Buzz Lighyear. Or, at least he tries with these wings. Get your free download here.
7. Next, Elf becomes part of Ariel's world by borrowing one of her mermaid tails.
8. Like Flynn Rider, Elf is a wanted man. Download your wanted poster here and draw your own nose.
9. Next, Elf gets tangled up in Rapunzel's golden locks.
10. Look, it's an Elfie Selfie with Mickey! These two had some silly fun while the kids were asleep.
You can make your own Elf on a Shelf Disney scenarios with any of your Disney toys and items that you have at home.
Maybe your Elf will whistle while he works with the Seven Dwarfs or try to spin in your tea cup. Whatever your Elf on the Shelf does, I hope he does it to celebrate an upcoming Disneyland vacation! If you haven't booked your Disneyland vacation yet, we'd love to help. Book your Disneyland vacation package at www.getawaytoday.com or call our Disney Experts at 855-GET-AWAY. The best part is, you don't have to pay for it all at once. You can hold your vacation and lock-in your low price for just $175 down and the final payment isn't due until two weeks before you travel. Use promo code OSSS10 to save an extra $10 off any 2-night or longer package.
Our picks for Elf on the Shelf:
The Elf on the Shelf: A Christmas Tradition Book Only by Chanda A. Bell (2009-05-03)
The Elf on the Shelf: A Christmas Tradition
The Elf on the Shelf A Christmas Tradition (Blue-Eyed Girl) with DVD
The Elf on the Shelf Party Pair Skirt Set – Includes 2 Skirts – Ages 3 and Up
ELF FLEX Elf on the Shelf Accessories Upgrade Kit by ELF DOCTOR: Perfect for your Elf on the Shelf Girl or Elf on the Shelf Boy – Make The Elf on the Shelf Doll Flexible and Bendable
RED HEART Super Saver Yarn, Bright Yellow
Hasbro Monopoly Classic Game
Candy Land The World of Sweets Game (Amazon Exclusive)
Disney Buzz Lightyear Talking Action Figure461016172318
Fisher-Price Disney Mickey Mouse Clubhouse, Clubhouse Pals
The Incredibles 2 Family 5-Pack Junior Supers Action Figures, Approximately 3
Fisher-Price Imaginext Shark Bite Pirate Ship
Fisher-Price Jake and the Never Land Pirates Splashin' Bucky Bath
Disney TY – Frozen – PELUCHE Olaf CON
Here are some more Holiday and Disney ideas you might like: