Hawaiian Haystacks are a great family meal because everyone can choose their favorite toppings!

Hello, OSSS readers! This fresh, yummy, and quick recipe for Hawaiian haystacks has been on repeat on the dinner rotations at our houses lately and we can't wait to share it with you today!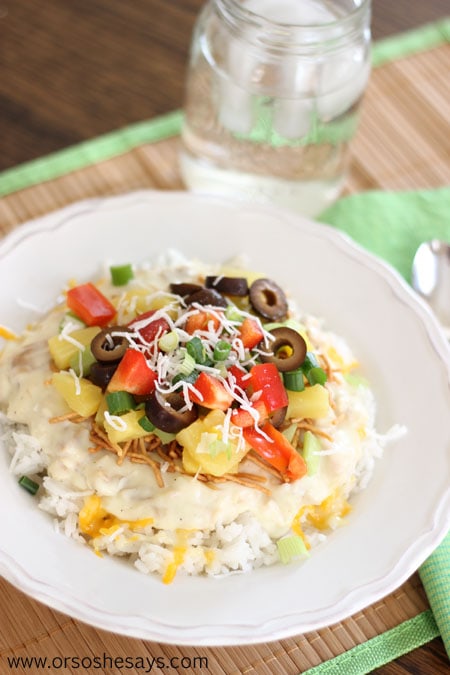 This is something we ate growing up, so eating it always makes me feel a bit nostalgic. Lu concocted this amazing garlic chicken sauce as a refreshing change from the customary of chicken soup that is often used in Hawaiian haystacks. Speaking of haystacks, what do you call this dish? When my husband's family says "haystacks" they are referring to what I call "frito chili pie/walking tacos". I'm just going to call it delicious.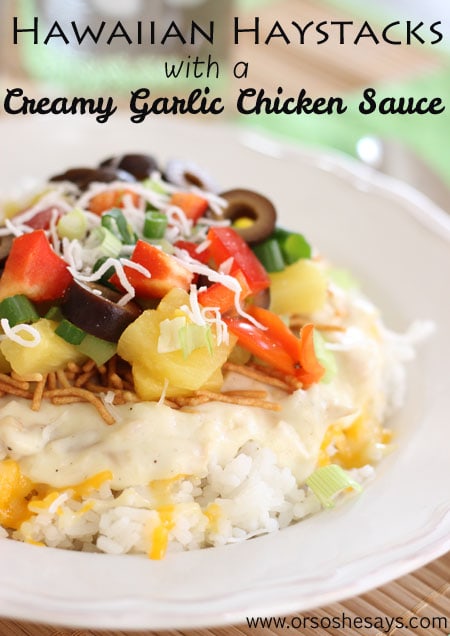 One of the best things about this recipe is that it comes together in a flash. We usually use rotisserie chicken when we make this, but you could use shredded chicken breast, or even canned chicken here. Whatever works for you. Depending on what toppings you like, a little chopping time may be required–but that can easily be done ahead of time, which we are huge fans of. We also love that our kids can make theirs to their preferences, so it's a pretty safe meal for even picky eaters.
We have found that we like these rice noodles a bit better than the traditional chow mein noodles. They are thinner and a bit crispier and give you a little added crunch. What's your favorite topping on haystacks? For me it's the fresh pineapple!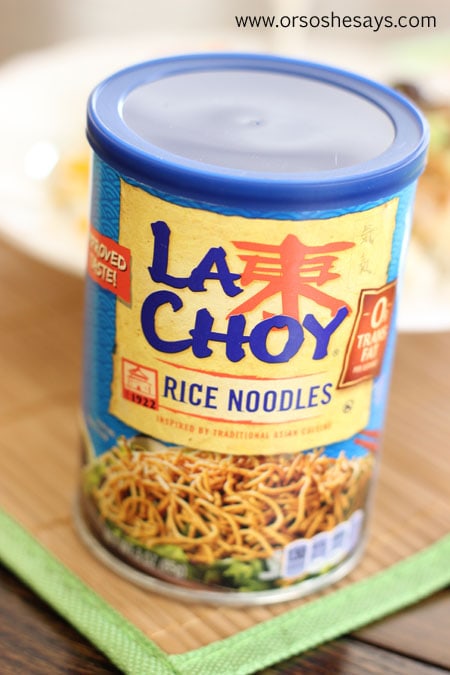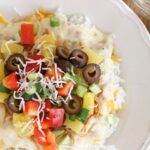 Hawaiian Haystacks with a Creamy Garlic Chicken Sauce
Ingredients
2

tablespoons

butter

2

cloves

garlic

minced

1/4

cup

flour

3 1/2

cups

milk

or 3 cups milk + 1/2 cup cream

2

teaspoons

chicken base or 2 cubes bouillon

Salt & pepper to taste

2

cups

cooked chicken

shredded or cut into bite-sized pieces

Hot cooked rice for serving

Toppings:

Cheese

shredded

Crispy rice noodles or chow mein noodles

Celery

Red Bell Pepper

Pineapple

Shredded coconut

Olives

Green Onion
Instructions
Cook rice.

Melt butter in medium sauce pan over medium heat. Add garlic. Cook for 30 seconds or until garlic is fragrant. Add flour. Cook for 30 seconds to 1 minute more. Add milk (and cream, if desired). Heat and stir until thickened. Season with chicken base or bouillon and salt and pepper to taste.

Stir in cooked chicken.

Serve by scooping gravy over pile of rice. Add any toppings you would like on top: pineapple, cheese, chow mien noodles, olives, etc.

Note: This recipe can easily be made gluten-free by using 1/8 cup (or 2 tablespoons) of cornstarch in place of the flour. (Just be sure to whisk it into cold milk before adding it so it doesn't get clumpy.)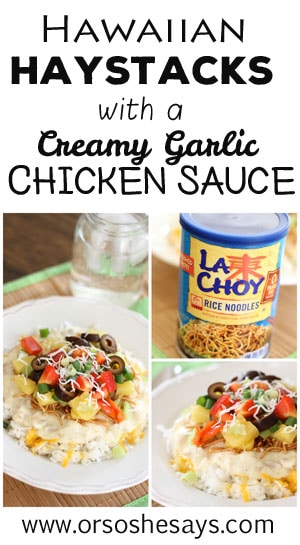 Here are a few other fresh faves that we can't live without:

Lemon Blueberry Cheesecake | Grilled Chicken Pasta Salad | Fresh Squeezed Lemonade
Check out more delicious dinner ideas here on OSSS: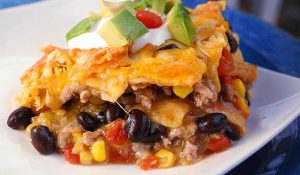 Chicago-Style Deep Dish Dutch Oven Pizza – Wrapped in BACON!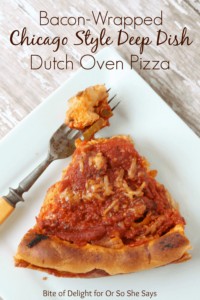 15-Minute Meal – Creamy Tomato Fettuccine With Salmon