Hi, I'm Angela…the new 'Kid Craft & Food' contributor for 'Or so she says…'! You can also find me on my blog, Angela's Adventures. As a mommy of two little ones, feeding my family healthy foods is a major priority of mine. I've always believed that what my children eat, is what fuels their little bodies and I want them to have the best fuel possible.
When we walk down the isles in a typical grocery store, I often feel like our society makes healthy eating way more difficult than it should be. The foods that are packaged to attract our children's attention are filled with preservatives, unnatural ingredients and a lot of added sugar.
Recently I tried to re-create one of the packaged foods that often is so appealing to kids…..Fruit Leather! This leather turned out so delicious, the texture is perfect and making it was super easy. After making this first batch, I'm already excited to try out other kinds of fruit!
Fruit Leather can be made with either an oven or with a fruit dehydrator. For mine, I decided to use our dehydrator and it worked great. 5 peaches turned out to be the perfect amount for two trays of Leather.
First, I washed my peaches, cut them in half and removed the pits. I put them into a pan with 1/2 cup of water and 1 tablespoon of lemon juice, covered the pan and turned the heat onto medium.When peaches are well cooked, the skins slip off easily. I steamed the peaches for approximately 10 minutes and the skins slipped off so nicely.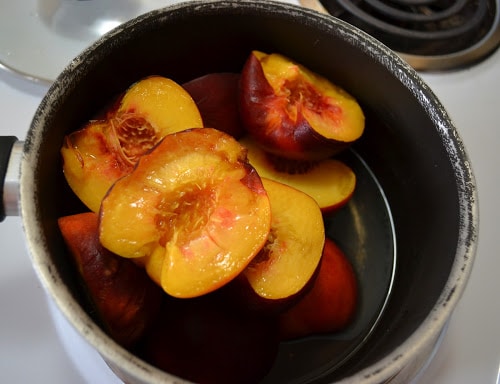 While the peaches steamed away, I traced out a circle of parchment paper, for the dehydrator tray.
The parchment paper works perfectly to help the Fruit Leather not stick and it also helps the cooked fruit to not leak through.
After the peaches had steamed for awhile, the skins easily pulled off.
I wanted our Fruit Leather to be perfectly smooth like the ones in the store so, I dumped the cooked peaches and the water into our blender. After blending the mixture, I tasted it and thought that it wasn't quite sweet enough so, I added 1/4 cup of sugar. The small amount of added sugar made it taste just perfect.
Next, I poured the fruit over the parchment paper, carefully spread it out with a butter knife and then set the trays in the dehydrator.
Isn't that color gorgeous?
My Fruit Leather cooked in the dehydrator for about 18 hours but, the times will vary depending on how thick your fruit is and how warm your dehydrator is. Just check it periodically and you'll be able to tell when it's done.
After it was done, I was eager to see if it'd easily peel off of the parchment paper. Sure enough, it peeled right off and it was delicious. My kids were eager to try it and they loved it!
Cutting the Fruit Leather into pieces was super easy. These can be stored in any air tight container.
Homemade Peach Fruit Leather
Homemade Peach Fruit Leather
Ingredients
5

peaches

washed and cut into halves

1/2

cup

water

1

tablespoon

lemon juice

1/4

cup

sugar
Instructions
Place the peaches, water and lemon juice into a medium sized sauce pan over medium heat. Steam the peaches until the skins easily pull off.

While the peaches are cooking, trace out circles of parchment paper to line the food dehydrator trays.

In a blender, puree the peaches, with the water and 1/4 cup of sugar. Pour the pureed fruit over the parchment paper and use a butter knife to smooth it out, until it's even.

Dehydrate for approximately 18 hours or until the Leather looks done.
Recipe Notes
If you do not have a dehydrator: Bake the Fruit Leather on parchment paper lined cookie sheets at 150-170 degrees F for approximately 15 hours, checking on them periodically.
Enjoy!
Love fruit leather?? Check out this post for Strawberry Kiwi Fruit Leather!