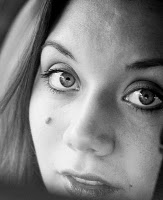 I'm so excited to participate by doing a guest post again! I'm Carrie from All that is Sweet in Life and I love to have adventurous ideas and throw parties for very little money. You?
Last year I wanted to give my husband something different for his birthday, but it had to be something memorable and over-the-top and cheap. Uhm…anyone else feel stumped here?
Then one day I had the idea to do an online birthday scavenger hunt. And since I am a blogger I thought how cool it would be to utilize that outlet. Although a bit time consuming, with planning, it is SO worth it and it will make your loved one's day! This concept could be used for any number of situations or holidays.
I used my own blogs to display a birthday message to him

I used other friend/family blogs to display a birthday message to him

I connected them all together to create a meaningful virtual birthday journey
Here is a screen-shot of the blog post where it started…
Here's the run down on the details:
I emailed all of his friends/family and asked if they could either make a blog post of a picture or email me a picture of them holding a sign that says, "Happy Birthday Aaron. " I decided very last minute to do this, so unfortunately a lot of his friends did not have enough time to participate.
For those who rushed and decided to use their own blogs, I asked them to go ahead and post a picture of them holding the sign and send me the link to it. Then I told them that I would get back to them so that they could add another link to their post.
Here is a screen-shot example of the picture my sis-in-law put on her blog post:
I also received pictures via email which did not have a webpage, so I made the web pages myself! I found every free blog hosting site/webpage I could, made myself an account, and then made a blog post. On the post I simply put up the picture that was sent to me via email just like I had asked others to do. (I used flickr, yolasite, blogger, etc.)
Here is a screen-shot example of a picture I received via email from his mom. I found a blog hosting site where I made myself an account and posted it as though she did it herself…
Once I had all the blog post/web site addresses ready and waiting, I figured out the sequence. I then emailed everyone back and requested that 2 links with directions be put on each post. They needed to say "go here" and "or start at the very beginning."
The start link was directed to my main page where the scavenger began (my personal blog).
The go here link was directed to the next persons blog/web page in line.
This is one of my own blogs where it is sequenced to say
"Go here" or "Start at the very beginning"
I even added a few fun links as well using my flickr account!
(this picture I took at the store was a huge hit!)
To give you the whole sha-bang sequence…
Here
is where HIS birthday journey began.
Now go have fun with yours!
For gift ideas for everyone on your list, check out the Gift Ideas tab and be sure to pin Gift Idea Central, to keep the whole collection in one place.