Hi everyone, it's Kimberly with Get Away Today, here to talk to you about the LEGOLAND California Resort. Tucked away in Carlsbad, California, you'll find the LEGOLAND Resort, that's filled with attractions, entertainment and fun for the entire family. While other Southern California theme parks may seem like they cater to families with older kids, teens and/or adults, LEGOLAND is the perfect park for small children – especially if they love LEGOs. Unlike other theme parks, LEGOLAND was built specifically for kids ages 2 -12. Today I'm excited to talk to you about why LEGOLAND is the best theme park for toddlers.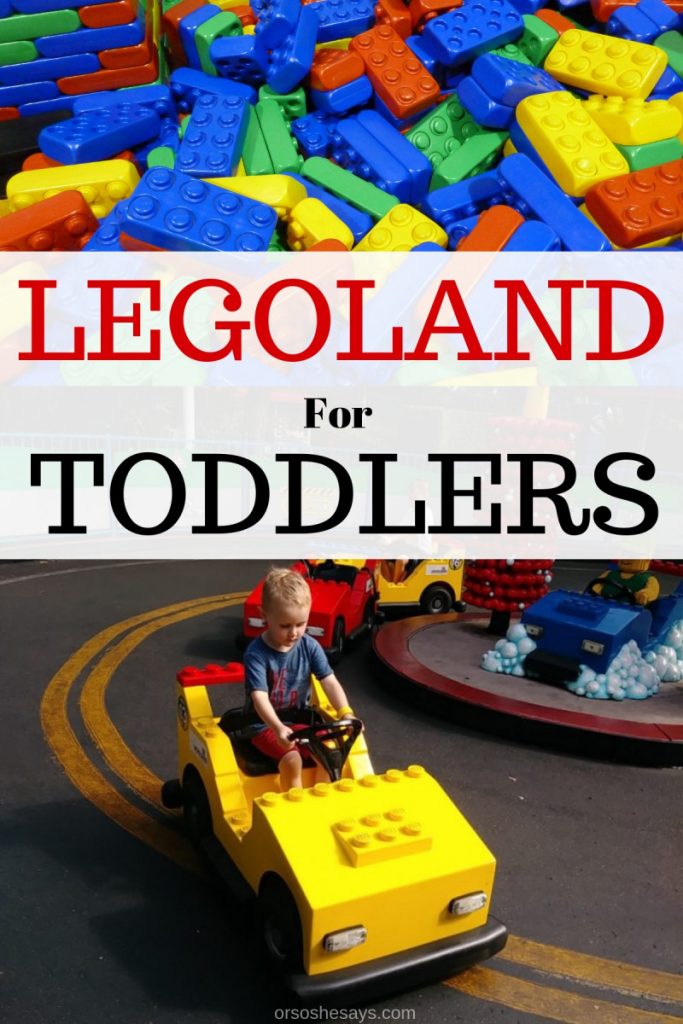 My kids are currently ages five, three and nearly two-years-old. We just got back from our second – that's right – second family vacation to LEGOLAND this year. If you have little kids, I like to consider LEGOLAND kind of a "gateway" theme park vacation. It is the perfect way to relax and enjoy the fun aspects of a theme park with really little kids. It's also the perfect way to introduce your kids and ease them into a theme park experience. At the LEGOLAND California Resort, everything truly is awesome!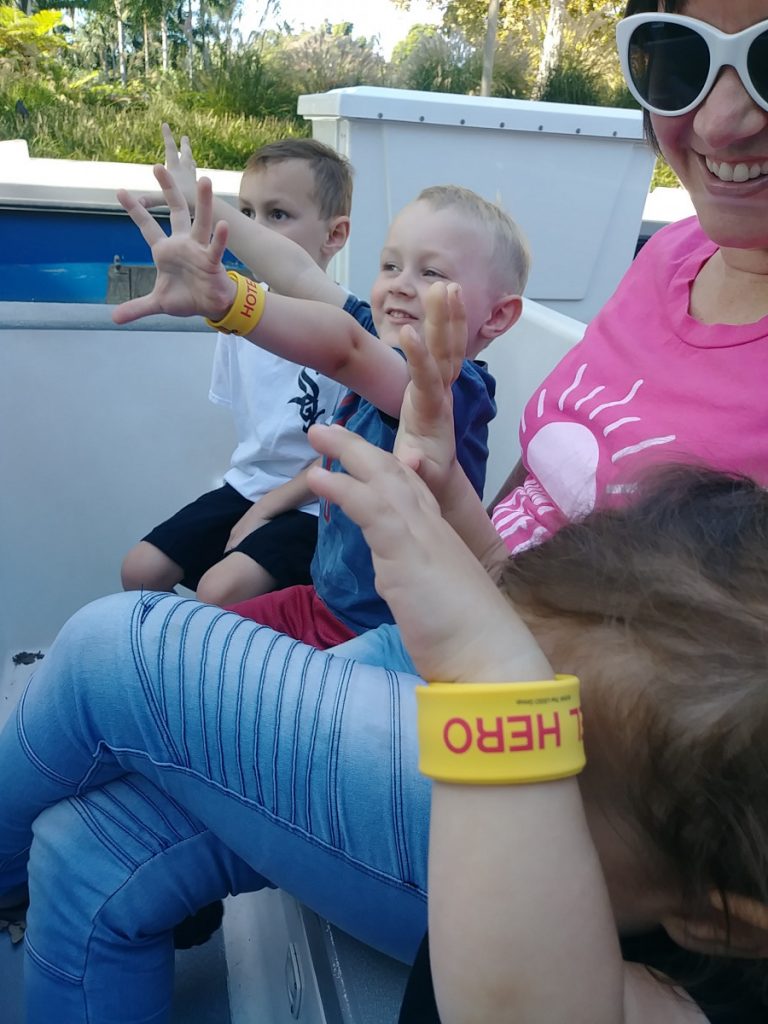 Why LEGOLAND is the Best Theme Park for Toddlers
1. Hands-on Fun
One of my favorite things about the LEGOLAND Resort is that it's filled with so many interactive activities for little ones. One of the most genius things about LEGOLAND is that there are LEGO play areas in the waiting areas for rides. That means that mom or dad can wait in line for the attraction while your toddler can play! If you've ever wrestled a toddler while waiting in line for a ride, or ANYTHING really, you know how valuable this is.
Not only do they have LEGO building stations located throughout the park, but children can also enjoy Mini-Figure trading. Like pin trading at the Disneyland Resort, your kids can bring along a few LEGO mini-figures to trade with Model Citizens (LEGOLAND employees) throughout the park. The Model Citizens will be wearing a special name badges that have a mini-figure on them, so they are always easy to spot.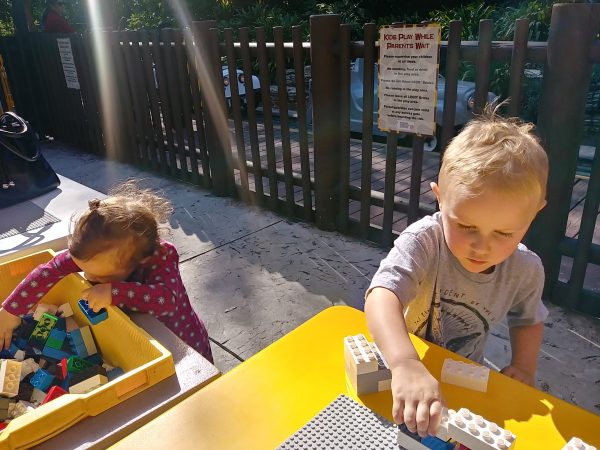 Plus, smaller children can also enjoy various hands-on activities around the park like Dig those Dinos, DUPLO Playtown, Heartlake Fountain and Castle Hill. My kids spent hours building, climbing and playing at the DUPLO Playtown. There is so much for kids to experience at the LEGOLAND California Resort!
2. Rides & Attractions
While the attractions at LEGOLAND might not be high-speed roller coasters, they are perfect for kids who still want to have fun. Attractions like the Aquazone Wave Racer, Coastersaurus and LEGO NINJAGO The Ride are some of the most popular attractions. They provide just enough thrill for small children and tweens. The brand-new LEGO City: Deep Sea Adventure is incredible and perfect for the whole family. You actually go into a giant aquarium, and there's an interactive game where you can hunt for treasure. It is so much fun.
If you're looking for calmer rides specifically for toddlers and little ones, rides like Cargo Ace, the Coast Cruise, Fairy Tale Brook, LEGOLAND Express and Mia's Riding Camp will make sure everyone feels involved in the fun. If your kids are ages 3- 5, they can drive their own car at the Jr. Driving School. There's a slightly larger and more involved driving school for kids ages 6-8. Driving their own car around a real track may have been the highlight of my children's vacation. And as a parent, it's pretty hilarious to watch.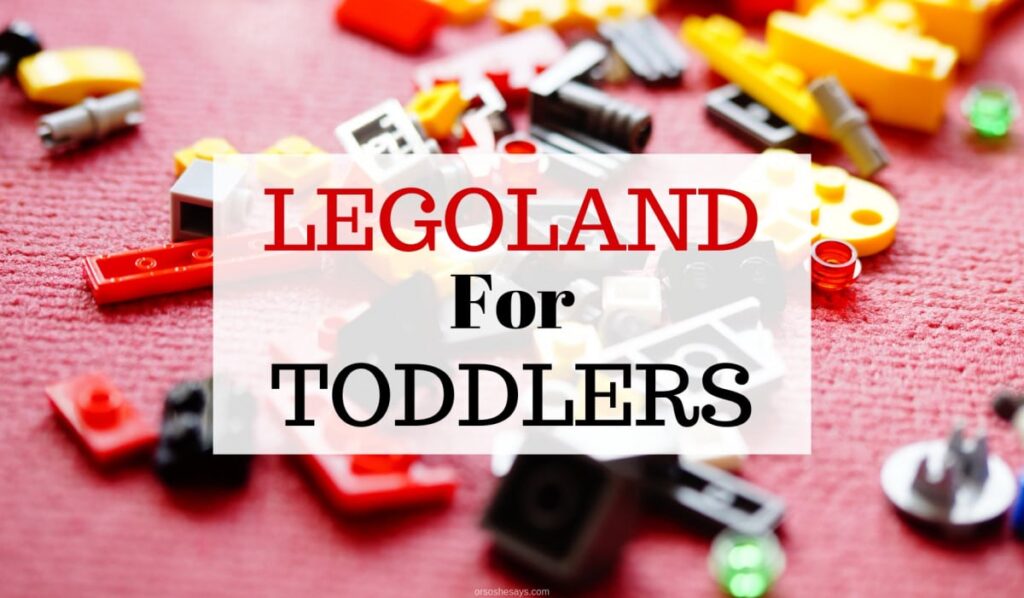 Unlike other Southern California theme parks, LEGOLAND is fairly small. While others might look at that in a negative light, it's one of my favorite parts about the resort. When you're traveling with young children, it's stressful to try and keep everyone together. Not to mention how in the world you're going to get everything done in just a couple of days. At the LEGOLAND Resort, not only will you be able to experience everything all of the attractions, entertainment and fun, but you'll also be able to take advantage of shorter wait times too. It's a win-win for everyone!
3. Kid-Friendly Entertainment
If you're kids are like mine, they absolutely adore the LEGO-themed movies and TV shows that have become increasingly popular over the past few years. Because of this, they loved being able to meet some of their favorite LEGO characters at the park. Here, you can meet Emmet and Wyldstyle from The LEGO Movie, all of the ninjas from NINJAGO, LEGO Friends from Heartlake City and LEGO Costume characters like a heroic knight, pirate and more! While each of the character meet and greets have different locations, you can easily check on the LEGOLAND app or a LEGOLAND employee where you can find them.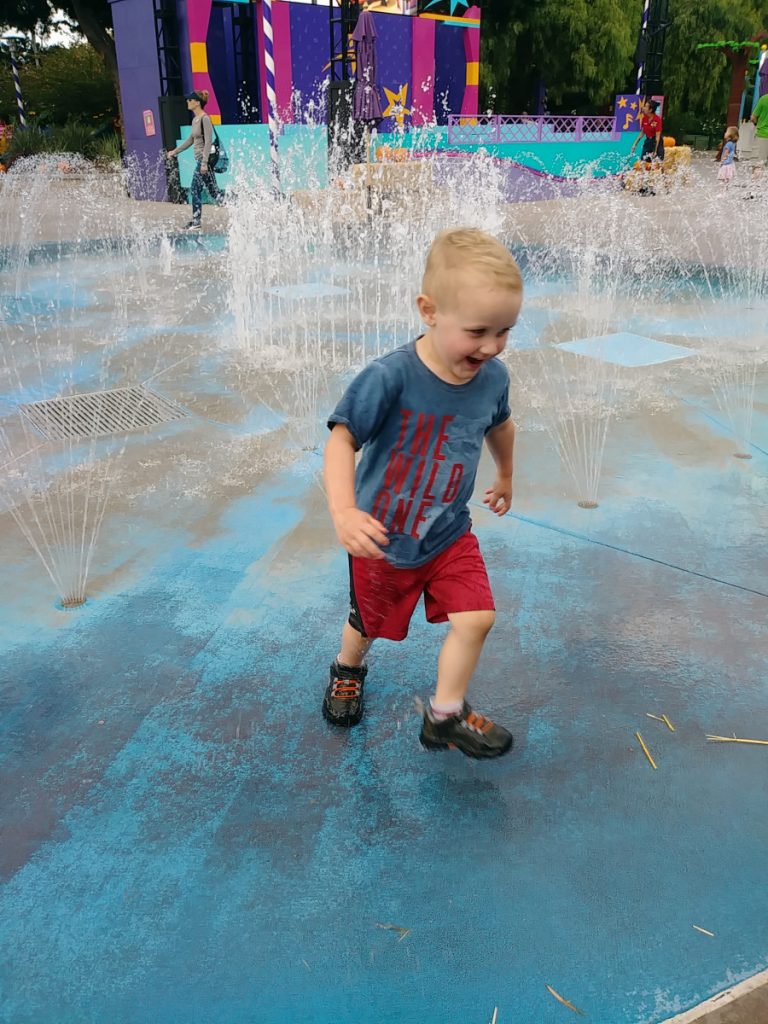 In addition to this, you can even watch exclusive LEGO movies in the LEGO 4D Theater! The LEGO Movie 4D A New Adventure follows the journey of Emmet, Wyldstyle, Unikitty, Benny and MetalBeard who receive a mysterious invitation to a new theme park. There's also an exclusive LEGO NINJAGO Movies that your little ninjas will love. With special effects like wind, water, smoke and bright lights, these film experiences are something that the entire family will enjoy.
Plus, if you're little ones are fans of the LEGO Friends franchise, they'll love the LEGO Friends to the Rescue show. When Andrea's big performance doesn't go as planned, some of her LEGO Friends come to the rescue. Not only is it a cute show, but it also teaches kids about the importance of friendship. You can find this adorable show at the Forever Stage in LEGOLAND Park.
4. LEGOLAND Water Park
Ironically, although I visited LEGOLAND twice this year, once was early spring and the other time was late fall. Both visits were weekday visits, so we still haven't experienced the LEGOLAND Water Park. However, if you plan on visiting the LEGOLAND Resort during the spring and summer, you absolutely have to visit the LEGOLAND Water Park and LEGO CHIMA Water Park. The LEGOLAND Water Park is open on select dates March – October, so be sure to check the calendar. It is open seven days a week from Memorial Day to Labor Day with weekends and holidays in between. Both of these water parks have activities and slides fun for toddlers, children, teens and adults, so you don't have to worry about the entire family having loads of fun. Below are some of the top recommended water attractions in both water parks for small children.
LEGOLAND Water Park:
Build-A-Raft River: Design your very own raft and float downstream
DUPLO Splash Safari: Smaller slides, splash pads and more
Imagination Station: Build bridges, dams and cities out of DUPLO blocks
Joker Soaker: Water cannons and water drops from the clock tower
Splash Zoo: Spray pads, fountains and interactive Duplo animals
LEGO CHIMA Water Park:
Eglor's Build-A-Boat: Build and design a LEGO boat and race it through rivers and buildings
Craggers Swamp: Twist and turn through the mouth of a crocodile (Must be at least 36" to ride)
Both the LEGOLAND Water Park and LEGO CHIMA Water Park are great ways to take a break from the park and relax in the sun. Plus, with how many great ticket deals we have that include water park admission, you'll be able to have lots of fun for an affordable price!
5. SEA LIFE Aquarium
The SEA LIFE Aquarium made its way to the LEGOLAND California Resort in 2008 and has been fun for guests ever since. Not only will children be able to have their first interactive guide to life in the sea, but they'll also be able to combine hands-on learning with educational activities that will spark a love for aquatic life. The best part? You'll be able to have up close encounters with sea life like sharks, stingrays, octopuses and more.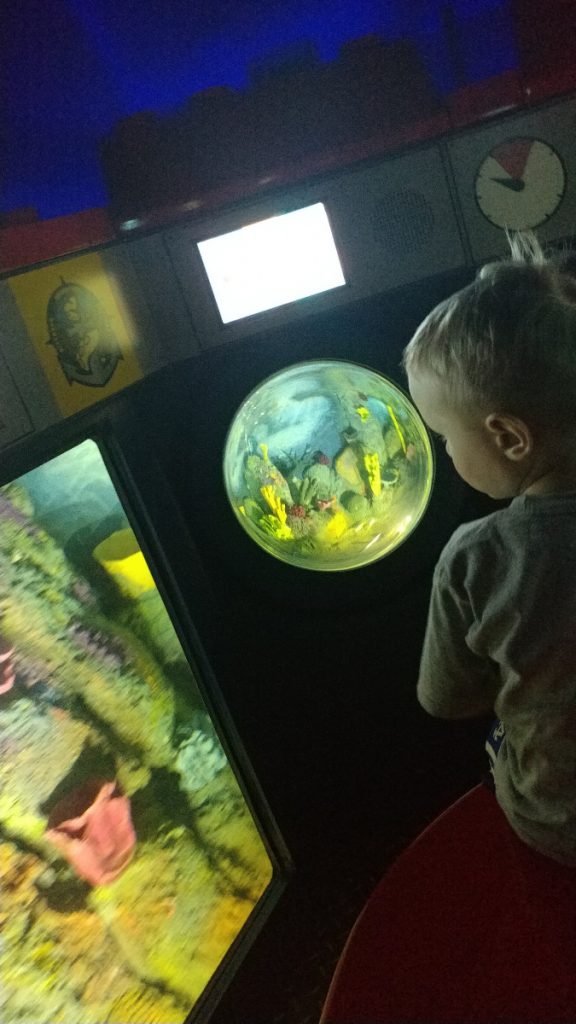 Plus, the SEA LIFE Aquarium now has a new exhibit, Sea at Night, which allows guests to walk, jump and splash in a simulated bio-luminescent tide. It's small, but pretty cool.
6. Delicious Food
Who doesn't love good amusement park food? While LEGOLAND might not have as many restaurants as the Disneyland Resort, their food is just as top notch. Not only is the quality of the food wonderful, but it's also relatively inexpensive. Plus, there is a wide variety of food at each restaurant, so you're sure to find something even your picky eaters will enjoy.
Some of my favorite kid-friendly restaurants at LEGOLAND are the Pizza & Pasta Buffet, Knights Smokehouse BBQ, Fun Town Hot Dogs, City Park Creperie and Castle Burgers. Plus, you can't forget to indulge in their famous Granny's Apple Fries! You can also download the official LEGOLAND app and get discounts on some of these items. Also, be sure to ask for specials, because oftentimes they have them!
7. Affordable for Everyone
As you can see, there are a lot of reasons why I think that LEGOLAND is the best theme park for toddlers. However, one of my favorite reasons is that it's an affordable and fun family vacation destination. Compared to other theme parks, you get such great value from a LEGOLAND vacation. Plus, when you combine our LEGOLAND ticket deals with our hotel specials in San Diego or Carlsbad, you'll be able to save even more.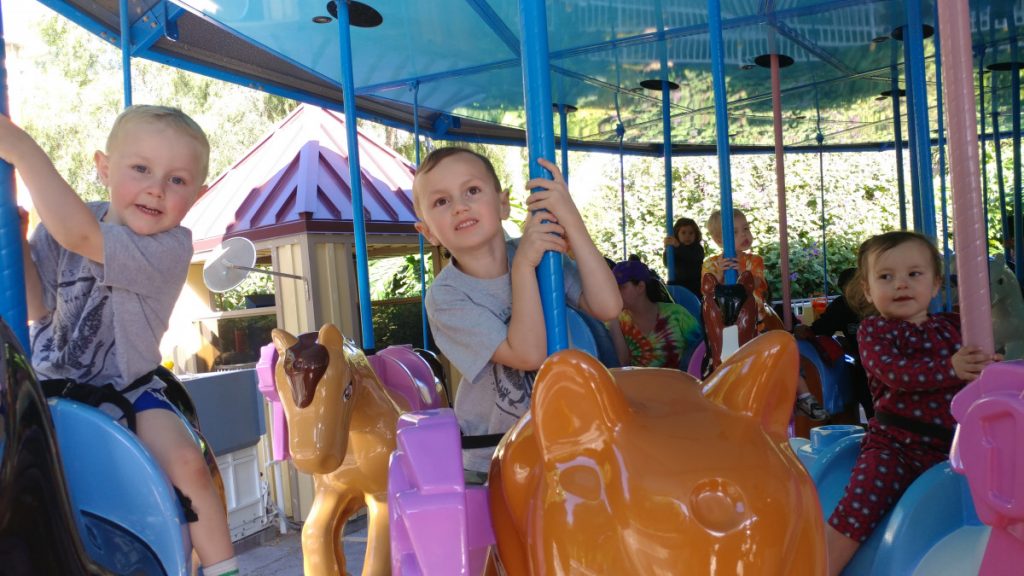 Now that you can see why I think LEGOLAND is such a perfect vacation destination for toddlers, I wanted to share a couple of tips.
First, stay at either the LEGOLAND Hotel or the LEGOLAND Castle Hotel. They are literal steps away from the park. They are themed from floor to ceiling and make it so easy to take a midday break for toddlers. You get free breakfast, numerous activities and the pool is great.
Second, try to schedule a trip during less busy times. If you have toddlers, you don't need to worry about taking them out of school. Just be sure to check the official park calendar because sometimes the park is closed on Tuesdays and Wednesdays during slower times of the year.
So, what are you waiting for? To book your LEGOLAND vacation, visit getawaytoday.com or call 855-GET-AWAY to speak to one of our travel experts directly. Don't forget to mention promo code OSSS10 to get an additional $10 off your tickets and hotel vacation package. Let them know that Or So She Says sent you!
If you're already signed up for the OSSS newsletter, then you've probably seen this fun LEGO VIP perk for ages 6-14; if you're not already signed up for the OSSS newsletter, you should do it on the homepage! You'll get great family ideas delivered to your inbox each week!
More family vacation ideas to check out:
Our 5 Best Family Vacations ~ From a Family of 9
3 Reasons to Travel with Preschoolers
Our top LEGO picks:
The Lego Movie
The LEGO Batman Movie
The LEGO NINJAGO Movie
The Lego Movie Emmet Construction Worker Minifigure Series 71004
LEGO The Movie LOOSE Mini Figure Emmet with Piece of Resistance
LEGO Ninjago Boys' Little T-Shirt, Blue, 7
Brick-Theme Sunglasses for Lego-Loving Kids, Build in Style!
LEGO DUPLO Disney Junior Mickey & Friends Beach House, Preschool, Pre-Kindergarten Large Building Block Toys for Toddlers
LEGO Duplo Brand Disney 10597 Mickey and Minnie Birthday Parade Building Kit
LEGO Duplo My Town Family House 10835 Building Block Toys for Toddlers
LEGO DUPLO Creative Play 6059074 Educational Toy
The LEGO Movie Series 71004 (ONE Random Pack)
LEGO Movie 70803 Cloud Cuckoo Palace
LEGO Classic Medium Creative Brick Box 10696
LEGO Friends Heartlake Summer Pool 41313 New Toy for January 2017
LEGO City ATV Race Team 60148 Best Toy
LEGO CITY Fire Station 60110
Tot Tutors Kids' Toy Storage Organizer with 12 Plastic Bins, White/Primary (Summit Collection)