It's not very often that I host Thanksgiving dinner at my home. But, every once in a while, I take my turn hosting. We have a huge family, with nearly 30 nieces and nephews under the age of 15 (on just one side of the family.) So, it's kind of a big deal to take on the holiday. However, sometimes we just opt to stay home with our 7 children and make it a cozy little affair. Either way, I always love the idea of having at least a few Thanksgiving related activities for the kids, so it feel a little bit different than any other day or family party. Hopefully this list of ways to make Thanksgiving fun at home will come in handy for you too!
15 Ways to Make Thanksgiving Fun at Home
I tried to find really simple Thanksgiving activities that wouldn't end up creating more work, when you already have enough to do. Thanksgiving can be such a busy day! But hopefully, with enough preparing ahead of time, and a few fun Thanksgiving ideas for kids, you'll have a relaxing, delicious, gratitude-filled, memorable day.
This is a great lesson, totally prepared for you, to share with the family. You could either have the lesson sometime in the week leading up to Thanksgiving, or you could do it that day, before dinner. Then after dinner on Thanksgiving, carve the "Gratitude Turkey" and talk about all the things the family shared inside (the stuffing) that they are grateful for.
Have the kids color these kittle fall pictures and fill out the paper on things they are grateful for. It would be fun to have them fill this out ahead of time and share some of the things they wrote during dinner.
Thanksgiving Photo Booth Props ~ The Dating Divas
This is such a simple idea, but I can see it being a ton of fun! Set up a Thanksgiving photo booth in the house, or even outside, with some printable props and even some costumes. Siblings, cousins, uncles, aunts, grandparents… everyone can get in on the fun! You could even take the pictures and create a little photo book for memories.
While the adults are working on dinner… or, even if they're not, I love the idea of letting the kids work on some decorations for the room. It's a great way to make Thanksgiving fun at home! I thought this garland craft would be a fun project that would challenge the younger kids, in a good way… stringing the shapes, maybe putting them in a specific pattern?
While you're busy prearing dinner with the adults, having a simple little Thanksgiving craft, like this, for the kids would be a perfect way to keep them busy and out of your hair, for a minute. You'll get more done, so the family can eat before 10 at night, and they'll have fun. They can even wear their new turkey hat during dinner! Don't forget to get a picture of all of the kids with their hats on.
If there's one thing about Bingo, besides the fact that it's fun, it's that everyone already knows how to play. One of the worst parts about playing a game is explaining to everyone how to play. This is simple a simple, no brain-juice required game that everyone loves. Make it extra Thanksgiving-y by using candy corns, Bugles, or candy corn pumpkins (I can't remember the official name) as the Bingo board pieces.
Oh my gosh, you guys… this Thanksgiving game is so fun! I can see both kids and adults loving this and playing it over and over again. It's a great way to work off some of those dinner calories before the pies come out!
My kids love playing Mad Libs and it's one of those activities that gets the whole family laughing. Not only is it super easy and silly, but its actually educational too! I love that it helps remind my kids about nouns, verbs, adjectives, and adverbs. That's always a good thing! Plus, it's Thankgsgiving themed, so BONUS.
Any activity that gets the family thinking about what they are thankful for is a great activity, in my book. This ABC printable activity would be fun to turn into either a race (who can finish first?) or into more of a Scattergories-type game. If anyone has a response next to a letter that another person in the family has on their paper, they both have to cross it off. It's important to think of unique things that others players won't think of! At the end, whoever has thee most answers on their paper, that haven't been crossed off, will be the winner. Be sure to have a prize on hand!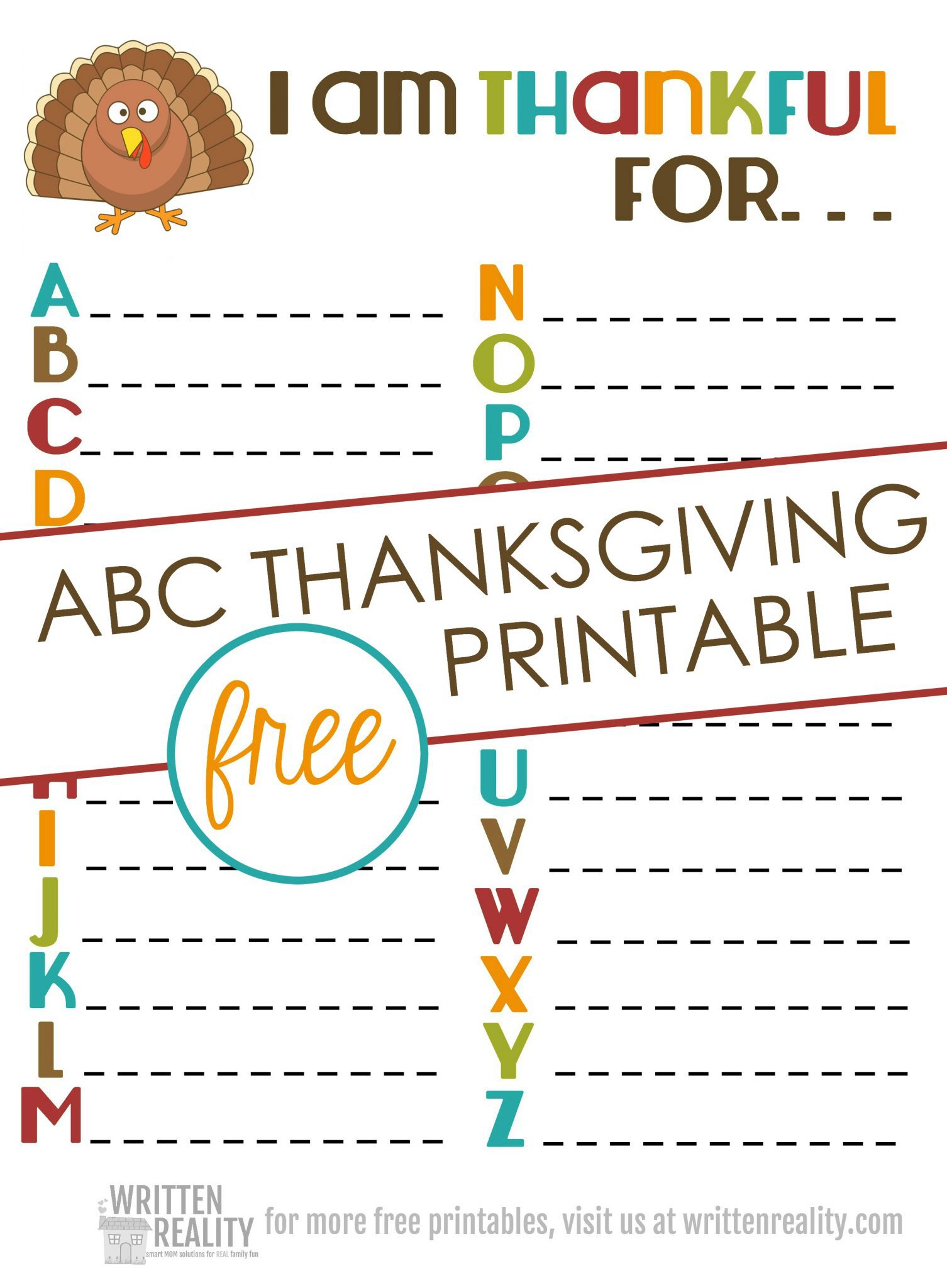 Roll A Turkey Thanksgiving Game ~ MeckMom
MeckMom always has the cutest ideas (and lots of spiritually insightful ones too!) This game would be fun to play after eating Thanksgiving dinner, while waiting for dessert. Plus, it involves chocolate… so, I'm pretty sure there will be no complainers with this one.
Thanksgiving isn't just about dinner, contrary to what my tummy believes. It's an entire day… a day pondering what you're grateful for, spending time with loved ones, having fun and enjoying life, and of course… the food. Because there's a whole day to fill up with goodness, I think it would be fun to let the kids work on a little table treat to set by the plates. While you're making the savory turkey, they can make the sweet turkeys. This is such a cute idea!
Minute to Win It games are so fun and trendy right now. People love them because they're simple to play and fast-paced. The one minute challenge makes it quick, then you're on to the next game. Toddlers can play, all the way up to grandparents… it's perfect for the whole family! Oh, and check out the candy corn painted cones in this post… such a cute idea!
How fun would this be for your family on Thanksgiving? It reminds me of being at a restaurant! Set the placemats out on the kids table with some cups filled with crayons. Or if you're eating at the same table (awesome!) then have them available there. Kids will love this!
Now THIS is the kind of Thanksgiving game my kids would go nuts over! They're all about shooting games and I could see this becoming an annual Thanksgiving tradition… "Can we play that balloon shooting game this year??" I'll hear that over and over, I guarantee it.
Candy corns open up lots of options for family fun on Thanksgiving… with very few other supplies needed, if any. You could play this simple stacking game (see instructions in post), fill up a jar and guess how many are inside (for a prize!), use them for Bingo pieces, Thanksgiving craft projects with glue, etc. However, if I'm anywhere near, nothing is happening, because they're all in my mouth!!
Pin this image to save post: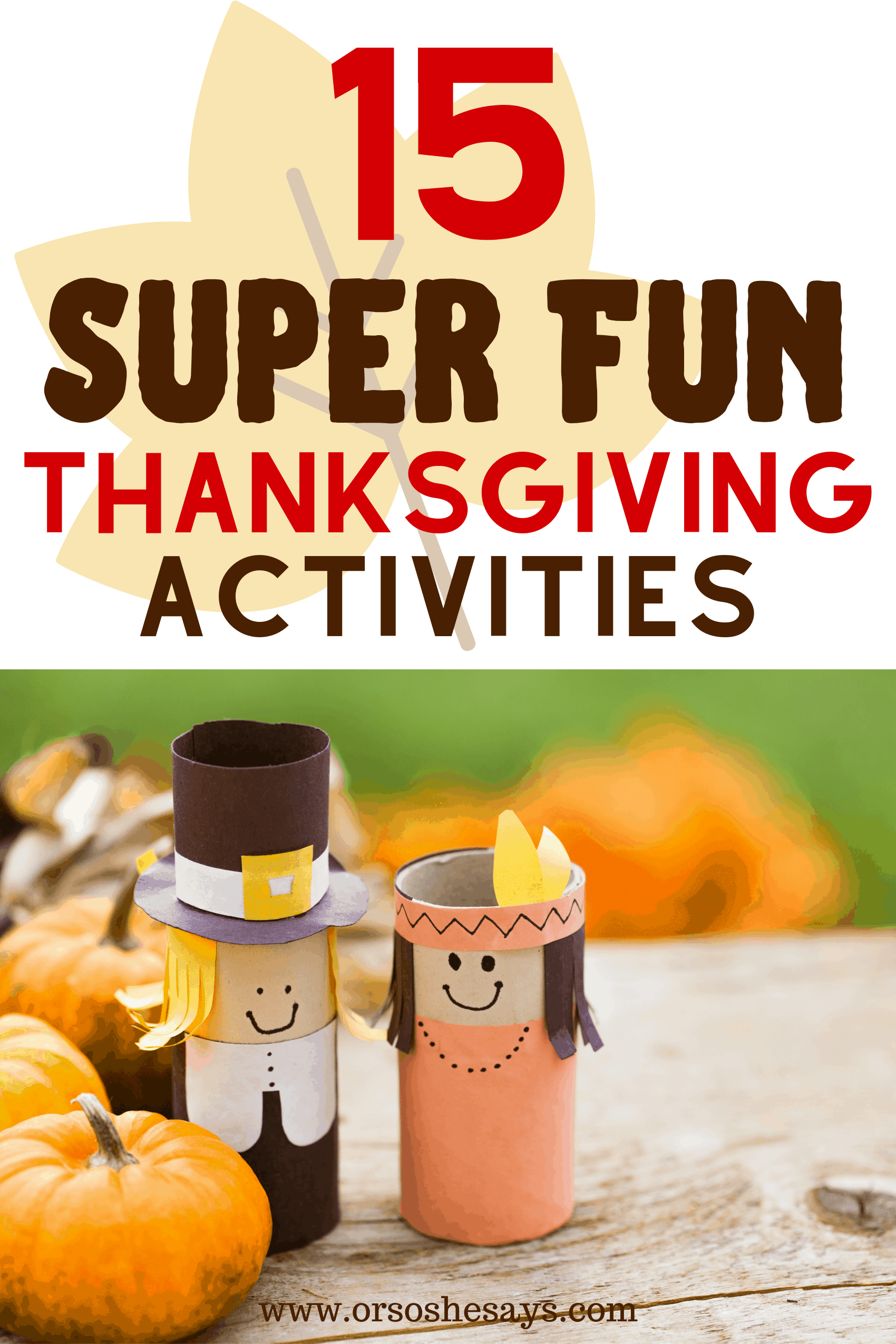 If you liked these ideas for making Thanksgiving fun at home, check out: