It's that time of year again…we're all thinking Christmas. How we can get our shopping over and done with, so we can have more time with the family, right? I know that's how I am! To help you (and me) out, I've been staying up until the wee hours of the night 'online window shopping', and interviewing LOTS of people, so I can give you fantastic gift ideas…stuff that real people really want. Really. It's called 'Mariel's Picks,' it's every year, starts THIS MONDAY, and it's good…if I do say so, myself.
It's not just around Christmas that I share my gift ideas. You will also find gift idea for every year of my children (their age and gender), a Mother's Day series (My Favorite Things), and a Father's Day series (My Husband's Favorite Things.) So, as you can imagine, there are gift ideas oozing from this blog!
To make it easier for you, I have them all stored and organized in one place…Gift Idea Central. Have you checked it out yet?? You'll want to pin it, bookmark it, save it…whatever..for dang-sure!!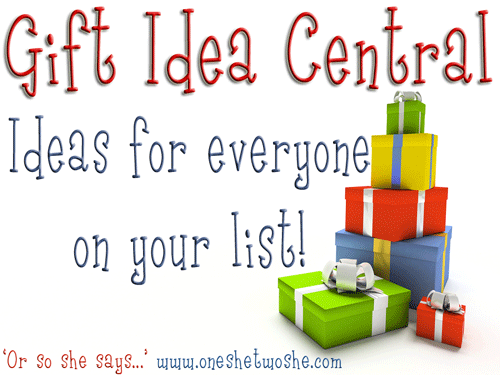 As the next three weeks of 'Mariel's Picks' goes along, I will constantly be updating Gift Idea Central with the new posts, in their appropriate categories.
Lastly, if you're following 'Or so she says…' on Facebook, head on over to my page…you'll find a status update on there about my Gift Idea Central (posted at 7: a.m. MST). All you have to do it click 'like' and you're entered to win a $50 dollar gift card from Amazon. Easiest thing ever. You can 'like' it any time from now, until Tuesday. If it's fun…maybe we'll do it again next weekend!