The Happenings:
– 'Mariel's Picks 2012' starts Monday!! 3 weeks of gift ideas, for everyone on your list.

– For all Facebook fans, be sure to go 'like' my status update from yesterday (the one about Gift Idea Central), and you're instantly entered to win a $50 dollar Amazon.com gift card!
A couple favorite Christmas posts from the past: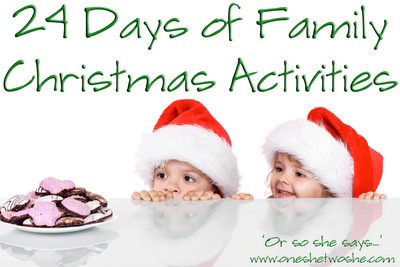 The two winning features from last week's link party (also shared on Pinterest & Facebook):
from Sassy Style Redesign
And, now…it's time…to share 'Your Great Idea'!
Each week, the two winning features will be shared on my Pinterest board, Facebook, and highlighted on the blog. Can't wait to check out your ideas!
Be sure to link back to 'Or so she says…' either in your submitted post or on your blog page (text link or button.)
Only posts that are linked back are eligible to become a 'favorite pick'. Check out others ideas, and enjoy the creativity. Come back next Saturday and do it again!
*No linking to giveaways, posts that aren't yours, etsy shops, or internet filthy-poo.