This has been a rough week for recipes. Twice now, I thought I had just the one to share with you…Sparkling Peppermint Punch…Peppermint Oreo Truffles…eh, fail. They sound good, right?? I thought so. They were nasty-poo. I even had pretty pictures, but you'll never see them.
On a happier note, check out my little Joey. See that face? It's hilarious. He will yell someones name and make that face at them until they do it back. After they do it, he immediately yells the name of someone else, until he goes through everyone in the room. Then he starts running through the house trying to find all the people he missed. Oh, it's good stuff.
Back on subject, as you might have noticed I had peppermint on my mind. I bought a bag of peppermint crunchies and I was determined to use them. So, I scoured my pantry and came up with a box of graham crackers and some white chocolate candy melts….and, here's what happened….Graham Cracker Peppermint Bark.
So, like I said…you'll need graham crackers, peppermint candy pieces, or Andes chocolate mint pieces, and some chocolate melts. You could use melted milk chocolate or white chocolate. For a better quality white chocolate melt, I paid a visit to the specialty kitchen store…but, more than that, it's just what was in my pantry.
Can you believe I'll have random dog pictures on my blog now?? I literally thought that day would never come. Aspen conveniently conked out right in front of the kitchen sink, forcing me to have to suck white chocolate of my fingers, rather than rinsing them. What? Oh, just lean around her? Whatever. Be quiet.

So, dumpa pile of candy melts on a plate and warm them up in 30 second intervals, stirring with a spoon in between, until everything is nice and melty.
Lay the graham cracker in the melted chocolate, each side and place on a sheet of wax paper. Sprinkle mints on top, whatever you like.
Let them sit for several hours, at least, for the chocolate to harden up. Mine seemed to take it's sweet time. But, I must say, I'm a fan of this super easy treat.
Graham Cracker Peppermint Bark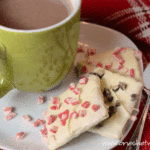 Graham Cracker Peppermint Bark
Ingredients
Peppermint candies

chopped

Chocolate Melts

white or milk

Graham Crackers
Instructions
Melt a large handful of the chocolate melts on a plate. Microwave in 30 second intervals, stirring in between.

Once melted, lay both sides of the crackers in the melted chocolate, then set out on wax paper.

While the chocolate is still wet, sprinkle with mints.

Let rest for several hours until the chocolate hardens.