Three more S'more recipes for your family to try this summer! How does adding things like Nutella, raspberry jam, coconut, and peanut butter to your campfire kitchen sound? You are going to love the new flavor combinations in our More S'more Recipes!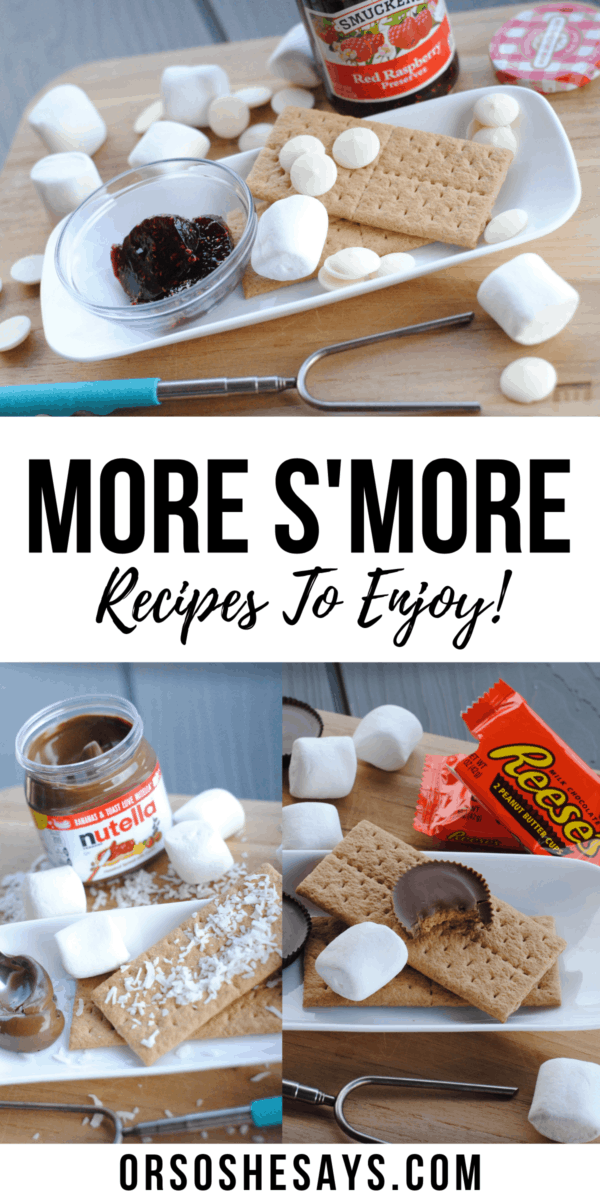 More S'more Recipes for your family to enjoy this Summer!
Nothing screams SUMMER like S'mores! The chocolate, marshmallow, and graham cracker combination is absolute perfection. However, when you feel like shaking things up a bit, here are three new flavor combinations that are sure to make your Summer nights around the bonfire even better! Get ready for more S'more fun.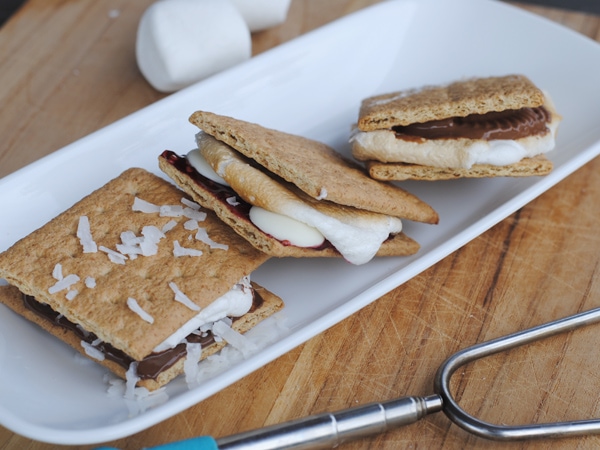 More S'more Recipe: Nutty Coconut and Nutella Smash
Do you kids eat Nutella on everything?! Mine spread the popular creamy hazelnut goodness over bananas, pancakes, crackers, popcorn and more. It is like peanut butter…but sweeter and chocolatey! For this new S'more recipe you will need Nutella, shredded coconut, marshmallows, and graham crackers.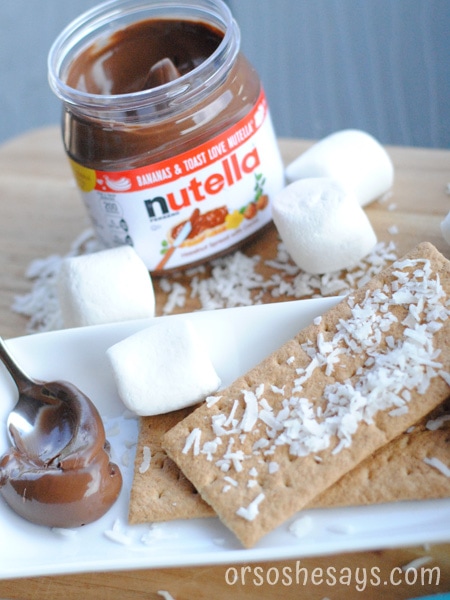 Spread a layer of Nutella over two squares of graham cracker. Sprinkle a bit of the coconut on top. The coconut sticks to the Nutella so it doesn't just fall off your S'more. Yay!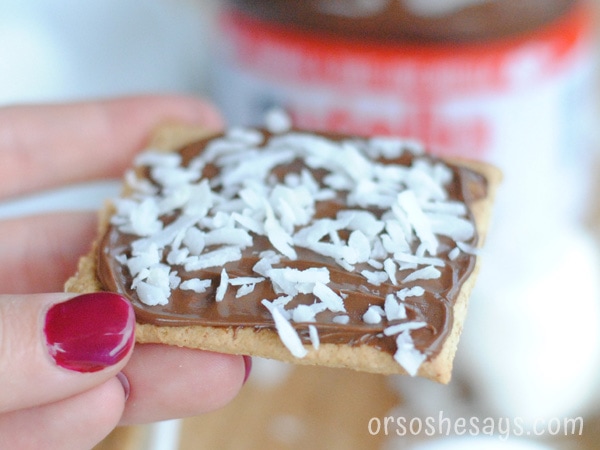 Roast your marshmallow over the warm flames until it is browned and puffy. The insides should be soft and gooey! Slide the marshmallow in between the two layers of Nutella/coconut and you have a delicious new flavor of S'more to enjoy.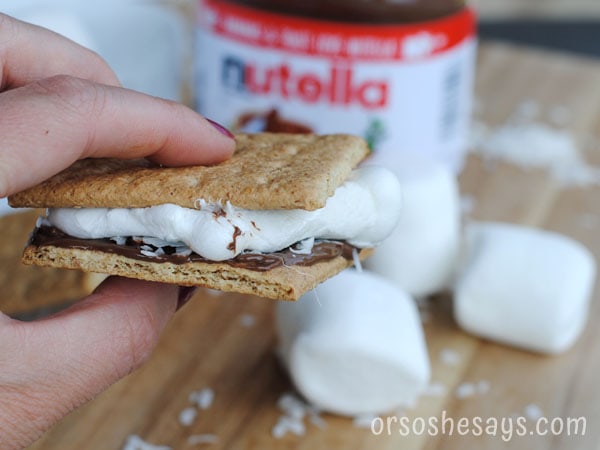 More S'more Recipe: White Chocolate Raspberry Pie
I have a brother who does not like milk or dark chocolate! I know it is almost impossible to believe. How could you not love chocolate?! He will eat white chocolate. So, in honor of all the non-traditional chocolate eaters out there, this new S'more recipe is for you!
You will need a jar of red raspberry jam, white chocolate melting chips (or a white chocolate candy bar!), marshmallows, and graham crackers.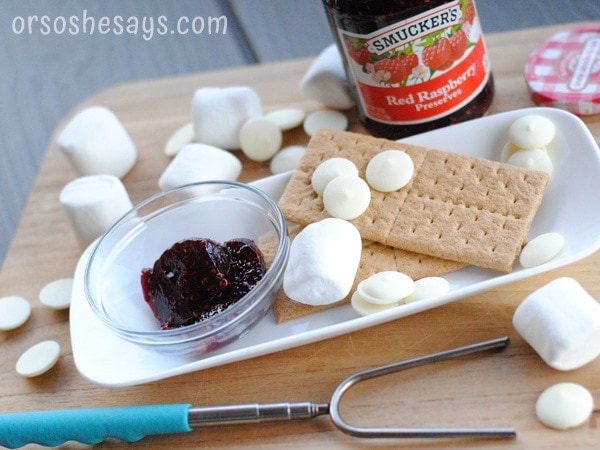 Spread a thin layer on one half of a graham cracker. Unlike the Nutella and coconut recipe above, you only need to add the spread to one of the graham crackers. Then place the white chocolate on top of the jam.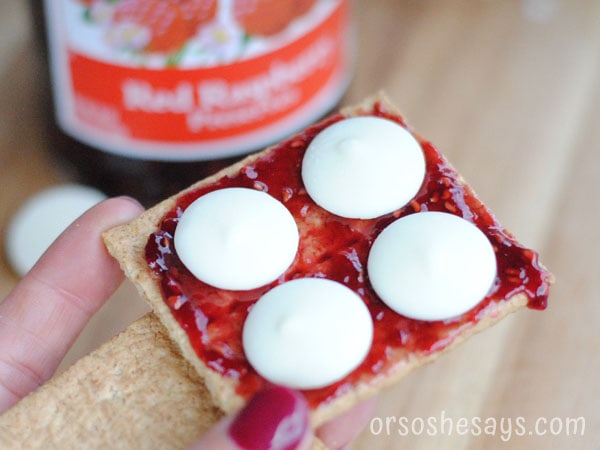 Roast your marshmallow to soft and squishy perfection and then slide it between your two graham cracker squares. It is kind of like eating a raspberry pie! Yum, yum!
More S'more Recipe: Peanut Butter Cup Blast
Move over jelly! I think that chocolate and peanut butter were meant to be together. Try changing out that traditional Hershey's chocolate for something with a little bit more flavor! Can we call Reece's Peanut Butter Cups a protein? They do have peanuts in them right?!
For this More S'mores Recipe you will need a Reece's Peanut Butter Cup, marshmallow, and graham crackers.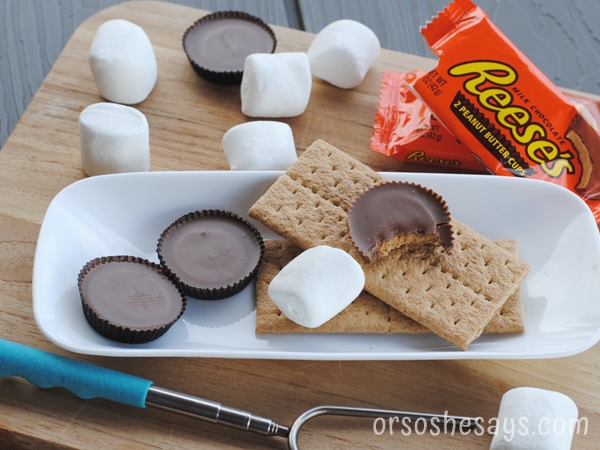 Do you know what I like about this version of the S'more? The Reece's Peanut Butter Cup is soft inside. It gives the S'more a really nice smooth texture. Plus, the peanut butter flavor is really delicious. And it feels like a more substantial snack! So, roast up your marshmallow and slide it on to a peanut butter cup topped graham cracker. Get ready for the chocolate to melt and the peanut butter to blast some flavor.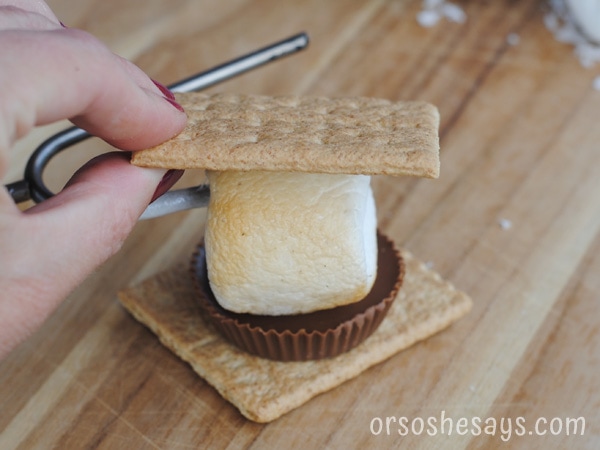 Summer really is the perfect time for families to sit around a campfire together. Time by the fireside is one of the most memorable things for children about childhood. Take a minute to get to know your children as you roast marshmallows. Ask fun questions about their likes and dislikes or play a game of Would You Rather? Learn some fun camp songs or look up at the stars and talk about your dreams for the future.
It doesn't take very long to create those oh-so-important bonding moments as a family! I hope you enjoy these new twists on a old-time favorite dessert! Let me know your best S'more recipe. I'm excited to give some new versions a go. There are plenty of Summer nights left! Now…get roasting!
More posts to check out on 'Or so she says…':
Churro Popcorn – Disneyland Copycat Recipe
20 Scrumptious No Churn Ice Cream Recipes