My Bishop's wife is the best. Really, the best. She's one of those people that just RADIATES goodness, and is a treat to be around. The cutest thing, that I super-love, is how she will randomly leave notes in my mailbox, saying something really kind about me or my family. Or, she will bake bread for my family when SHE isn't feeling well. I swear her eyes are almost permanently welled-up with tears, because she is so in tune and touched by the beautiful and good things of things of the world. Anyway, she's great…AND, so is her granola. A good person with good granola is a good friend to have. 🙂 Every Christmas we have a big breakfast at the church, and the Bishop's wife always makes her granola. It's literally the first thing to go! I go back for seconds, and no luck…it's gone. So, finally I decided I should probably just get the recipe from her. And, I should probably share it with you, too. (She gave me the okay.)
The reason I love this granola is because it's super good for you and it's a little chewy.
Crunchy granola has it's place, but I LOVE fresh, chewy granola the best! Oh, there's no sugar added, just honey, which I think it
extra
great. I was going to go into some of the health benefits of the different ingredients, like honey, wheat germ, and sesame seeds. But, the benefits are too many to list, so just KNOW you're eating some good stuff.
Alright, get ready for a bunch of ingredients. But, the task of finding everything is offset be the ease of making the granola. Don't fret. You'll need: rolled oats, wheat germ, ribbon coconut, sesame seeds, vanilla, sliced almonds, sunflower seeds, canola oil, honey, and any granola additions (craisins, raisins, dried fruit, chocolate chunks, etc.).
The average grocery store may not have some of the ingredients, but I found almost everything I needed either at Harmon's Grocery or Kitchen Kneads (for my fellow Utahns.) I would imagine that a Whole Foods or similar store would carry all of the ingredients, as well. Ribbon coconut, I just learned, is basically large shaved pieces of coconut…in case you were wondering too.
Mix 6 cups oats, 1/2 cup wheat germ, 2 cups ribbon coconut, 1/4 cup sesame seeds, 1 cup sliced almonds, and 1/2 cup sunflower seeds together in a large bowl.
Pour 1/2 cup canola oil and 1 cup honey over the mixture and stir well.
Spread on greased (sprayed) sheet pan and bake at 300 for 45 minutes, or until mixture turns a golden brown…not too golden, but golden. (I have two pans because I doubled the recipe. So, one recipe will fill up one large sheet pan.)
Pull the pan out of the oven, and drizzle 2 TBS of vanilla over the top, and mix in whatever addition you want (raisins, craisins, chocolate chunks, dried fruit, whateva.) Carefully, toss the mixture around with a spoon. Place back in the oven for 5 to 10 minutes.
Dump the granola into a bowl and drizzle an additional 1/2 cup of honey over the mixture, and stir. Let cool and serve with fresh fruit, in yogurt, or as cereal with milk.
Store in an air-tight container. Granola can usually store in the fridge for a few months, and in the freezer for about 6 months.
The Best of Granolas
courtesy of Sue Borchart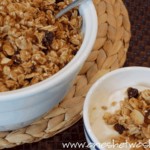 My Favorite Homemade Granola
Ingredients
6

cups

rolled oats

1/2

cup

to 1 cup wheat germ

2

cups

ribbon coconut

1/4

cup

sesame seeds

1

cup

nuts

I use sliced almonds. But, you could use walnuts, cashew, or pecans.

1/2

cup

sunflower seeds

1/2

cup

canola oil

2

Tablespoons

vanilla

1 1/2

cup

honey

Optional Additions: craisins

raisins, any dry fruit, chocolate chunks, cinnamon, nutmeg, almond extract.
Instructions
Heat oven to 300 degrees.

Mix the oats, wheat germ, coconut, sesame seeds, sunflower seeds, and nuts in a large bowl.

Pour the oil and 1 cup of the honey over the mixture and stir (saving the remaining 1/2 cup for later.)

Spray/Grease a large sheet pan. Spread the granola mixture on the pan and bake for about 40 minutes, or until the mixture looks a golden color.

Remove from the oven and drizzle the vanilla on top and add any additions you want (such as dried fruit).

Carefully stir the mixture in the pan, and place back in the oven for an additional 5 to 10 minutes.

Remove from oven, and dump in a large bowl, drizzle the additional 1/2 cup of honey over the mixture and let cool.
Recipe Notes
Serve as a cereal with milk, in yogurt, or with fresh fruit. Store in an air-tight container in the fridge for up to 3 months or the freezer for up to 6 months.