Hello again all! It's Kari here from Paper Wings. I hope that summer has blessed you with lots of family fun and adventure! As we wrap up Summer-time, I thought I'd share some baby shower tips in case you find yourself hosting one! These 7 hacks can help inspire and take the pressure off any host, veteran or first timer alike.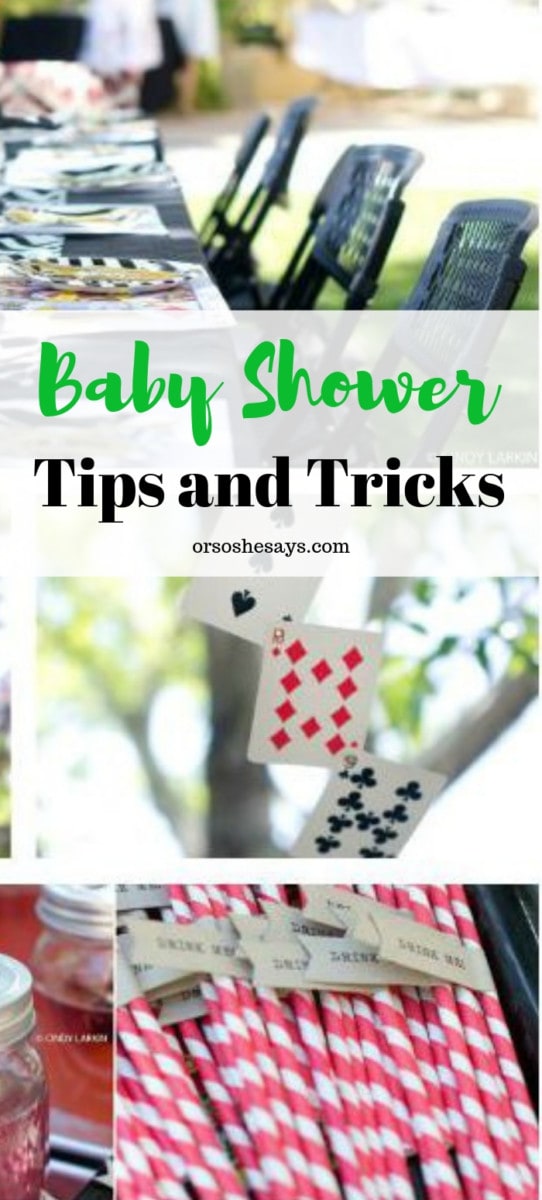 Baby Shower Tips
Are you ready to get started?!
Baby Shower Tips: Know Your Guest of Honor!
I can NOT stress enough how important it is to know that every new mom-to-be has her own style and personality, and the shower should reflect that. Chances are that even if she says she doesn't have a preference, she DOES. That's why this is one of the most important baby shower tips. Be sure to run ideas past the guest of honor or, better yet, have her pick her own theme for the baby shower. Sometimes hosts forget who the party is really for, and can get wrapped up in doing things their own way, but remember this is HER day! If she's a fashionista, try a "clothing only" theme. If she loves music, a "Rock" a bye baby theme, you get the idea. Don't be afraid to talk to the mom-to-be or her friends and family for ideas!
Baby Shower Tips: Never Host a Party Alone!
I have tried this ladies, and let me tell you…… just don't try hosting the shower all by yourself. The cost and stress is too much for one person. Instead, ask several of the mom-to-be's friends to co-host with you. Give everyone a job, and let them each bring food as well. This way, everyone's talents can be utilized, and no one will get over-whelmed.
Baby Shower Tips: Decor-Turned-Gifts
This is another one of those baby shower tips that's invaluable! When possible, theme the shower around mom-to-be's nursery. This way the decor from the shower can be given to her as a gift for her nursery. Not only is this a creative and sentimental gift, it's also a great way to up-cycle.
Baby Shower Tips: Minimal Special Decor
Instead of going overboard with costly party store decorations for the baby shower, instead focus on a few detailed pieces. For example, I love themed wreaths for showers! I think they give a very warm first impression. Instead of generic clutter, opt for specific, special pieces to create a unique, personal touch.
Baby Shower Tips: Update Your Game Roster
I cannot stress this baby shower tip enough. Gone are the days of candy bars in diapers, ladies!!!! Please let's put that game to rest! But seriously, there are some great game ideas out there nowadays! Here are a couple that I personally LOVE (and small prizes for the winners make all the difference!):
(exactly as it sounds) Guests are given paper and a pen, and asked to draw a baby face on their head. Mom-to-be judges the best portrait.
Make up a questionnaire about the mom-to-be, and have guests fill it out. Most correct answers win.
Match the Baby Pic to the Guest
Have guests send you baby pics of themselves prior to the shower, print them, and put them on a cork board at the party. Then have your guests try to figure out who is who. Most correct matches win!
Baby Shower Tips: Find Free Decor at Any Library!
Books are always great for any theme! If your theme is transportation, get a bunch of books on cars trucks and trains. If your theme is princesses, find books with "Princess" in the title, or ones all about royalty. Books add ambiance, help to give levels when staging other decor, and fill empty space. You can also get books just for the colors, like all pink or all blue. And you can't beat free!!!
Tips for Baby Showers: Think Outside The Box
The baby showers that are the most memorable are the ones where creativity shines through. Whatever your theme may be, remember to keep an open mind, and try exciting ideas. For example, use your outdoor space creatively, like the amazing women who threw my Alice in Wonderland shower. They hung playing cards and teacups throughout the trees, and the result was truly magical!
I hope these baby shower tips will help you be the Hostess with the Mostest the next time you honor a new mom to be. I
-Kari
If you're looking for more baby-related posts, look no further! Here are a few more posts on OSSS to help you get organized:
DIY Paper Pinwheels ~ Adorable Baby Shower Decoration
Advice for New Moms ~ What I Wish I Knew with Baby #1
Gifts for Babies (lots of ideas all in one place!)
Click HERE to see the "Motherhood" category of OSSS posts, chock-full of amazing products, advice and inspiration for moms (new and seasoned!).