Camping can already be a little tricky, making sure you're prepared with everything you need for a peaceful outing, and having the whole fam there can really be a lot of work for mom.. ESPECIALLY if you're camping with a 4 year old. These camping tips for parents, from Stacee, are so helpful. We're so happy to have her here to share with us!
Hi, I'm Stacee, and I am so excited to be posting on "Or So She Says…"! I have debated and debated and talked to everyone I know and I finally decided on the best camping tips for families. I am 30 years old and can't remember if there was ever a summer I didn't go camping. I often spent a great majority of the summer in the mountains (for weeks at a time) with my family. We would take the trailer up the mountain and forget about the rest of the world for a while. Great fun and great memories. And now that I have my own family we follow the tradition. We have yet to stay for weeks, but a weekend works out great. So I thought I would share some camping tips for families and what knowledge I have on the subject.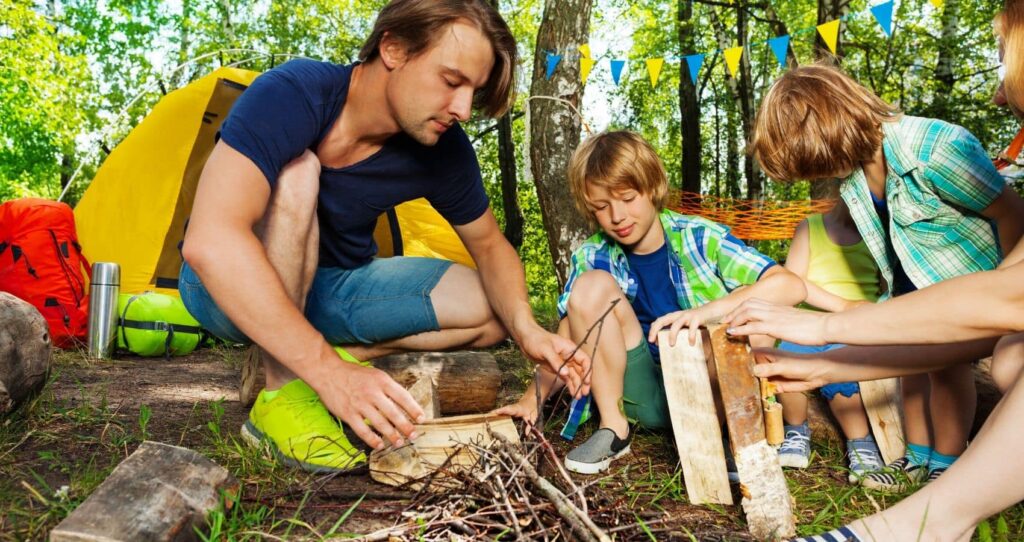 Camping With a 4 Year Old ~ Tips for Parents
1. Find the perfect spot
You may be surprised to know how much finding the perfect camping spot can play into a mother's sanity. My favorite spots are somewhere where there is sun in the morning and shad in the afternoon. Mountains may seem cold but when your tent or trailer is set up in the sun, you'll be wishing you were in the shade. But on the other hand, feeling that warm sun in the chilly morning is such a wonderful thing.
Also, the further from the beaten path, the better. I find the quieter spots are more relaxing and less stress (isn't that what going to the mountains is all about?) Keep in mind though, the further off the main road the more likely you are going to want a four wheel drive truck, I'm just sayin'.
A few more tips on picking the best camping spot:
If you're going to an official campground, call them ahead of time to make a reservation. You may be surprised at how many people had the same idea as you, to go camping on a particular weekend, and the campgrounds can fill up fast!
Arrive to the camp in the daytime. Especially with kids around, setting up in the day time will make the whole start of the experience so much smoother. It's hard enough to set up a tent in the dark. But, if you're also finding kid's pajamas, brushing their teeth, and figuring out a potty system in the dark, you may be ready to head home, the minute you get there.
This is obvious, but look for the most flat and soft ground that you can find. If there is grass and it's flat, that's the spot. There's nothing like the body aches that will come from sleeping on rocks. If you have cots and bed pads, you'll do much better, but again… flat ground, my friends.
Test the ground with tent stakes before you actually set the tent up. If there is a chance of your tent blowing away, you want to find a place where your tent will stay in place, thanks to the stakes.
If you can be close to a water source, do it! It's nice to have the water to use for washing, playing in, fishing, cooking, drinking (filtered), etc. If there is a slight breeze by the water, it's better for keeping bugs away. But either way, bring bug spray!
Check out the National Forest Service and the National Park Service websites for great camping locations and other camping information.
2. Plan a menu
I have found every time I go camping I eat a lot less meals and a lot more snacks, and the same goes for my 4 year old. I usually plan on breakfast and dinner and then bring a bunch of snacks. My kids like licorice, trail mix and lunchables. For dinner our favorite is anything Dutch Oven. Chicken, stew, biscuits, and fresh fruit cobbler. All super easy, and very low maintenance. Just pop it in a smoldering fire pit (not a flaming fire pit, you need coals for Dutch oven not flames) and leave it for a while. It will cook faster than you think. A lot of these picnic food ideas work, as well, and these breakfast burritos are super good. Want a great dessert recipe? Try this!
Fresh Fruit Cobbler ~ Great Camping Dessert Recipe for Families
Up to one quart of fresh fruit. (My favorite is either peach or raspberry, and my kids will eat them both. No more than a quart but you can use less. Just enough to cover the bottom of the pan is fine. You can use canned fruit but fresh is better.)
1 yellow cake mix
1 can of Sprite, or 7 up or any other lemon lime soda.
Directions:
Fill the bottom of a 14″ dutch oven with your fruit. If you are doing peach or apple I recommend peeling your fruit first.
Cover the fruit with the cake mix.
Pour the whole can of soda over the cake mix, taking care to cover the whole cake mix. Not a problem if you miss some spots, those spots will just stay dry instead of cooking.
Replace the dutch oven lid and place over smoldering coals. You will also want to add some coals to the lid so that the cake mix turns golden brown.
Cook for about 30 to 40 minutes. I recommend checking the dutch oven ever ten minutes or so to make sure you are not over cooking it. The timing is really up to how hot your coals are. It's ready when the top is golden brown.
Serve warm plain or with cream.
-You can also follow this recipe at home, using a cake pan. Just follow the directions as above and then set your oven to the recommended temperature on the box of cake mix and cook for the recommended amount of time. At home you can serve with ice cream.
3. Packing Clothes
Pack light. Beauty does not matter when you are camping, for you or your children. All every family member needs is a pair of jeans, a shirt, clean underwear and socks for each day you are gone. Grab a jacket (or coat depending on the season you are going) and a good pair of shoes then head out the door. You are allowed to leave your makeup and shampoo behind. No one cares what you look like when you have been tracking through the mountains for 3 days.
Okay, that may be a little simplistic.
Clothing List for Camping:
Daytime clothes – If it's going to be hot, you may want to bring shorts, but pants keep bugs and irritating plants off of your family's legs. So, pack some long pants, either way. You won't regret it!
Pajamas & fresh socks for bed time – Something comfortable and warm. Even though it's often warm in the day, it can be really cold at night. There's nothing worse than trying to sleep when you're shivering cold.
Swimsuit – Who knows, you might feel a little adventurous and want to jump in a lake!
Rain gear – Wet clothes make for a miserable child (and adult!) Pack a lightweight rain jacket and an extra pair of shoes, to keep dry, in case of rain (or slipping in muddy puddles.)
Extra layers – Whether you're feeling chilly at night, have a child that forgot a jacket, or are trying to keep the bugs off your skin, having extra layers on hand can come in really handy.
Hat/Gloves – It's always a good idea to not let your skin fry in the sun. A hat will serve you well. And, if you think you may be whittling marshmallow sticks or getting cold hands, gloves might be a good idea too.
4. Packing other essentials
Let's talk about a few of the other packing basics:
Sleeping bag
A thicker sleeping bag is best being you can use it all types of weather. I like the Below 0 bags, they keep you nice and warm without an extra blanket. Amazon.com's favorite sleeping bag is the Teton Sports Celsius 0 Degree
, they are extra wide and come in right and left so they can be zipped together.
A tent, or trailer
We bought a gargantuan tent a couple of years ago, it holds the five of us and all of our stuff. I recommend that when you are picking out a tent, get one that holds a couple more people then you have in your family, that way you have room for the rest of the stuff on the list. If you are lucky enough to have a trailer, good for you! Lots of room for lots of stuff. This Core 9 Instant Cabin Tent gets great reviews and is definitely a best seller!
Soap
As much as vanity doesn't matter, clean hands do. You've got to see the awesome camping hack for a washing station in this post. Plus, there's lots of other camping tips, as well.
Bug spray and sun screen
When choosing a bug spray get something that will keep off the West Nile carrying mosquito's and nasty ticks. Deep Woods Off
is my favorite for camping it has the recommended 5% or more, Deet. And get a good SPF, the sun is pretty intense in the mountains… this brand is AWESOME and gets amazing ratings from Consumer Reports.
Flashlights or lanterns
That's obvious but also comes in very handy when your toddler needs to go potty at 2 in the morning. This Streamlight Siege Compact is great for the tent or toting to the bathroom and gets great reviews.
Lots of water
Another obvious one, but I just had to remind you. You'll want some water that is for washing dishes and hands too, so plan on bringing extra. This Aqua Tainer is ideal for camping as it holds 7 gallons and is a favorite of Amazon customers.
The Yummiest Food
If you are going to be dutch oven cooking bring a pair of sturdy pliers or a lid lifter and a pair of good sturdy gloves. Those puppies get really hot. You'll find lots of favorite dutch oven supplies and recipes here.
Miscellaneous Essentials
Matches, garbage bags (you take out what you take in), a great first aid kit, chairs, baby wipes, binoculars are fun but not necessary and a tooth brush and paste (clean teeth matter too). If you have extra room, throw in a few fun items your toddlers can play with (a bug catcher, their favorite stuffed animal, a kid camera, fishing pole, etc.)
5. Have fun
No list of camping tips would be complete without saying to 'have fun.' My 4 year old and I like hiking, fishing, making crafts out of things you find in the woods and just lazying around in our camping hammock. Camping is about finding peace and quiet so don't feel like you have to be going a million miles an hour like we all often do when we are at home. You can't usually get cell service in the mountains or WiFi, so leave your gadgets at home and just enjoy being out in the open. You may want to check out some of these awesome Outdoor Family Games ideas and these Group Game Ideas that would be so fun around the campfire!
If you liked this best camping tips for families post, check out:
Pin this family camping tips image to save post for later: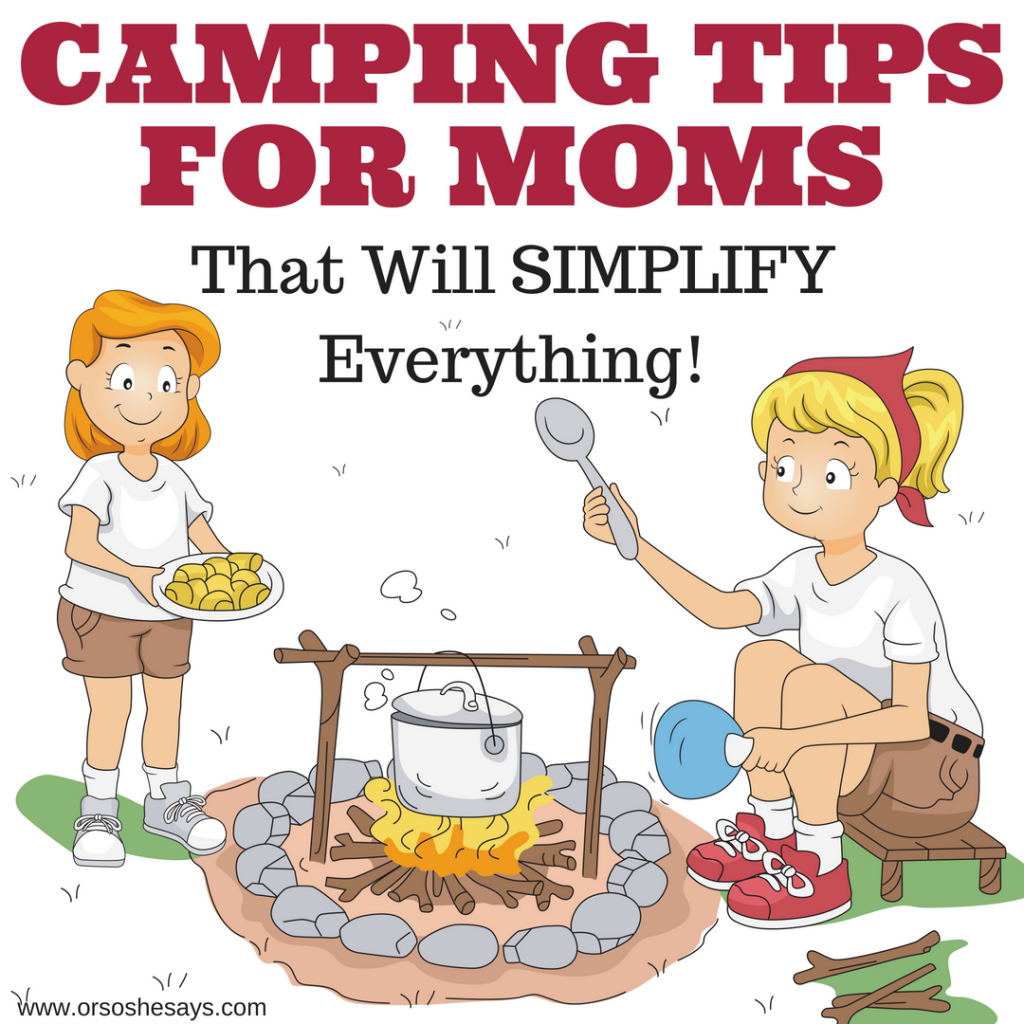 Join 180,000+ others & follow OSSS for lots of family ideas!
NEWSLETTER (free most-requested family recipes download included!)
PINTEREST (lots of awesome family related ideas!)