San Diego is one of my all-time favorite vacation destinations with so much to offer year round. I normally visit at least once a year and have visited San Diego during each of the four seasons. I honestly don't know that there's a "best" time of year to visit if you're looking at weather, crowds and seasonal events, BUT if you have kids, I have a secret that will probably affect when you decide to vacation in San Diego. OK, it's not necessarily my secret. I would say it's San Diego's Best Kept Secret… Each October is Kids Free Month in San Diego, when the best San Diego attractions join forces and offer free admission for kids – ALL MONTH LONG! When you consider your kids get in to most attractions free and your school aged kids have a Fall Break scheduled, October seems like the perfect time for a San Diego vacation.
Each of the top attractions have different rules and ages, so here's what you need to know: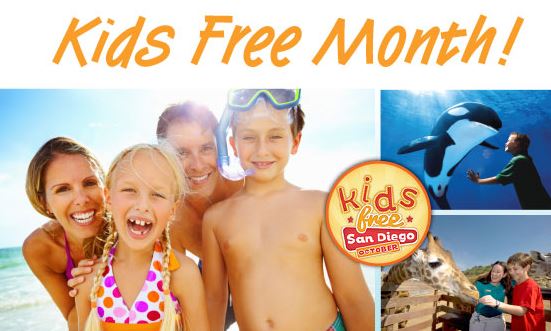 SeaWorld San Diego: One child ages 3-9 gets in free with each full-price adult ticket purchased. This offer is only valid for one-day admission and can't be combined with any other ticket specials. Tip: SeaWorld's Halloween Spooktacular takes place during weekends in October and features fun seasonal décor and activities, including 10 trick-or-treating stations (costumes are allowed). If you go on a weekend, the Halloween Spooktacular is included with your admission!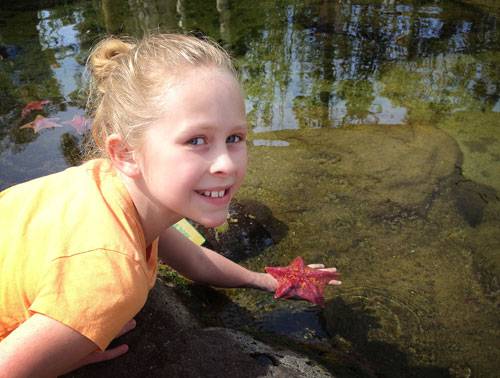 This is my cute friend Jenn's daughter at the SeaWorld tide pools.
San Diego Zoo's Safari Park: All kids 3-11 get in free with a paid adult –and there's not a limit to how many kids get in free (within reason). This is so nice for larger families since oftentimes only one child gets in free with each adult. The free admission does not include Africa Tram or other safari types, but you can upgrade to them at the park. Tip: My #1 must-see at the Safari Park is Cheetah Run where you get to see the world's fastest mammal get up to full speed (70 mph) in seconds. It's seriously one of the coolest things I've ever seen. There's normally only one "showing" of this each day and it normally happens around 2pm. Check the schedule and make sure you arrive early to get a good view.
San Diego Zoo: Like the Safari Park, all kids age 3-11 get in free with a paid adult. The free admission does not include bus tour or Skyfari, but you can add it at the gate. Tip: Be sure to visit Panda Canyon to see the world-famous pandas. You can get your kids excited before you go by checking them out beforehand on the zoo's online Panda Cam.
Here are Jenn's darling kids at the San Diego Zoo.
USS Midway Museum: Two children aged 12 and under get free admission when accompanied by a paying adult. Tip: Make sure you allow enough time for the full audio tour which includes real stories told by the sailors who lived and worked on the aircraft carrier. There's an Adventure Audio Tour geared towards teens and adults and a Family Audio Tour created for younger kids, but engaging enough to be enjoyed by everyone. You'll get to see the Midway's living and work spaces and the flight deck where kids can explore the actual jets and planes used by the military.
Flagship Cruises & Events: One child ages 12 and under gets a free tour with each paying adult. You can choose from one or two hour tours. The 1-hour tours include a choice of the North or South Bay and the 2-hour tours include both. Tip: The 2-hour tour is only $5 more than the 1-hour tour, so it's a much better value. If you aren't sure your kids would do well on the full 2-hour tour, you'll just have to pick which would be more interesting for your family. The North Bay includes the North Island Naval Air Station, Harbor and Shelter Islands, the Naval Sub Base and the Cabrillo National Monument. The South Bay includes the Star of India, the U.S. Navy surface fleet, Coronado Bay Bridge and the busy shipyards.
Old Town Trolley Tours: One child ages 4-12 rides free with each paying adult on the San Diego Old Town Trolley Tour. This tour allows on and off privileges at San Diego's most popular neighborhoods and attractions. Tip: The Old Town Trolley Tour is a perfect way to get oriented with San Diego. I recommend doing it on your first day of your trip to see if there's anything extra you want to fit into your vacation. Also, it's an open air trolley and can get a little breezy, so you'll want to bring a jacket.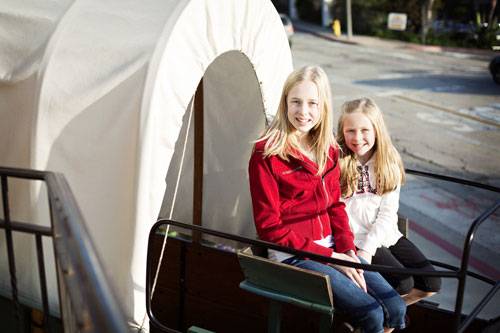 And here they are again in Old Town San Diego!
San Diego SEAL Tours: One child ages 4-12 rides free with each paying adult. Tips: Of all of the tours, I think as a kid I would've thought this was the coolest. Who am I kidding—as an adult, I think this is pretty awesome. The SEAL Tour starts as a bus on land, then becomes a boat as you cruise into the San Diego Bay. Plus, you get to see some really fun stuff.
October is Kids Free Month in San Diego! You can get all of your paid adult tickets and free kids tickets through Get Away Today online or by calling our Reservation Specialists 1-855-GET-AWAY. If you have any other San Diego questions, our agents would love to help!
For more tips for your San Diego family vacation, check out this past post: 10 Fun Things to Do On Your San Diego Vacation.