I'm Leigh Anne over from Your Homebased Mom and I am excited to be posting here at Or So She Says while Mariel is enjoying that sweet little baby! Over at Your Homebased Mom Blog we are all about finding the pretty & delicious in life. My husband and I are still adjusting to being empty nesters and learning to cook for just two has taken some time! I am a non-potato eating girl married to an Idaho Boy. That can be a bit of a problem some times. Over the years though I have worked hard to try and eat at least some potatoes. I have learned that I can handle small and crisp potatoes. So I tend to cut up my potatoes and small and cook them a long time!
This recipe for Parmesan Roasted Potatoes fits my potato criteria pretty well. Small, crisp and covered in Parmesan cheese. I cut the potatoes into a nice small cube size but you can make them any size you want.
I used a Yukon Gold this time but I think I prefer a little firmer russet potato. You combine flour, grated parmesan cheese with some salt and pepper to coat the potatoes.
Then you bake them on a melted butter covered baking pan. I like to make sure all sides get browned and crisp so turn them several times during the baking process.
A nice sprinkling of some more Parmesan cheese after they are done and if you have fresh herbs those would be delicious to sprinkled on top. Parmesan Roasted Potatoes make for a delicious side dish for just about any meal. I'd love for you to come check out some of the other recipes I have at Your Homebased Mom. Some of my favorites are the post I did this week on Girl Scout Cookie Shakes, my Perfect Pie Crust Tutorial, a delicious Crock pot Tomato Basil Soup and 30 Minute Rolls.
Enjoy!
Parmesan Roasted Potatoes
yourhomebasedmom.com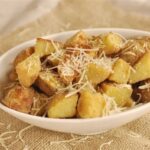 Parmesan Roasted Potatoes
Ingredients
7-8 large potatoes yukon gold or russet
1/2 C finely grated Parmesan cheese
1/2 C flour
1/2 tsp salt
1/2 tsp black pepper
1/2 C butter melted
Instructions
Heat oven to 350 degrees.

Put cheese, flour, salt and pepper into a plastic sealable bag.

Cut potatoes into bite size chunks.

Add to flour mixture and shake to coat.

Put melted butter onto baking pan.

Place potatoes in a single layer into butter

Bake in oven until browned and crisp about 1 hour.

Turn several times to make sure all sides brown evenly.