As a mother of a toddler, it's not a rare occurrence to hear a request for a real horse or pony. It's not just a cliche situation, it really happens! A live, large animal will not work for us, for a couple reasons. One, we don't have the property to raise a horse. Two, it takes every part of me to take care of my 7 children. My dog is lucky she's even around and my house plants just had to go. No more living things allowed, at least for the time being. Thankfully, I found a pretty cool non-living replacement, PonyCycle ride-on animals. As few have been using it for a few years now, I thought I would put together a PonyCycle Ride On Toys Buyers Guide for you… a review for parents, like myself!
The PonyCycle ride on horse toys are a battery-free, ride-on stuffed animal that propels itself forward by a simple up and down movement. It comes in two different sizes and you can choose from a line of horses, unicorns, or a zebra. You may have seen them in malls for kids to rent and ride, or even being promoted by different celebrities, like the Kardashian sisters. I'm going to give you the full scoop today, so you can see for yourself how clever and fun these PonyCycles toys are. We've had so much fun with ours. They would make an awesome Christmas or birthday gift!
PonyCycle Ride On Toys Buyers Guide
Every year, I rack my brain, trying to think of the most perfect Christmas or birthday gift for my kids. Typically, I will get them a few smaller items, and then one, big special toy. This ride-on horse totally fit the bill. It's super simple and fun to ride! Even my older kids (and the neighborhood friends) are anxious to get a turn. And with free shipping within the continental United States, that was a huge selling point for me, especially for a package of that size!
When the box first arrived, I was a little hesitant to open it. I have a huge disdain for putting things together. I was imaging bags of labeled screws, a confusing instruction booklet, and horse body parts strewn across the floor. It was such a relief that it was not like that at all. Furniture companies could learn a thing or two from PonyCycle! It was literally the stuffed horse head and the horse body in the box. I slid the head onto the battery, zipped the zipper, and it was ready to ride! That's my kind of of purchase.
Non Battery Powered Ride On Toys that Kids & Parents Love
We have owned a battery powered ride on car, and let me tell you… those things are a pain, not to mention, a money-pit. They are constantly running out of batteries or the batteries are just completely going dead, all together. Eventually, we get to the point where we are giving it away, for free, because we're sick of charging it, the charger broke, or the battery needs to be replaced. I'm telling you… a ride on without the need for batteries, is the way to go. The PonyCycle horse (or unicorn!) is a dream come true… as mentioned above, it propels forward simply by moving the body up and down on the saddle, with feet on the pedals. It really is pretty impressive how it works! My kids like to take it to the church parking lot to ride all over, but they even ride it all around the house too.
There are several styles to choose from, in two different lines:
The Classic U Series
Battery free
Feels like riding a real horse, with the galloping motion, steers left and right
Great for indoor or outdoor use
Wheels don't roll backwards
So easy to assemble. Just attach the head!
Soft plush
The Premium K Series
More details in appearance
Light up wheels when riding
Accessories to groom horse and play pretend
Battery free
Feels like riding a real pony, with the galloping motion, steers left and right
Great for indoor or outdoor use
Wheels don't roll backwards
So easy to assemble. Just attach the head!
Soft plush
PonyCycle Unicorn ~ The Ride On Toy for Princesses Lovers
I was torn on which PonyCycle toy to choose. I knew that my little gal would be so excited about the ride on unicorn. They're so pretty and she's such a girly-girl, that a unicorn toy is right up her ally. In the Classic U Series, you can choose between a pink or white unicorn. And, in the Premium K series, there is an embellished purple and white unicorn, with a beautiful purple tiara.
The Ride on Horse Toy is Perfect for Your Little Cowboy or Cowgirl
Despite my adoration of the unicorn and knowing that my daughter would swoon over it, I decided on the ride on horse toy, for a couple reasons. First, she loves horses almost as much as unicorns. She's always fascinated any time we see a real horse and has always longed to ride one. And second, she is my youngest child and when she grows out of her PonyCycle horse, we will be passing it on to my nephew… and, I already know he is a huge fan of horses.
So, let's talk ride on horses for a minute. In the Classic U Series, there are 3 horses to choose from: dark brown horse, tan horse, or black horse. And in the Premium K Series, there is the dark brown horse or a tan horse (those ones have the prettiest mane too!) If you're lucky, you can even snag the ride on zebra, if it's in stock.
PonyCycle Sizes ~ Small and Medium Horses, Unicorns, and Zebra
Besides the different styles of horse ride on toys and unicorns, PonyCycle offers their products in two sizes, small and medium. My toddler just turned 3. I was torn about whether I should get her the small or size up and get the medium. After a lot of deliberation, I opted for the medium, knowing that her older brothers would want to ride it and it would give her many more years of use. At this point she can just barely reach the peddles, but it's enough for her to ride the horse. A small would be the most perfect right now and if she wasn't sharing, I think that would have been the best size.
Small Size
Recommended for ages 3 to 5 years old
Weight Limit – 55 lbs
Product Dimensions – 27.2″ l x 13″ w x 31″ h
Product Weight – 16.8 pounds
Medium Size
Recommended for ages 4 to 9 years old
Weight Limit – 88 lbs
Product Dimensions – 33″ l x 15.8″ w x 38.2″ h
Product Weight – 16.8 pounds
Best Ride on Toys for Toddlers ~ Review for Parents
I totally recommend PonyCycle if you're looking for a ride on toy for toddlers, even for older kids. It's one of those gifts that will light their eyes up and they'll have so much fun with. My little girl doesn't just see it as a ride on, her horse is another one of her stuffed animal friends. She's always hugging it, petting it, and even giving her Barbies a ride… when she can get it away from her old brother. It's definitely a winner!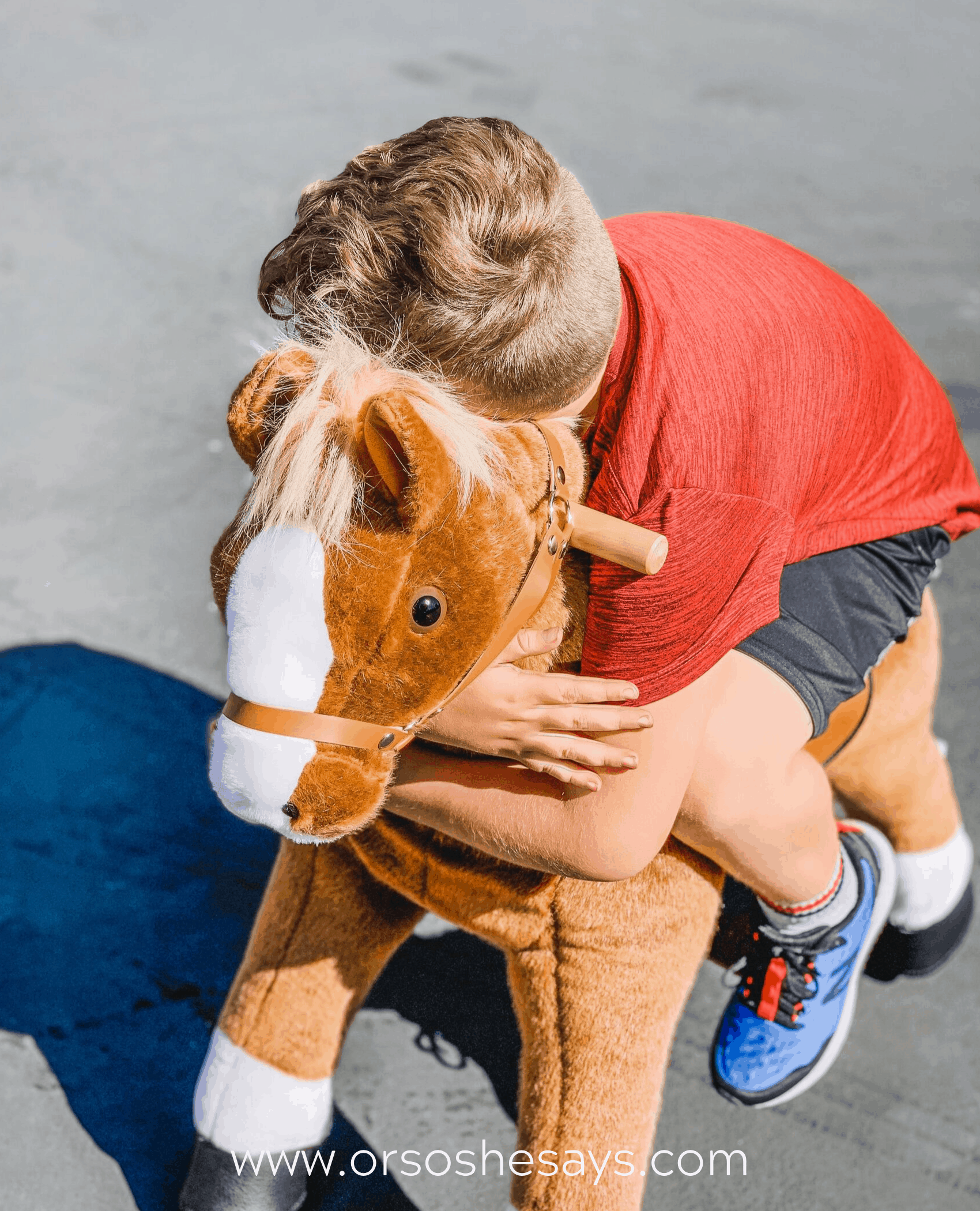 Pin This Image to Save the Post
(Or click the Pin button in header/footer for additional images)