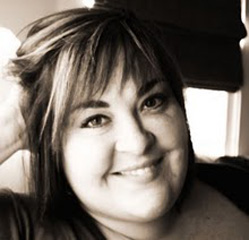 Hi! My name is Jennifer Locklin and my blog is
Jennifer Cooks
. My foodie obsession started early in life in my grandma's kitchen, making Strudels, Kolaches and Fried Pies, and later landed me in culinary school. Instead of becoming an executive chef of a five-star restaurant, I am now the lunch lady for my husband and three kids.
I have expanded my love of food to growing and raising it myself. Last year, my family and I made a decision to start an urban farm in our backyard where we raise chickens, quail, rabbits and turkeys, along with a large organic vegetable garden and organic herb garden. I blog about our family, our farm and lots of delicious recipes using fresh ingredients, many of which we grow ourselves!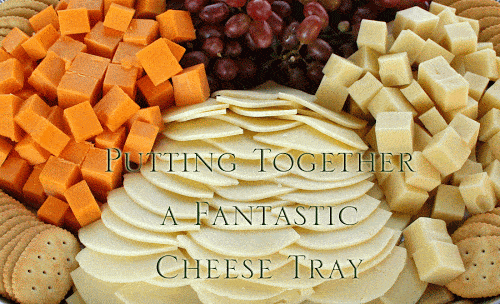 Oh my! I love cheese! So big surprise that I love to make cheese trays when friends come over, right? Sometimes picking out cheeses can seem overwhelming, especially if you're not that familiar with a larger variety outside of cheddar, mozzarella, Colby jack and Swiss. all of those are fine, I just like mixing it up a little bit.
So, I thought I would share what I like to buy when I'm putting a tray together.
Cotswold – a double glouster cheese with onions and chives added. This tastes a lot like a medium white cheddar, but creamier. In England this is known as a popular pub cheese and served with cold beer. I love it with dark rye or pumperknickle bread!
Vintage Gouda Aged 5 years – this is another one of my very favorites, again with dark rye or pumperknickle bread. This nutty, crunchy cheese is slightly crumbly and very complex in flavor. It has a caramel, salty flavor and is great with cold beer and wine.
English Cheddar with Caramelized Onions – again another one of my very favorites! This one is addictive for me…again, I love it with dark rye or pumpernickel. Also known as Abbot's Gold.
Tintern – This is another great pub cheese with shallots and chives, combined with a creamy white cheddar.
Harlech – This Welch cheese has a strong, creamy cheddar that is blended with horseradish and parsley. This cheese gives a great contrast to a cheese board.
Royal Stilton – England's best! Creamy, smooth and milder than many other bleu cheeses. YUM! Great for breads, crackers, pears or apples. Don't eat rind.
Manchego – Sheep's milk cheese. Firm, creamy, buttery cheese with a distinctive sheep's milk flavor.
Rauchkase – Semi-soft, rich, buttery Bavarian cow's milk cheese; smoky aroma with a delicate smoky flavor. Brand: Bruder Basil


Smoked Gouda – Holland's most famous export is Gouda. This Gouda is hickory smoked and has a nutty, creamy flavor with a robust smokiness that is great for snacking! Excellent with cold beer.
Kirchtagskase – Sunday's Best – A hard cheese from the Alps, piquant and spicy flavors of herbs with a nutty taste.
Gruyere de Comte Reserve – Nutty, slightly salty French Gourmet cheese.
Boursin – cow's milk and cream (spreadable cheese), garlic, salt, pepper, parsley and chives. Available in other flavors.
Some of my favorite cured meats…
Busseto: Poivre Moulu – flavorful Italian dry salami rolled in black pepper. Available in other flavors.
Salami Tartufo – dry pork salami flavored with black truffles.
Breads & crackers…
Cocktail Pumpernickel Bread
Mini Toasts
Your favorite crackers – Mine are Breton Sesame!
I am addicted to Blue Diamond's BOLD Wasabi Soy Sauce Almonds…they are soooo good!
Some additional cheese that I like to supplement are some of Tillamook's variety. Tillamook has very good high quality cheese at affordable prices. Here are some that I really like:
Tillamook Extra Sharp Cheddar
Tillamook Hot Habanero Jack
Tillamook Smoked Black Pepper White Cheddar
Tillamook Smoked Cheddar
Don't forget fresh seasonal fruits like, peaches, pears, apples, pineapple, grapes, and strawberries.
Cheese boards can be very expensive to make, but if you're having guests over for a wine tasting or party, it's definitely worth buying great cheeses! Most of these cheeses are available at larger supermarkets like, Central Market, Whole Foods, HEB, some liquor stores like Spec's, and you can order them online at places like,
igourmet
.
So, how much cheese do you need?
I like to make trays with anywhere from 3 to 7 different varieties, depending on how extravagant I feel. A good rule of thumb is about 4 ounces per person if the cheese tray is an appetizer and about 6 to 8 ounces if it's your main course. I usually go overboard because I get so excited about buying the cheeses. I get stumped at the store because I can't narrow my selections down…there are so many that I like ~ and I definitely want leftovers for me later!
Once you buy all the goods, It's best to slice hard cheeses into bite sized pieces, semi-hard cheeses into cubes or wedges, soft cheeses into small wedges, while leaving your spreadable cheeses whole with a cheese knife along side. I like to break apart bleu cheeses into manageable, rustic chunks, while leaving large pieces in the background to help identify the cheese. The larger pieces can be cut by the guests as the pre-portioned pieces run low. Arrange your cheese, fruit, nuts and meats on a large platter or wood board with several cheese knives. Don't forget your crackers, breads and toasts. Use your imagination, the sky's the limit!
Enjoy!
I would love to hear from you! Let me know what your favorite cheeses are…I would love to try them!!!