I know, I know…all you want for Christmas is a happy family, a love letter from each of the kids and world peace. Me too. But, you forgot a few things that you didn't even know that you wanted! The fam is
begging
for some ideas for you, so here they are (and of course, these are also
great gift ideas for women
on your shopping list).
Aren't you glad you have me?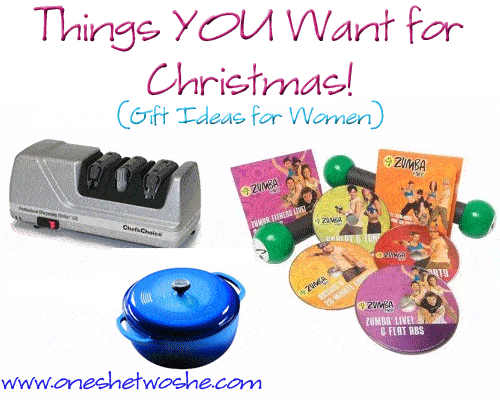 Oh, before I get started I thought I should clarify something…
I don't think I've ever told you how to pronounce my name!
How silly of me, because surely you are saying things like "Meriel, Muriel, and Mario". Here it is…ready?? It's Mahr (as in "Mars", "marshmallow", "Marxist", "martian") – Eeee (as in "eagle", "eeek!", "enough") – elle (as in "elephant"). Let's say it together, Mahr-eeee-elle…Mariel. Perfect, now we can be
real
friends. Nice to meet you.
Okay, here's what you want…
Dutch ovens. Perfect for braising, soups, using on the stove top or in the oven, and practically everything! The porcelain enamel finish surrounds the cast iron completely, so NO seasoning needed! Isn't the seasoning part why most of us never cook with cast iron?? I know that applies to me! Dutch ovens have awesome heat retention and they cook super evenly. Well, you COULD ask for a Le Creuset Dutch Oven that costs a couple hundred dollar OR…you can go with
Lodge Logic's Dutch Oven
that is a much more reasonable price and receives the
same spectacular ratings as Le Creuset.
A 6 quart dutch oven runs around $60 and comes in lots of cute colors. I found mine at
CSN
(it's so cute and my favorite green color) and have already bought more for gifts. It's also available on
Amazon
. If you need some ideas for cooking with your dutch oven, or a perfect pair for a gift…check out the top-rated braising cookbook,
All About Braising
.
I love colorful accessory pieces, so I was naturally drawn to these watches by
CROW
. Oooh…all the color choices on their site…I don't know if I could pick a favorite!
You can never have enough perfume, right?? The Beard Man recently bought me some
Viva La Juicy
which is a perfect light floral scent…I love it. And, obviously he does too, since he bought it. But, now I'm got my eyes/nose on
J'adore
which I think I smelled in a magazine and can't stop thinking about it. Yum. Either one, you want.
I've told you about these jewelry organizers from
Spirit Ranch
several
times, and for good reason. You
need
one because they are one of the best things that has ever happened to me. Every woman you know needs one…just ask, they'll tell you it's true. And, how convenient…I scored you a
10 percent discount until December 20, 2010.
Just enter promo code 1SHE2SHE at checkout.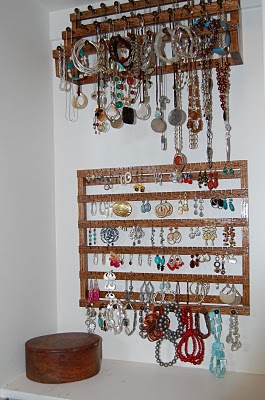 After all this holiday grubbing, it will be time to work on your New Year's resolution…and how many of us don't have one that doesn't have to do with getting in shape?? I've been loving my
BodyMedia FIT
arm band! You wear it all day/all night and with the help of the
internet program
you get the scoop on how many calories you are actually burning in the day (and while you sleep), how many you need to burn, how many steps you've taken, how well you sleep, etc. It has over 90% validated accuracy. It really motivates me because I can check my watch (sold separately, or the new version arm-band wirelessly updates to your smartphone) any time throughout the day and know just how many more calories I have to burn to meet my goal.
Speaking of working out, the hottest thing right now is Zumba! I've yet to venture into an actual Zumba class…I'm a little scared 🙂 But, I think I'll feel perfectly at home in any class after doing Zumba AT home. Zumba Fitness Total Body Transformation System DVD
set is the hottest work-out item on Amazon right now, not to mention it gets lots and lots of super reviews. It would be fun/hilarious to do with a neighborhood girl friend…hello, neighbors?? Who wants to Zumba with me???
You might not realize how dull your knives actually are until you sharpen them! I love my Chef's Choice Professional Sharpening Station
, oh yes. Raw meat is already borderline "make me lose my appetite." It gets much worse when I'm sawing away endlessly on the slimy crap (that tastes so good.) Sharp knives quicken the job, resulting in less gagging, more eating. This particular one was a little pricey, though my top pick. However, there are a couple other gadgets that get great reviews and are significantly cheaper: The Presto EverSharp
and the Wusthof 2-Stage
.
How about some of the best rated beauty products that you've always wanted to try?? Such as MAC Lipglass, bareMinerals foundation, Urban Decay Primer Potion, NARS Orgasm Blush, or some of the top-rated eyelash products from my previous post.
What's on YOUR Christmas wishlist?? I mean, what did I forget to mention? Because of course, I already know what you want.
(All I want for Christmas is your guest posts…and a tummy tuck…and a maid.)

For gift ideas for everyone on your list, check out the Gift Ideas tab and be sure to pin Gift Idea Central, to keep the whole collection in one place.