It's Ruthie from What's Cooking with Ruthie, here to share another delicious recipe with you!
The other day I was watching the Paula Deen Show and she made these fun little "Sausage Balls" she called them. So, I jotted down the recipe to give them a try AND to see if I could make them a little healthier too. I've written about my weight loss story here (part A & part B) and even though I am a foodie I try to make my recipes as healthy as possible without sacrificing any flavor. 🙂
These little Sausage Biscuits are actually quite addicting! We totally LOVED them…
Sausage Biscuits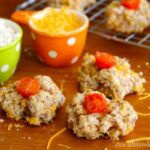 Sausage Biscuits
Ingredients
2

C

whole grain bisquick

1

C

sharp cheddar cheese

finely shredded

1

19.5 package sweet Italian turkey sausage, casing removed

12

grape tomatoes

cut in half
Instructions
Preheat oven to 350 degrees.

In a large mixing bowl combine turkey sausage, cheese, and bisquick; kneading with hands until mixed thoroughly.

Roll into 1 inch balls, place on sprayed cookie sheet.

Press thumb into each ball, place 1/2 grape tomato in each indent.

Bake 15-20 minutes until lightly browned on top and browned on the bottoms.

Refrigerate leftovers.
Sausage Biscuits are just the right combination… fun for a weekend breakfast or brunch! AND mmm, hmmm- they are GOOD!
Here's a couple of other delicious recipes for you to enjoy:
St. Patrick's Day just around the corner so here's an amazing little Irish Ginger Snap Cookie to enjoy…
Who doesn't love an easy Crock-pot dinner on hectic days? This Cafe Rio Sweet Pork recipe will make the whole family happy!
Thanks so much for letting me visit today and share some yummy recipes with you.
Happy Cooking!