Hello, I'm here with a St. Patrick's Day craft idea! It's Jen from PinkWhen and this would make a great St. Patrick's day craft, snack to give the kids after school or in their lunch box, or little gift! St. Patrick's Day is one of my favorite little days to give gifts and treats. There are so many fun ideas to share, and today I thought I would share a St. Patrick's Day gift idea that is simple and easy for your little ones to make and share with their friends at school. You could use this free printable for any little gift you'd like for St. Patrick's Day, so hopefully this idea gets the creative juices flowing. This is so simple to make, just add the printable and it's all complete.
St. Patrick's Day Craft ~ Jell-O Alien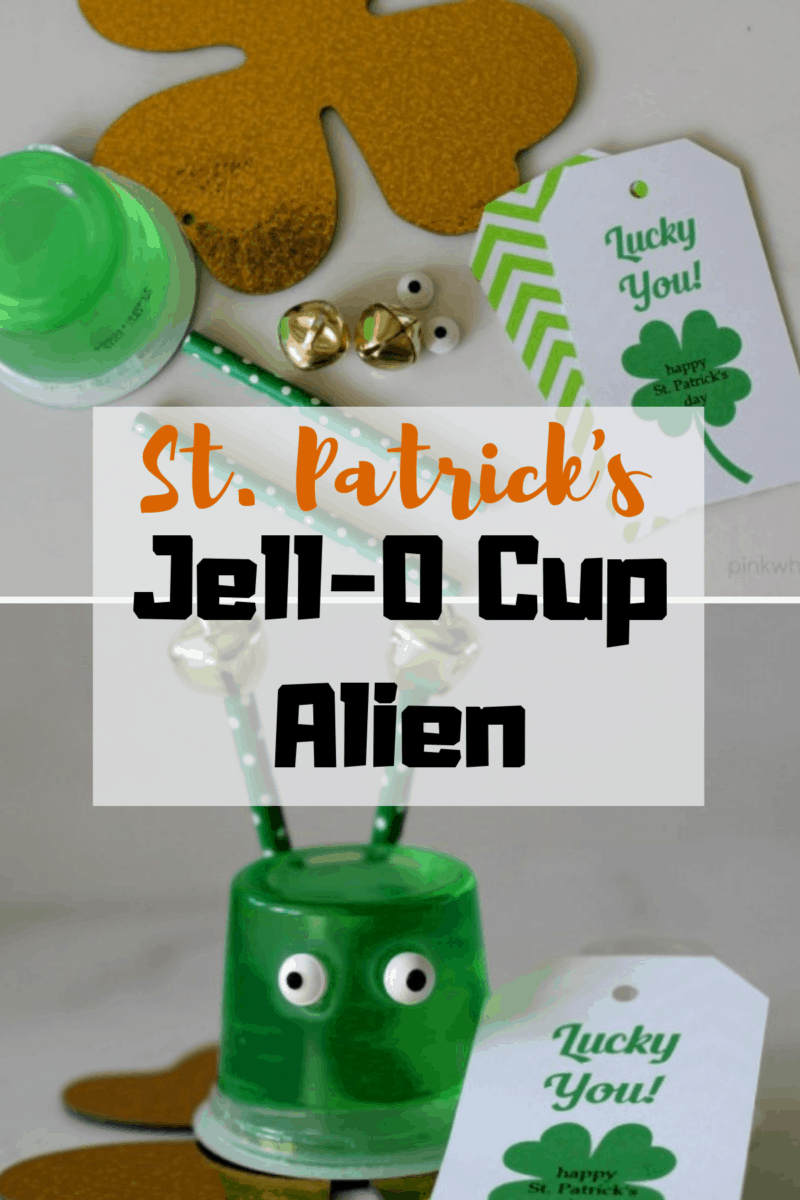 To get started, download this free printable and save, then add it to your cutting machine software. You can also just hand cut them out if you do not have access to a vinyl cutting machine.
I printed mine out on some cardstock that has a cute green chevron print on the back. I think it makes them that much cuter!
For the St. Patrick's Day craft idea you will need only a few supplies:
green jello cups
green paper straws
large cardboard clover (I picked mine up at a local craft store)
The first thing to do is to attach the googly eyes to the jello cup. I just inverted the cup and took a little glue and attached the eyes to the cup.
I then cut a straw in half and added a gold bell to the top of each.
Once that is done, they are basically complete!
Take your free printable gift tag and attach it to the jello cup.
These St. Patrick's Day crafts are super fun and easy to make. It's a perfect craft for a preschool class to make, or for you and your child to make and then take to school for the St. Patrick's Day class party.
Don't forget to go and download the free printable gift tags! They are super cute and a fun little addition to this fun St. Patrick's Day gift.
If you liked this St. Patrick's Day Craft, you may also like: