Hello- I'm Candice, author of
Motbits.com
a blog with Tidbits for Mother's of Twins, where I enjoy sharing knowledge I have gained from my experiences. From some recent experiences, I gained something I wanted to share that had nothing to do with being a mother of twins. The ladies here at "Or so she says…" are kind to let me share this with you.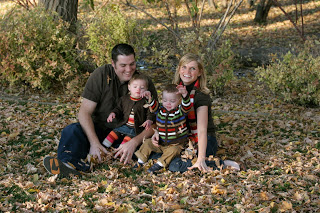 This is my family trying to pose for a picture. It's hard with 2 toddlers!
I've had 2 people very close to me pass away recently. My father passed away 3 years ago at age 53, from complications of Myelodysplastic Syndrome, (a blood disorder) and my father-in-law, age 54, died a few weeks ago from pancreatic cancer. Like many of you, I have not enjoyed the loss of these loved ones, but I was so completely overwhelmed with the kindness that people showed to my family and my in-laws at these times. It seemed like there was a fly on the wall that heard our conversations and knew exactly what we needed.
A lot of people aren't sure what to do for friends who have have lost loved ones. Here are some things that people have done for us that were really helpful and kind.
Food-When these family members passed away, it was great to have food brought so it was not something we had to worry about. My father died in the hospital. We had been there for almost 3 days. After he passed way, we returned to my parent's house both tired and hungry. Some ladies in the neighborhood had prepared lunch for us when we got there. It was just what we needed. Food is appreciated on the days of the viewing and funeral also.
Helpful Acts and Things to Bring-There is so much to think about after the death of a loved one. Helpful acts included the following:
Cleaned the house, did the dishes or shoveled snow/did yard work. (In our case, we were so focused on the health of our dad, that the organization of the home was not a priority.)
Pictures and other items representing the person were gathered to display at the viewing/funeral.
All of the young children were babysat during funeral planning and the funeral.
People asked if they could run errands or pick up items from the grocery store we needed.
Helpful things people brought:
Paper plates, cups and utensils
Thank you cards and postage stamps
Boxes of Tissue
Gifts- Many people were sensitive to the needs of our family. One of our funerals was covered completely by life insurance and the other was not. We couldn't believe how generous people were. Someone even paid for the burial plots. This is not expected, BUT even small things were greatly appreciated. Many people give flowers, but I think there are other things that were more thoughtful:
My coworkers gave me a gift certificate for a night out with my husband.
We were grateful for the donations given to the charities mentioned in the obituaries
Money to cover funeral costs or medical expenses.
Letters containing any special memories with those who have passed.
A few things to keep in mind:
The talents and skills of others were used to help out. (It was such a blessing to have a lawyer friend help with the will and all the legal things. The funeral director was close friends with my father-in-law and offered many services.)
SHORT visits were appropriate and appreciated.
Many people don't know what to say. We truly felt LISTENING IS MUCH MORE IMPORTANT THEN TALKING!
Don't say, "I know how you feel", "I totally understand", or "It will be okay".
Remember visits and phone calls after the funeral are still greatly needed.
We felt many people were inspired to help us in our time of need. Whenever we were asked "What can I do for you?" we didn't have an answer, but everything that was done proactively was exactly what we needed.
-Candice